WEATHER INFORMATION NETWORK DATA SYSTEM (WINDS) PORTAL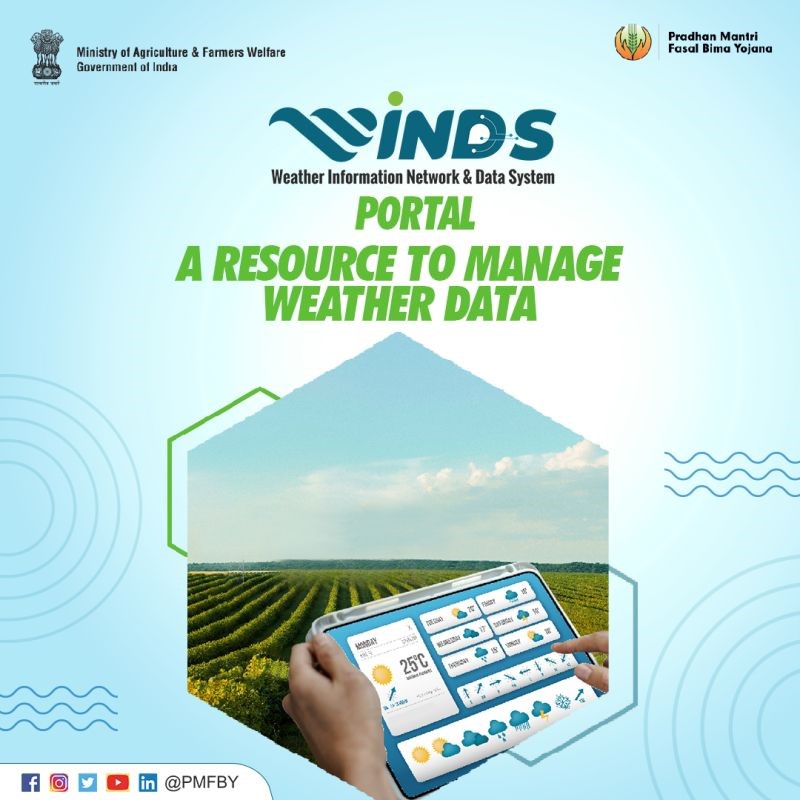 Disclaimer: Copyright infringement not intended.
Context
The Finance Minister has released the Weather Information Network Data Systems (WINDS) manual, which has gained attention for its ability to provide a full understanding of the WINDS portal to farmers, policymakers, and agricultural enterprises.
WINDS, which will be launched in July 2023 by the Ministry of Agriculture and Farmers' Welfare, will use advanced meteorological data analytics to deliver actionable insights for informed agricultural decisions.
Details
In News
The manual offers stakeholders a thorough grasp of the WINDS portal's features, data interpretation, and effective utilization, empowering farmers, policymakers, and other agricultural entities to make educated decisions.
Facts about Weather Information Network Data Systems (WINDS) portal
The Ministry of Agriculture and Farmers' Welfare launched it in July 2023 to harness advanced weather data analytics to provide stakeholders with actionable insight to make informed weather decisions on agriculture.
WINDS will provide farmers with critical weather-related information and data.

The webpage also publishes information about the ministry's parametric crop insurance scheme, as well as non-scheme parametric insurance industry programs for crop risk mitigation and catastrophe risk reduction and mitigation.

The WINDS initiative prioritizes the establishment of a robust network of meteorological stations.

The goal of this effort is to create a large network of weather stations at the block and gram panchayat levels.

This vast network of weather stations will allow for accurate weather pattern monitoring, effective planning, risk assessment, and rapid response to meteorological concerns.

The goal is to close the knowledge gap and empower decision-makers, farmers, and stakeholders at the grassroots level.
Other Initiatives of the Government of India for Agriculture
Launch of the National Mission for Edible Oils – Oil Palm (NMEO-OP)
The government announced the NMEO-OP project for self-reliance in edible oil in August 2021, which requires an investment of about Rs. 11,000 crore (over five years).
Income Support to Farmers Through PM KISAN
The Pradhan Mantri Kisan Samman Nidhi (PM-KISAN) scheme, which provides farmers with Rs. 6000 per year in three equal installments, was inaugurated in 2019.
PMFBY (Pradhan Mantri Fasal Bima Yojana)
PMFBY, a crop insurance plan, was introduced in 2016 to offer farmers with insurance coverage and financial assistance in the event of crop loss due to natural disasters, pests, or diseases.
Institutional Credit for the Agriculture Sector
Animal Husbandry and Fisheries

farmers can now make use of concessional institutional credit through Kisan Credit Cards (KCC) at 4% interest per year to address their short-term working capital needs.
Farmers Will Receive Soil Health Cards
The Soil Health Card Scheme was implemented in 2014-15 to maximize nutrient utilization.

Regulations are issued to promote

The fertilizer control order includes nano urea.
Organic farming promotion in the country
In 2015-16, the Paramparagat Krishi Vikas Yojana (PKVY) was launched to encourage organic farming in the country.

Farmers in Uttar Pradesh, Uttarakhand, Bihar, and Jharkhand have taken up organic farming on either side of the Ganga as part of the Namami Gange Programme to control river water pollution and generate additional revenue.

The government also intends to encourage natural agricultural practices that are sustainable through the Bhartiya Prakratik Krishi Padhati (BPKP) scheme.
Agriculture Infrastructure Fund
Various agricultural infrastructures have been built since the creation of the Agri Infrastructure Fund (AIF), with some nearing completion.
It is a financing facility that will be opened in July 2020 to develop post-harvest management infrastructure and community farm assets, with perks such as a 3% interest subsidy and credit guarantee support.
Promotion of FPOs
In 2020, a new Central Sector Scheme for the Formation and Promotion of New 10,000 FPOs was announced, with a financial investment of Rs 6865 Crore till 2027-28.
NBHM (National Beekeeping and Honey Mission)
As part of the Atmanirbhar Bharat Abhiyan, the National Beekeeping and Honey Mission (NBHM) was launched in 2020.

NBHM seeks to promote and expand scientific beekeeping throughout the country to realize the goal of the 'Sweet Revolution,' which is being executed by the National Bee Board (NBB).
Per Drop More Crop
The Per Drop More Crop (PDMC) project was introduced in 2015-16 to increase farm water use efficiency through Micro Irrigation technologies such as drip and sprinkler irrigation systems.
Agricultural Mechanization
Agricultural mechanization is critical for modernizing agriculture and eliminating labor-intensive farming operations.

A total of Rs. 5490.82 crore has been earmarked for agricultural mechanization from 2014-15 to March 2022.

The amount of subsidized machines and equipment available to farmers has also expanded.
E-NAM Extension Platform Setup
The National Agriculture Market (eNAM)

is a pan-India electronic trading system that connects current Agricultural Produce Marketing Committee (APMC) mandis to form a unified national market for agricultural commodities.
Kisan Rail is being used to improve farm produce logistics.
The Ministry of Railways has developed Kisan Rail to exclusively transport perishable agricultural and horticultural commodities.

Kisan Rail's first phase began in July 2020.
PRACTICE QUESTION
What Exactly Is An Integrated Farming System (IFS)? How Does It Benefit India's Small and Marginal Farmers?
https://www.business-standard.com/india-news/indian-govt-launches-the-kisan-rin-portal-with-the-weather-portal-wind-123091900330_1.html