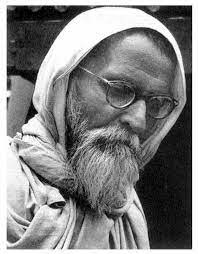 Disclaimer: Copyright infringement not intended.
Context
The Prime Minister has paid homage to Acharya Vinoba Bhave on his birth anniversary.
Details
Acharya Vinoba Bhave, born Vinayak Narahari Bhave on September 11, 1895, in Gagoji (present-day Gagode Budruk), Maharashtra, India, was a revered figure in India's struggle for independence and a prominent advocate of nonviolence and human rights.

Often referred to as Acharya, which means "Teacher" in Sanskrit, Vinoba Bhave is best known for his pivotal role in the Bhoodan Movement and is considered the spiritual successor of Mahatma Gandhi.
Early Life and Influences
Vinoba Bhave was deeply influenced by his mother, Rukmani Devi, who was a religious woman. He was raised in a family that valued modern rationalism, with his father, Narahari Shambhu Rao, being a trained weaver who worked in Baroda.

His early spiritual awakening occurred when he read the Bhagavad Gita at a young age, which left a profound impact on him.
Association with Mahatma Gandhi
Vinoba Bhave's life took a transformative turn in 1916 when he read about Mahatma Gandhi's speech at Banaras Hindu University. He was so moved that he abandoned his studies and wrote to Gandhi, eventually meeting him at the Kochrab Ashram in Ahmedabad.

He actively participated in various activities at Gandhi's ashram, such as teaching, spinning, and community improvement.

His involvement in constructive programs like Khadi, village industries, new education (Nai Talim), sanitation, and hygiene increased over time.
Freedom Struggle
Vinoba Bhave played a crucial role in India's struggle for independence, participating in civil disobedience movements and facing imprisonment.

He served a five-year jail sentence in the 1940s for his nonviolent resistance against British rule.

In 1940, Gandhi chose him as the first individual Satyagrahi (advocate of truth) against British rule, elevating his national prominence.
Religious and Social Work
Vinoba Bhave had a broad religious outlook, synthesizing the truths of many religions.

His Sarvodaya movement aimed to improve the lives of the average Indian in villages with a firm spiritual foundation.

The Bhoodan Movement, initiated in 1951, involved soliciting land donations from landowners to distribute to the landless poor, addressing land reform and rural poverty.

He campaigned against the slaughter of cows, advocating nonviolence and compassion.
Literary Career
Vinoba Bhave was a prolific writer and translator, making Sanskrit texts accessible to the common person.

He translated the Bhagavad Gita into Marathi and authored numerous books and essays on philosophy and spirituality.

His "Talks on the Gita" have been translated into many languages and continue to inspire readers worldwide.
Later Life and Passing
In his later years, Vinoba Bhave resided at his Brahma Vidya Mandir ashram in Paunar, Wardha district, Maharashtra.

He passed away on November 15, 1982, after embracing "Samadhi Maran" or "Santhara," a practice in Jainism where one voluntarily refrains from food and medicine.
Criticism
Vinoba Bhave faced criticism from some quarters, including V.S. Naipaul, who questioned his rationality and excessive imitation of Gandhi.

His support for Indira Gandhi's government during the Indian Emergency (1975-1977) drew controversy and earned him the nickname "Sarkari Sant" (Government Saint).
Awards and Recognition
In 1958, Vinoba Bhave became the first recipient of the international Ramon Magsaysay Award for Community Leadership.

He was posthumously awarded the Bharat Ratna, India's highest civilian honor, in 1983.
Conclusion
Vinoba Bhave's life and work exemplify the principles of nonviolence, social reform, and spiritual awakening. His contributions to India's struggle for independence, land reform, and his tireless advocacy for human rights continue to inspire generations, making him a revered figure in Indian history and a beacon of hope for those working towards a more just and compassionate society.
PRACTICE QUESTION
Q. Vinoba Bhave is often regarded as a key figure in India's struggle for independence and social reform. Discuss his contributions to the Bhoodan Movement and Sarvodaya, and how his philosophy of nonviolence influenced his actions and impact on Indian society. (250 Words)