STATUS OF WILDLIFE SANCTUARIES AND NATIONAL PARKS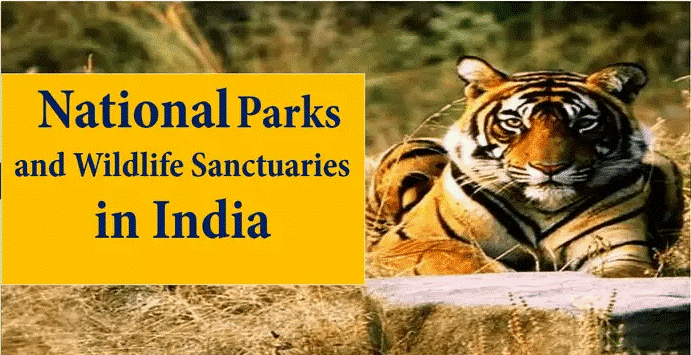 Disclaimer: Copyright infringement not intended.
Context
Government have taken various steps to minimize human-animal conflicts in the country.
Details
The Ministry has issued guidelines tailored to specific species (Elephant, Gaur, Leopard, Snake, Crocodile, Rhesus Macaque, Wild Pig, Bear, Blue Bull, Blackbuck) for managing human-animal conflicts. Additionally, there are guidelines for addressing cross-cutting issues like collaboration between forestry and media, occupational health and safety

in the context of human–wildlife conflict mitigation

, crowd management related situations, and health emergencies arising from such conflicts in India

The Ministry of Environment, Forest and Climate Change provided guidelines to States/UTs pertaining to the prevention and management of human-wildlife conflicts, encompassing issues such as crop damage from wild animals.

The Ministry has released directives for managing human-wildlife conflict through the development of linear infrastructure within wildlife and its surrounding regions.

The Ministry issued an advisory to all States/UTs regarding human-wildlife conflict management. The advisory suggests interdepartmental coordination, hotspot identification, following Standard Operating Procedures, setting up rapid response teams, forming State/District committees for relief review, and timely relief payment to affected individuals

To mitigate human-wildlife conflict, the Ministry increased ex-gratia payments. The amount for death was raised from Rs. 2.00 Lakh to Rs. 5.00 Lakh per person, and similar increments were made for injuries caused by wildlife attacks.

The Central Government provides financial aid to State Governments through schemes like 'Development of Wildlife Habitats,' 'Project Tiger,' and 'Project Elephant.' These funds support wildlife management, human-wildlife conflict mitigation near protected areas, and public awareness campaigns.
National Parks
Historical Development
India's first national park, Jim Corbett National Park, was established in 1936 in what is now Uttarakhand. It served as a significant milestone in India's conservation efforts.

By 1970, India had only five national parks, indicating the initial stages of protected area establishment.

The year 1972 marked a crucial turning point with the enactment of the Wildlife Protection Act. This legislation provided a legal framework for the protection and conservation of wildlife.

The introduction of Project Tiger in 1973 focused on safeguarding the habitats of conservation-reliant species, with a particular emphasis on the iconic Bengal tiger.

Throughout the 1980s, additional federal legislation further strengthened wildlife protection measures, enhancing the conservation landscape.
Current Status
There are currently 106 existing national parks in India, encompassing a total area of 44,378 km². This constitutes 1.35% of the country's vast geographical area.

The potential for expansion is significant, with 75 additional national parks proposed in the Protected Area Network Report. Full implementation of this report is expected to increase the network to a total of 176 national parks.
Largest and Smallest National Parks
Hemis National Park holds the distinction of being the largest national park in India, covering a substantial area of 4,400 km². This park's expansive size contributes to the protection of unique Himalayan ecosystems and wildlife.

On the other end of the spectrum, we find the South Button Island National Park, which is the smallest among India's national parks, with a compact area of just 5.19 km².
Definition of a National Park in India
A national park is a designated area, whether within a sanctuary or not, notified by the state government for the purpose of conservation due to its ecological, faunal, floral, geomorphological, or zoological importance.

They can be declared both by the central government and state government for the preservation of its ecological, faunal, floral, geomorphological, or zoological importance.

Their boundaries are fixed and defined

.

They cannot be downgraded to the status of a 'sanctuary'.

Human activities inside national parks are generally restricted. However, specific activities permitted by the Chief Wildlife Warden of the state under the conditions outlined in CHAPTER IV, WPA 1972 may be allowed. This approach ensures the preservation of the park's ecological integrity.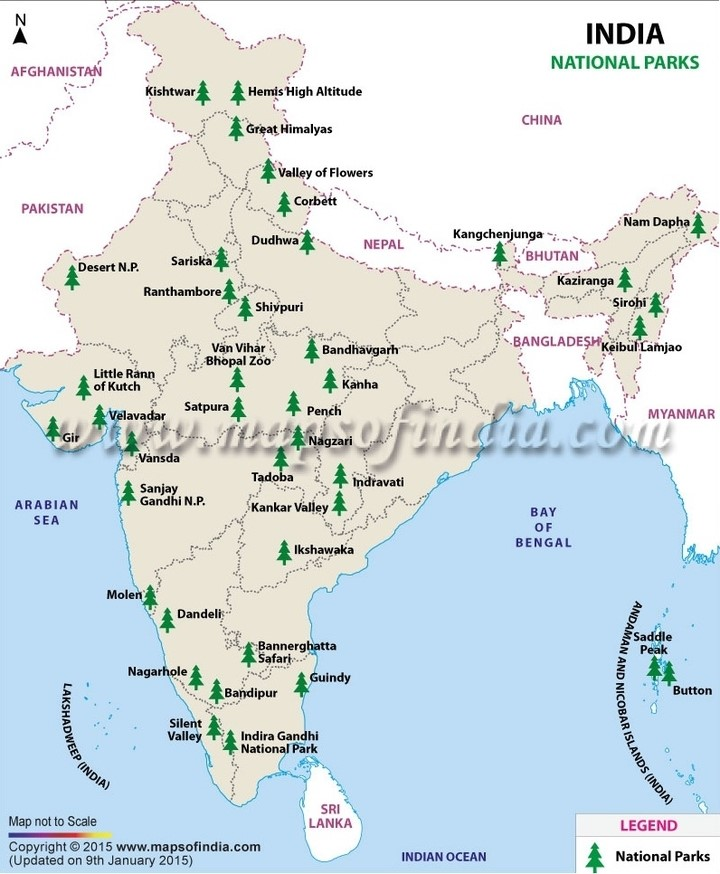 Wildlife Sanctuary
Classification and Numbers
Wildlife sanctuaries in India are classified as IUCN Category IV protected areas, highlighting their importance for conservation.

As of July 2023, there are 570 wildlife sanctuaries spread across the country.
Tiger Reserves and Special Significance
The establishment of 53 tiger reserves under Project Tiger reflects the crucial role these reserves play in the conservation of the Bengal tiger. These reserves serve as critical habitats for this endangered species, contributing significantly to its protection.
Oldest Bird Sanctuary
The Vedanthangal Bird Sanctuary, located near Chennai in Tamil Nadu, holds the distinction of being the oldest bird sanctuary in India.

It was established in 1796 and has since provided essential habitat for various avian species, serving as a testament to India's long-standing commitment to wildlife conservation.
Legislation and Protection
The foundation for the establishment of Protected Areas in India is provided by the Wild Life (Protection) Act, 1972. This legislation has been instrumental in guiding conservation efforts, ensuring the protection of wildlife and their habitats across the country.

A wildlife sanctuary is a designated area owned by the government or a private entity, aimed at safeguarding specific species of plants or animals, either seasonally or throughout the year.

Under the Wild Life (Protection) Act of 1972, State Governments have the authority to designate certain areas as wildlife sanctuaries if they possess considerable ecological, geomorphological, and natural importance.

The Indian Wild Ass Sanctuary, located in the Little Rann of Kutch in Gujarat, is the largest wildlife sanctuary in India.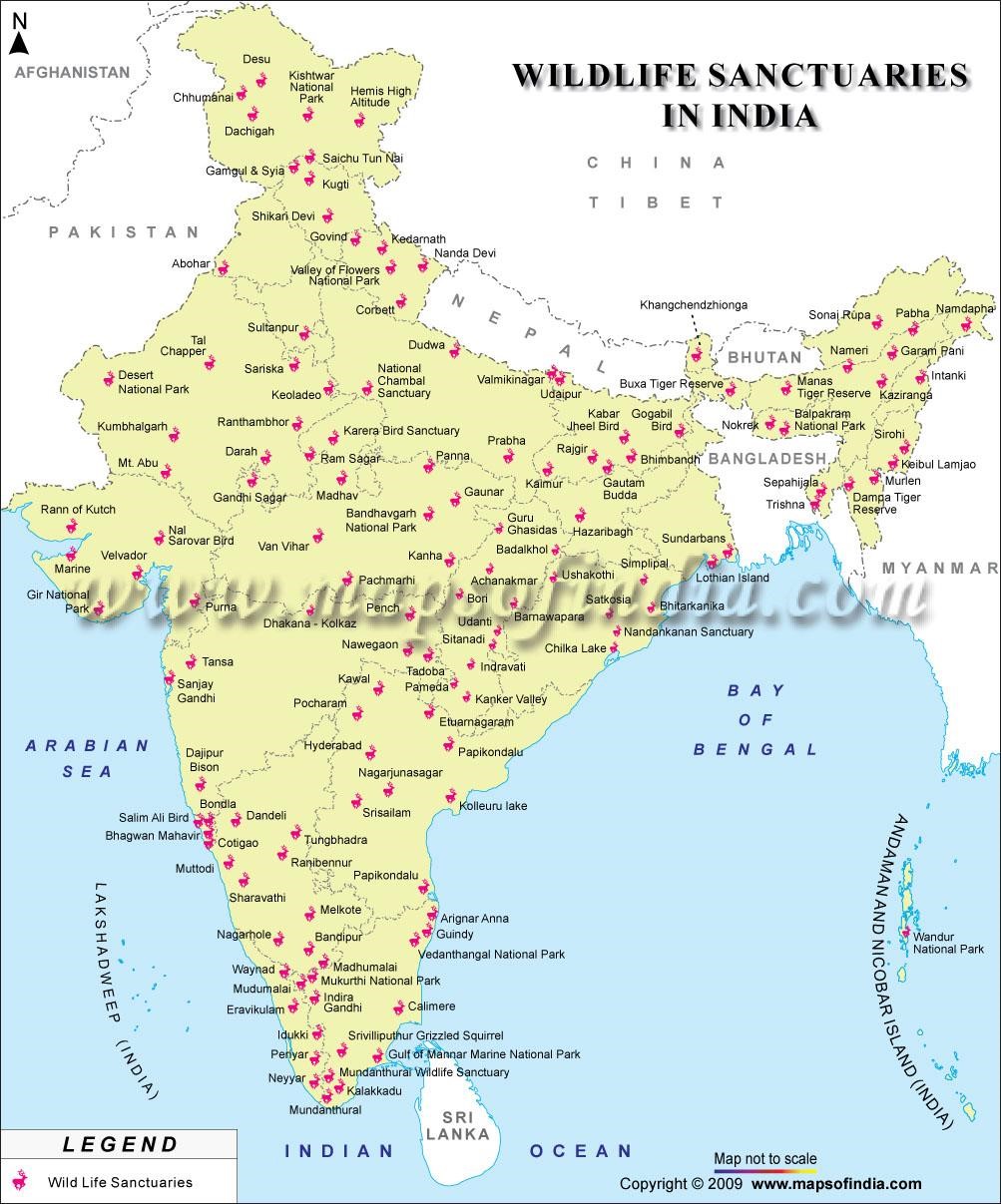 Conclusion
The Wildlife Management is primarily the responsibility of State/Union Territory Governments. The Ministry also offers financial support to States/UTs through the 'Development of Wildlife Habitats' scheme. This assistance is based on the Annual Plans of Operation submitted by these governments, and it funds activities like constructing physical barriers such as barbed wire fences, solar-powered electric fences, bio-fencing using cactus, and boundary walls.
PRACTICE QUESTION
Q. The preservation of tiger populations involves more than mere numerical growth, given that an increased tiger count necessitates larger habitats. However, these habitats are progressively shrinking due to ongoing human activities. Discuss the challenges posed by diminishing tiger habitats and propose strategies to address this issue effectively. (250 words)