Disclaimer: Copyright infringement not intended.
Context: Deliveries of five regiments of S-400 air defence systems under a $5.43-billion deal with Russia are expected to be completed by year-end or early 2024.
Details:
Status:
Issues of delayed payments as well as insurance and reinsurance remain major stumbling blocks delaying deals in the pipeline.

Delivery of the third S-400 regiment has been completed which leaves the deliveries of two more regiments.

The second and third regiments saw delays of a few months.

There have been delays in "milestone payments".

The three regiments are deployed along the Northen, Eastern and western borders, sources said.
Background:
India has contracted five S-400 regiments under a $5.43 billion or ₹40,291 crore deal as per a conversation rate of ₹74.2 against the dollar at the time, signed in October 2018.

The deal has been delayed from the start over payment issues.

With the looming threat of U.S. sanctions under CAATSA (Countering America's Adversaries Through Sanctions Act), the two sides had worked out payments through the rupee-rouble exchange.

The payments troubles compounded after Russia was shut out of the global SWIFT system for money transfers.

India and Russia have agreed to conduct payments through the rupee-rouble arrangement after trying payments in euros as well.
What is S-400?
The S-400 Triumf is a mobile, surface-to-air missile (SAM) system developed in the 1990s by Russia as an upgrade to the S-300 family. The evolved version of the S-400 system is the S-500 Prometheus, which entered service in 2021.

S-400 (NATO name SA-21 Growler) is considered one of the world's most advanced air defence systems that can simultaneously track and neutralise a range of incoming objects spanning aircraft, missiles and Unmanned Aerial Vehicles (UAVs) over very long ranges.

It is especially suited to take down strategic aerial platforms like bombers, mid-air refuellers, reconnaissance aircraft and Advanced Early Warning and Control Systems (AWACS).
Why is the S-400 so important to India?
S-400 is very important for India's national security, especially as it faces new threats from China, Pakistan and Afghanistan, calling it a "game changer".

The system will also offset the air defence capability gaps due to the IAF's dwindling fighter squadron strength.

Buying the S-400 is a way for asserting India's 'strategic autonomy'.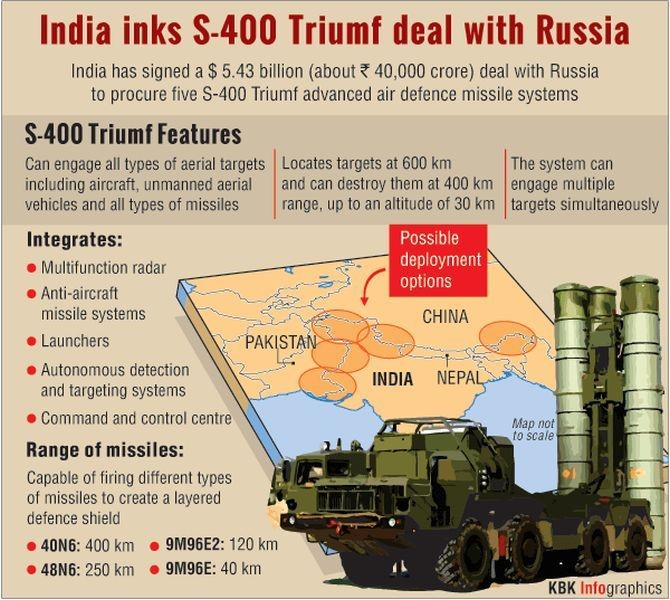 PRACTICE QUESTION
Q) S-400 is a way for asserting India's 'strategic autonomy'. Discuss. (150 words)
https://epaper.thehindu.com/ccidist-ws/th/th_delhi/issues/27029/OPS/GT8AUI6GU.1+GRTAUITH6.1.html