RISING TENSIONS IN NAGORNO KARABAKH
Disclaimer: Copyright infringement not intended.
Context
Azerbaijan said it had established a checkpoint at the start of the Lachin corridor

, the only land route linking Armenia to Nagorno-Karabakh, a step that was followed by claims of border shootings by both Azeri and Armenian forces.
What is Nagorno-Karabakh?
Nagorno-Karabakh, known as Artsakh by Armenians, is a landlocked mountainous area in the South Caucasus.

It was claimed by both Azerbaijan and Armenia after the fall of the Russian Empire in 1917 and has remained a point of tension ever since.

The territory is internationally recognised as part of oil-rich Azerbaijan, but its inhabitants are predominantly ethnic Armenians and have their own government which has enjoyed close links to the government in neighbouring Armenia but has not been officially recognised by it or other U.N. member states.

Armenians, who are Christians

, claim a long historical dominance in the area, dating back to several centuries before Christ.

Azerbaijan, whose inhabitants are mostly Muslim

, links its historical identity to the territory too. It accuses the Armenians of driving out Azeris who lived nearby in the 1990s. It wants to gain full control over the enclave, suggesting ethnic Armenians take Azeri passports or leave.
Background
In 1923, the Soviet Union established the Nagorno-Karabakh Autonomous Oblast—home to a 95 percent ethnically Armenian population—within the Azerbaijan Soviet Socialist Republic.

Nagorno-Karabakh's regional legislature passed a resolution in 1988 declaring its intention to join the Republic of Armenia, despite its official location within Azerbaijan.

Armed fighting between the two republics, which have a long history of ethnic tension, was kept under relative control during Soviet rule. But as the Soviet Union began to collapse, so did peace in the region.

Amid Soviet dissolution in 1991, just as Armenia and Azerbaijan achieved statehood, Nagorno-Karabakh officially declared independence.
FIRST KARABAKH WAR
As the Soviet Union crumbled, what is known as the First Karabakh War erupted (1988-1994) between Armenians and their Azeri neighbours.

About 30,000 people were killed and more than a million people displaced.
Azerbaijan lost a chunk of its territory with Armenians left in control of most of Karabakh, alongside extra territory around Karabakh's perimeter.
Azerbaijan vowed to take back control over the territory.
By 1993, Armenia had gained control of Nagorno-Karabakh and occupied 20 percent of Azerbaijan's geographic area.

In 1994, Russia brokered a ceasefire known as the Bishkek Protocol, leaving Nagorno-Karabakh de facto independent, with a self-proclaimed government in Stepanakert, but still heavily reliant on close economic, political, and military ties with Armenia.
MINSK GROUP
Negotiation and mediation efforts, primarily led by the Minsk Group of the Organization for Security and Cooperation in Europe (OSCE), have failed to produce a permanent solution to the conflict.

The Minsk Group was created in 1994 to address the dispute and is co-chaired by the United States, France, and Russia.
The three co-chairs are empowered to organize negotiations with the leaders of Armenia and Azerbaijan, separately and at summits.
Although the group has successfully negotiated ceasefires, territorial disputes remain as intractable as ever.
Concerns
Without successful mediation efforts, ceasefire violations and renewed tensions threaten to reignite a full-scale conflict between Armenia and Azerbaijan.

Such a conflict would destabilize the South Caucasus region, potentially disrupting oil and gas exports from Azerbaijan—which produces about eight hundred thousand barrels of oil per day—to Central Asia and Europe.

Russia is committed by treaty to defend Armenia

in the instance of military escalation, while Turkey has pledged to support Azerbaijan.

The United States' vocal support for Armenia over the past few years, alongside Russia's current embroilment in the war in Ukraine, could create a pretext for escalation and further complicate efforts to secure peace in the region.
Recent Developments
Periodic violations of the 2020 ceasefire eventually escalated into a two-day conflict beginning September 13, 2022—the most significant provocation since 2020.

S. Speaker of the House of Representatives Nancy Pelosi led a congressional delegation to Armenia as a display of renewed U.S. commitment.
44-day war in 2020
In 2020, after decades of skirmishes, Azerbaijan began a military operation which became the Second Karabakh War swiftly breaking through Armenian defences.

Azerbaijan, backed by Turkey, won a resounding victory in the 44-day war, taking back parts of Karabakh.

Russia, a treaty ally of Armenia which also has good relations with Azerbaijan, stepped in to negotiate a ceasefire.

Under the deal, Azerbaijan was handed all of the territories surrounding Karabakh. That left ethnic Armenians in Karabakh with a much smaller territory

.

Armenia cast the war's outcome as a disaster and unrest broke out in Yerevan.
About Armenia
It is a landlocked country in the Armenian Highlands of Western Asia.

It is a part of the Caucasus region and is bordered by Turkey to the west, Georgia to the north, the Lachin corridor (under a Russian peacekeeping force) and Azerbaijan to the east, and Iran and the Azerbaijani exclave of Nakhchivan to the south.

Yerevan is the capital, largest city and financial center.

Armenia is a unitary, multi-party, democratic nation-state with an ancient cultural heritage.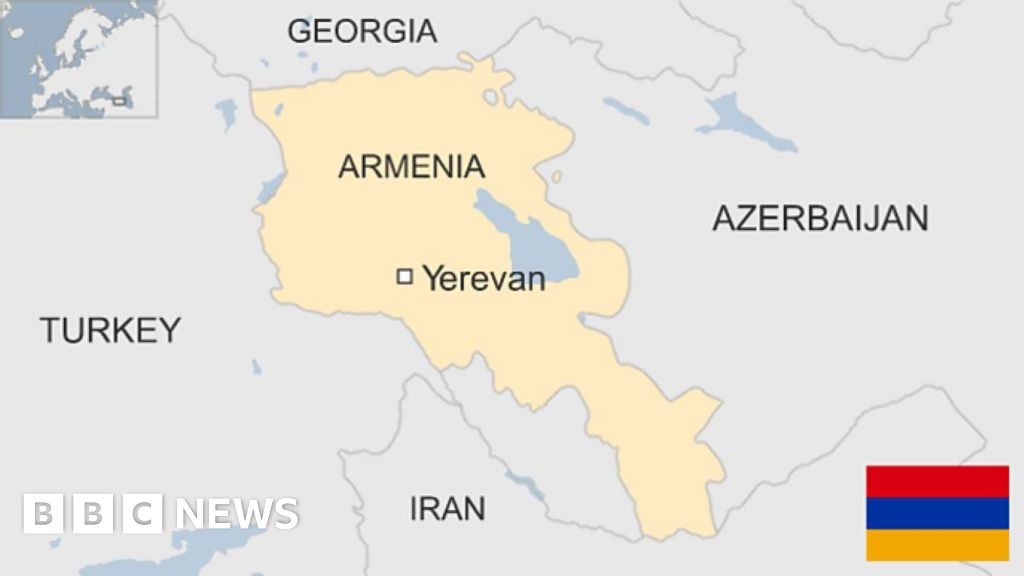 About Azerbaijan
Azerbaijan is a transcontinental country located at the boundary of Eastern Europe and Western Asia.

It is a part of the South Caucasus region and is bounded by the Caspian Sea to the east, Russia (Republic of Dagestan) to the north, Georgia to the northwest, Armenia and Turkey to the west, and Iran to the south.

Baku is the capital and largest city.

It became the first secular democratic Muslim-majority state.

Azerbaijan is a unitary semi-presidential republic.

It is one of six independent Turkic states and an active member of the Organization of Turkic States and the TÜRKSOY community

The vast majority of the country's population (97%) is nominally Muslim, but the constitution does not declare an official religion and all major political forces in the country are secularist.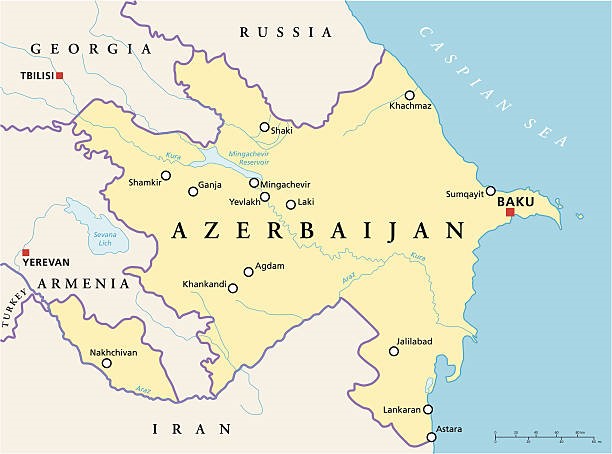 PRACTICE QUESTION
Q) Although the Minsk group has successfully negotiated ceasefires, territorial disputes between Armenia and Azerbaijan remain as intractable as ever. Discuss the concerns associated with a full-scale conflict between Armenia and Azerbaijan. (250 words)
https://indianexpress.com/article/explained/explained-global/nagorno-karabakh-explained-tensions-rising-8575078/