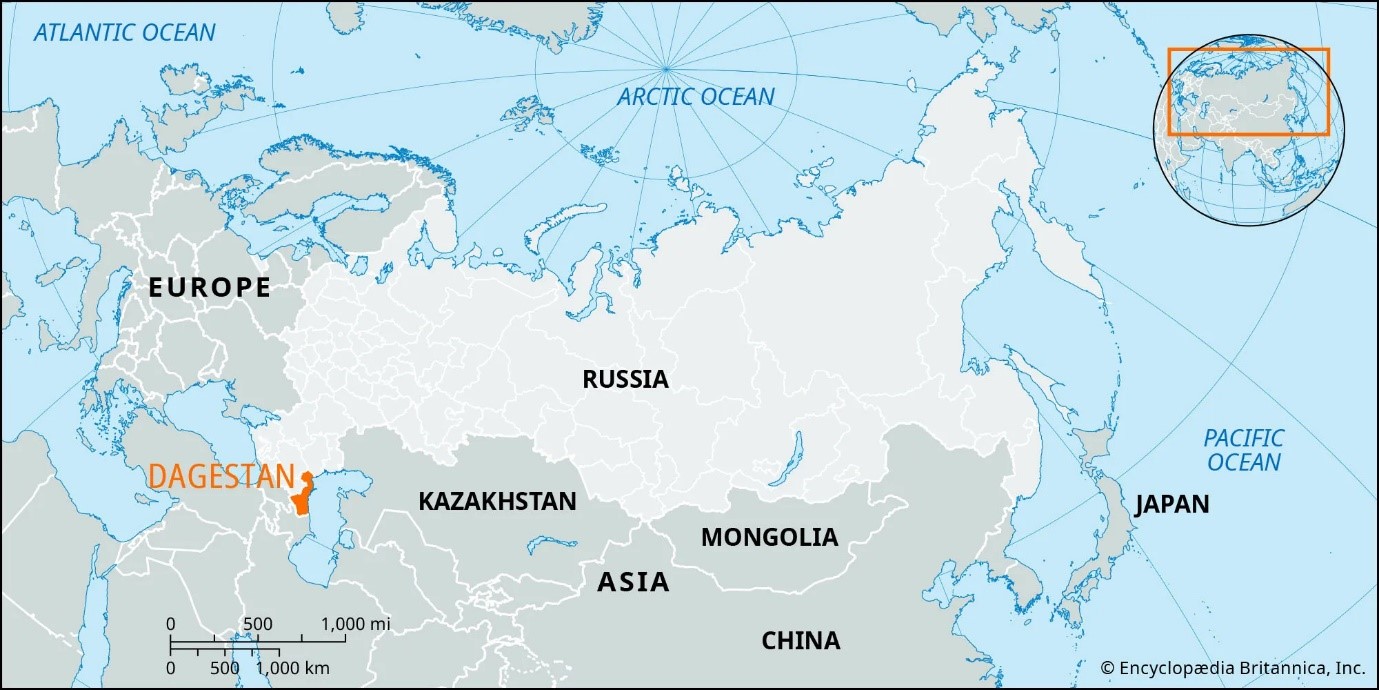 Disclaimer: Copyright infringement not intended.
Context
Russian authorities recently announced the arrest of 60 persons suspected of storming an airport in the Muslim-majority Caucasus republic of Dagestan with the intention of attacking Jewish passengers arriving from Israel.
About Dagestan
Dagestan, officially known as the Republic of Dagestan, is a province of the Russian Federation, which should clear up any uncertainty over its name.
It is strategically important for Russia because it is located in the country's southernmost region.
Geographical Boundary
Land of Mountains:

Dagestan's name translates as "land of the mountains," emphasising the country's hilly geography.

North Caucasus:

Located in the eastern North Caucasus, it has borders with Georgia, Chechnya, and Azerbaijan to the west and Azerbaijan to the south. The Caspian Sea is located to the east.

Inaccessible Terrain:

Some regions of Dagestan's highlands are so remote that helicopters are required to reach them.
Ethnic Diversity
More than 40 ethnicities:

At least 40 different ethnic groups live in the province.

More than 30 languages:

This region is home to more than 30 different languages.

Prominent Ethics Groups:

The Avars are the most populous ethnic group in Dagestan, accounting for roughly one-fifth of the population. Dargins, Kumyks, and Lezgins are also major groupings.

Ethnic Russian Presence:

Despite its ethnic variety, ethnic Russians account for around 10% of Dagestan's population.
Population: About 3.2 million.
Religion: The majority of Dagestanis are Sunni Muslims.
Capital
Makhachkala, the capital of Dagestan, is strategically located along the Caspian Sea coast.
Makhachkala, once an important commerce port, was seized by the Russian Imperial Army in the nineteenth century.
Oil and Gas Hub
With its own supplies of these resources, Dagestan now serves as a vital route for oil and gas pipelines connecting the Caspian Sea to Russia's heartland.
Challenges
The region has struggled with organized crime and instability, with Russian security forces fighting armed insurgencies and militant organizations in Dagestan and neighboring territories.
PRACTICE QUESTION
Discuss the Israel-Palestine conflict as a persistent global issue and its impact on regional and international geopolitics. (150 words)