OVERHAUL OF BRITISH-ERA CRIMINAL LAWS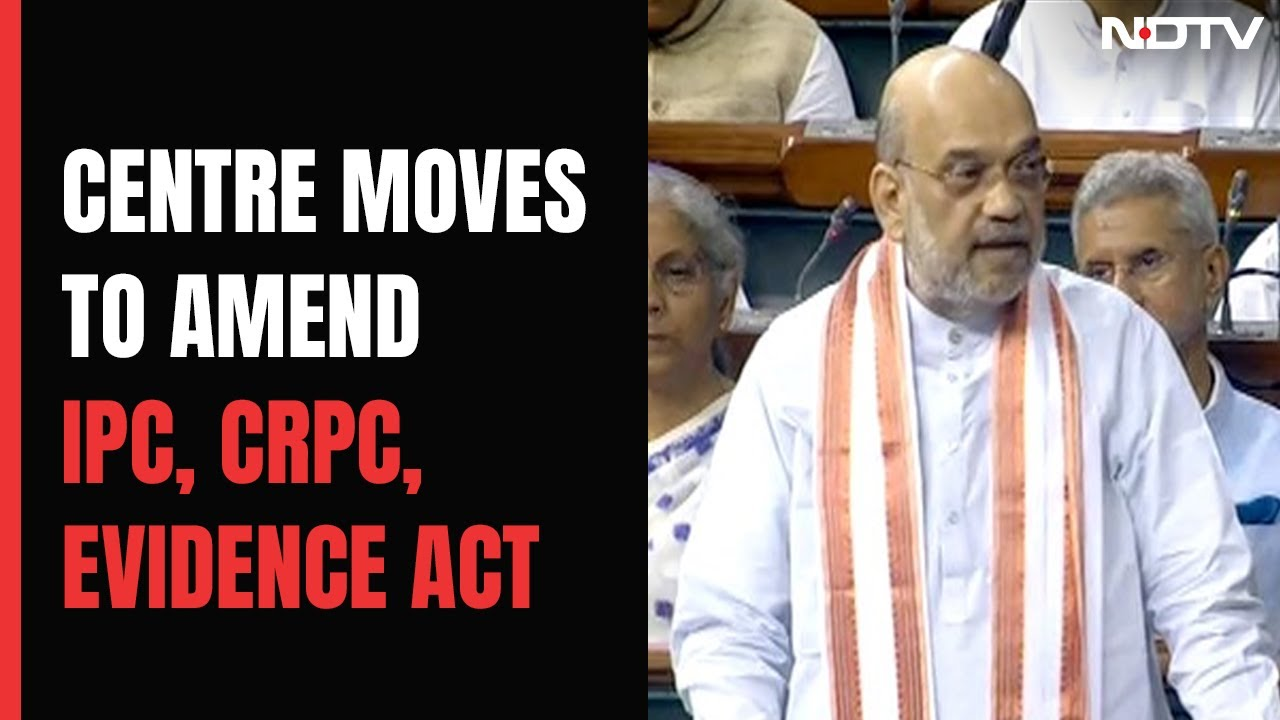 Copyright infringement not intended
Picture Courtesy: NDTV
Context: The Union Home Minister presented three Bills in the Lok Sabha to abolish the Indian Penal Code, the Indian Evidence Act and the Code of Criminal Procedure, which were enacted during British rule. The Bharatiya Nyaya Sanhita Bill, 2023, proposes the death penalty as the highest punishment for mob lynching and recommends ten years of jail for having sex with women by deceiving them about marriage.
Details
The need for reforming the criminal justice system in India has been felt for a long time. The current laws are based on the colonial legacy and do not reflect the contemporary realities and aspirations of Indian society. The laws are also outdated, complex, and ambiguous, leading to delays, inefficiencies, and injustices in the delivery of justice. Moreover, the laws are not in sync with the constitutional values and principles of India, such as equality, dignity, secularism, and human rights. Therefore, there has been a demand from various quarters, including the judiciary, the legal fraternity, civil society, and the public, to revamp the criminal justice system in India.
The proposed bills include the Bharatiya Nyaya Sanhita (BNS) Bill, 2023; the Bharatiya Nagarik Suraksha Sanhita (BNSS) Bill, 2023; and the Bharatiya Sakshya (BS) Bill, 2023. These bills aim to replace the British-era Indian Penal Code, the Indian Evidence Act, and the Code of Criminal Procedure.

These bills are based on the Indian ethos and culture. The bills also aim to simplify, rationalize, and modernize the criminal justice system in India.
Objectives of the bills
The Bharatiya Nyaya Sanhita (BNS) Bill introduces new categories of offences, such as cybercrimes, terrorism, hate crimes, honour crimes, mob lynching, etc. It provides special provisions for women, children, senior citizens, and other vulnerable sections of society.
The Bharatiya Nagarik Suraksha Sanhita (BNSS) Bill seeks to ensure the protection of the rights and interests of the victims, witnesses and accused persons in the criminal justice process. It provides for speedy and fair trials, effective investigation and prosecution, alternative dispute resolution mechanisms, victim compensation and rehabilitation schemes, witness protection programmes, etc.
The Bharatiya Sakshya (BS) Bill provides for scientific and technological advancements in evidence collection and analysis, such as DNA testing, narco-analysis, brain mapping, etc. It lays down guidelines for admissibility and relevancy of evidence, burden and standard of proof, a presumption of innocence and guilt, etc.
Highlights of the Bill
The Bharatiya Nyaya Sanhita Bill 2023 prescribes capital punishment as the maximum sentence for mob lynching.
The bill suggests 10 years of imprisonment for sexual intercourse with women on the false promise of marriage.
The bill states that sexual intercourse by a man with his wife, when the wife is not under 18 years of age, is not considered rape.
Repeal of Sedition Section
The bills provide definitions for terrorism and offences such as separatism, armed rebellion against the government, and challenging the sovereignty of the country.
Confiscation of property can be done based on court orders.
The bills aim to provide speedy justice and create a legal system that aligns with contemporary needs and aspirations.
In cases of sexual violence against women, the video recording of survivor statements is made compulsory.
Police must inform about the status of a complaint within 90 days. Consultation with the victim is required before withdrawing a case punishable by seven years or more.
Community service is being introduced for specific crimes.
The maximum time to file a chargesheet is fixed at 180 days. An additional 90 days can be granted by the court, but it cannot exceed that.
The government must decide prosecution sanctions against police officers and civil servants within 120 days, or it will be deemed permitted.
Videography of search and seizure is made compulsory, and a chargesheet won't be accepted without it.
Forensic collection of evidence is made compulsory for all crimes punishable by seven years.
A designated police officer will certify the custody of an accused to their relatives, both online and physically.
Rules for remission of sentences are stricter to prevent individuals with political influence from benefiting disproportionately.
Expected Outcome
The bills will bring about a paradigm shift from a punitive and retributive approach to a restorative and rehabilitative approach in criminal justice.
It will promote a human rights-based approach that respects the dignity and rights of all stakeholders in the criminal justice process.
It will enhance the efficiency and effectiveness of the criminal justice system by reducing delays, pendency, backlog, and corruption.
It will improve the quality and credibility of justice delivery by ensuring transparency, accountability, and professionalism.
It will foster a culture of peace and harmony in society by preventing and curbing crimes that threaten social order and security.
It will address the root causes of crimes by addressing socio-economic inequalities and injustices.
It will strengthen the rule of law and democracy in India by upholding constitutional values and principles.
Challenges
The bills may face opposition and resistance from some quarters who may perceive them as an infringement on their rights, interests, or autonomy.
It may face legal challenges and scrutiny from the courts on the grounds of constitutionality, validity, or interpretation of certain provisions.
It may face practical difficulties and bottlenecks in implementation due to a lack of awareness, cooperation, or coordination among various agencies or stakeholders.

It may face unforeseen consequences or implications that may require further amendments or modifications in the future.
Way forward
Address the concerns and apprehensions of various stakeholders and build consensus and support for these bills.

Ensure that the bills are passed by both houses of Parliament without any dilution or delay.

Ensure that the bills are notified and enforced in a phased and time-bound manner across the country.

Ensure that the bills are monitored and evaluated periodically and that any gaps or glitches are rectified promptly.
Conclusion
The criminal justice system is the backbone of any democracy. It is essential to ensure that it is fair, efficient, and responsive to the needs and aspirations of the people. The introduction of these bills is a historic opportunity to achieve this goal. It is hoped that these bills will usher in a new era of criminal justice reform in India and make it a model for other countries to emulate.
Must Read Articles:
OVERCOMING POLICING CHALLENGES: https://www.iasgyan.in/ias-gazette-magazine/perspective-overcoming-policing-challenges
Criminal Justice System in India: https://www.iasgyan.in/daily-current-affairs/criminal-justice-system-in-india#:~:text=Steps%20taken%20by%20government%20to,the%20Indian%20criminal%20justice%20system.
PRISON REFORMS: https://www.iasgyan.in/daily-current-affairs/prison-reforms
PRACTICE QUESTION
Q. Why is there a growing call for reforming the criminal justice system in India? What is the significance of such reforms, what major challenges impede their implementation, and what strategies can be envisioned to lead the way forward towards a more just and effective system?
https://epaper.thehindu.com/ccidist-ws/th/th_delhi/issues/47412/OPS/GPDBJTTUO.1+GQCBJVJF5.1.html