Disclaimer: Copyright infringement not intended
Context
The Forest Department of Tamilnadu is taking various steps for surveillance in Mukurthi National Park in Nilgir This will help in curbing poaching activities in the forests of the Nilgiris division.

In an effort to fill the gaps in surveillance and address grey areas of these dense forests, the Tamilnadu Forest Department has employed additional anti-poaching watchers.
Other Details
A

north Indian gang of poachers was arrested a few months ago

in the Nilgiris forest division and was on account of poaching a tiger and a leopard.

They collected intelligence about the

location of tigers by pretending to be blanket sellers

.

Anti-poaching watchers will be recruited

in Kundah, Korakundah, Udhagai South, Parsons Valley, Pykara and Naduvattam to conduct regular patrols and monitor illegal entries into the forests.
Other steps to discourage poaching
Also the managers of private estates in the area are told to keep a close watch on their employed migrant workers.

To discourage any kind of hunting cases are being registered against people who hunt even small animals like jungle fowl and wild boar.
Need for increased surveillance
There are

several grey areas surrounding the Mukurthi National Park

which are

heaven for poachers.

Along with that there is

no established system of anti-poaching operations

in the region to curb

the poaching activities

.
Mukurthi National Park
The park was

notified on 07th November 1990

and initially was kno

wn as Nilgiri Tahr National Park.
Area and Location
This park is a

part of Nilgiri Bio Reserve

, first Bio Reserve of India and is

situated on western side of Nilgiris Plateau.

It has an

area of 78.46 sq. km

with

Silent Valley National Park and Mudumalai National Park lying on its borders

.

It belongs to the

Biographic zone of Western Ghats

.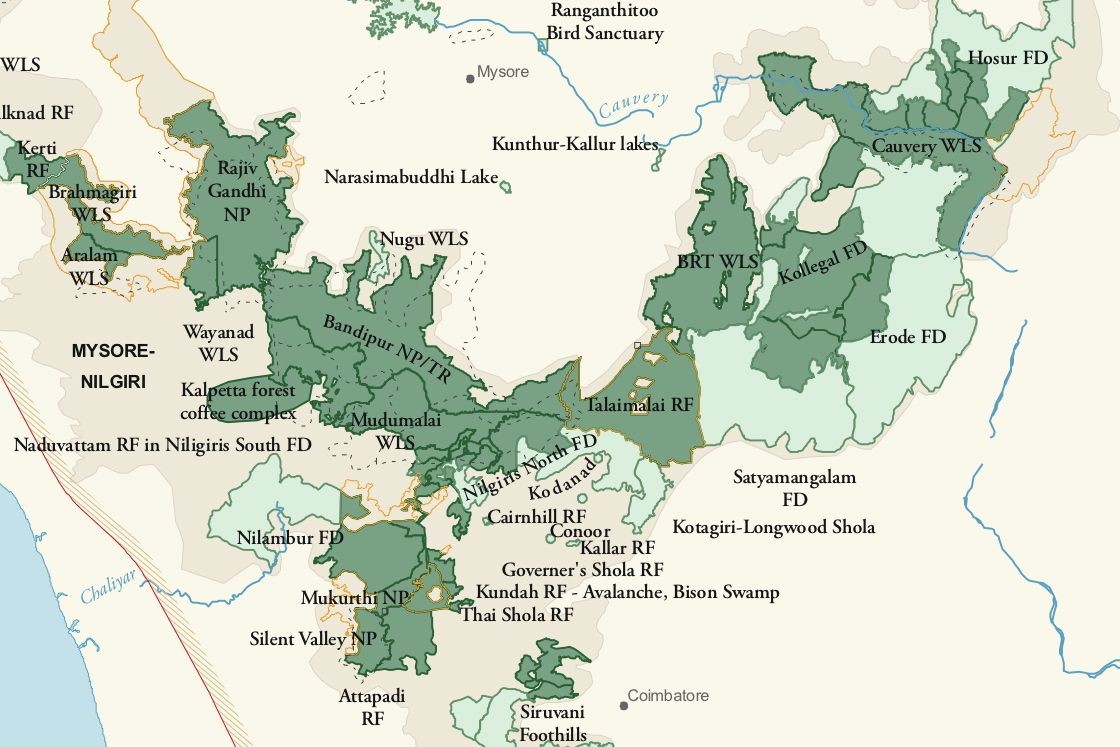 Disclaimer: Copyright infringement not intended.
Flora
Mainly Shola grasslands and shrublands at a high altitude.

Rhododendrons, raspberries,

Cinnamon and

black berries

are in the majority.

Endemic

plant species like

Alchemilla indica and Hedyotis verticillaris

.

It has

many shrubs

such as Gaultheria fragrantissima, Helichrysum, Daphniphyllum neilgherrense etc.

Other

plant species

are Mahonia, Satyrium, eucalyptus, Hedyotis verticillaris, Impatiens plants etc.
Fauna
Mammals :
The main species of Mukurthi National Park is

Nilgiri Tahr

.

Apart from Nilgiri Tahr, This park is also home to

endangered species like the Royal Bengal Tiger and the Asian Elephant.

Other mammal species

are Sambar, Leopard, panthers, Nilgiri Marten, Barking Deer, Nilgiri Langur; jackals etc.
Birds:
Malabar Whistling Thrush, Nilgiri Wood Pigeon, Black

and Orange Flycatcher, Nilgiri Flycatcher,

Parrots, Vultures, Nilgiri Pipit

and other migratory birds.
Reptiles
Horseshoe Pit Viper, Rat Snake, Bronze-headed Vine Snake

.
Must Read Article:
UNESCO World Heritage Sites
https://www.iasgyan.in/daily-current-affairs/world-heritage-site
https://www.iasgyan.in/daily-current-affairs/world-heritage-sites-47
Grey Areas of Forests
These are the regions of dense forests where there is poor coverage of surveillance activities by forest departments of a state.
These areas are mostly situated along interstate boundaries

which makes it easy for poachers to enter from surrounding regions and hard to monitor poaching.
PRACTICE QUESTION
Consider the following statements about Mukurthi National Park:
1. This national park is a part of India's first Bio Reserve.
2. Nilgiri Tahr is considered the main species of Mukurthi National Park.
Which of the statements given above is/are correct?
A. 1 only
B. 2 only
C. Both 1 and 2
D. Neither 1 nor 2
Answer: (C)
https://www.thehindu.com/news/cities/Coimbatore/tn-forest-department-steps-up-vigil-around-mukurthi-national-park-in-nilgiris-to-curb-poaching/article67063653.ece