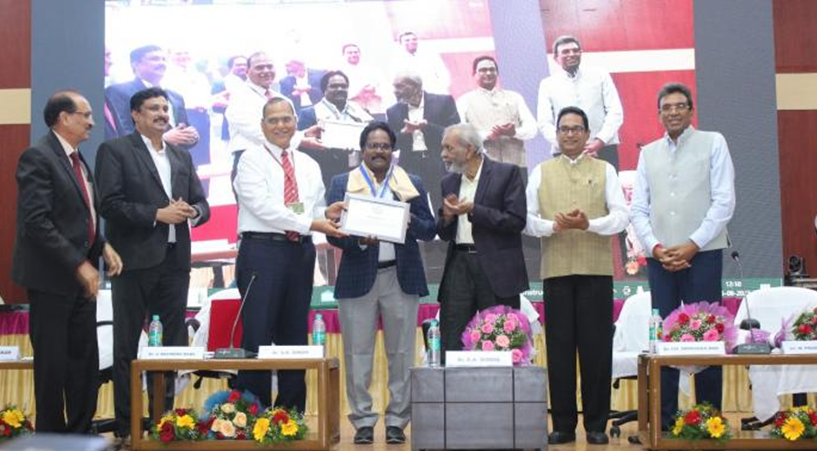 Copyright infringement not intended
Picture Courtesy: www.deccanchronicle.com
Context: Dr P V Satyanarayana, a Principal Scientist at the Agricultural Research Station, Acharya N.G. Ranga Agricultural University, Ragolu, was honoured with the prestigious 8th Dr MS Swaminathan Award for his remarkable contributions to the field of agriculture during the period 2021-2022.
Key Highlights
MS Swaminathan Award award, presented at the Indian Institute of Rice Research (IIRR) in Hyderabad, is a biennial national award jointly instituted by the Retired ICAR Employees Association (RICAREA) and Nuziveedu Seeds Limited (NSL). The award includes a cash prize of Rs. 2 Lakhs and a Gold Medal.

Satyanarayana's groundbreaking work primarily focuses on the development of high-yielding rice varieties that demonstrate resilience against various pests and environmental challenges, including BPH (Brown Plant Hopper), BLB (Bacterial Leaf Blight), Blast, Submergence, and salinity.

In addition to these achievements, he has made substantial contributions to the development of fine-grain varieties and hybrid rice, which have had a transformative impact on agriculture across India.

The Dr MS Swaminathan Award has a history of recognizing outstanding contributors to the field of agriculture.
M.S Swaminathan
Mankombu Sambasivan Swaminathan is a renowned Indian agronomist, agricultural scientist, plant geneticist, administrator, and humanitarian. His contributions to agriculture, particularly in the development of high-yielding varieties of wheat and rice, have had a significant impact on food production and food security in India and beyond.
Early Life and Education
Swaminathan was born in 1925, in Kumbakonam. His family initially wanted him to pursue a career in medicine, but he was deeply concerned about food security issues, particularly inspired by the Bengal famine of 1943 and the recurring shortages of rice in India. This concern led him to choose agriculture as his field of study and career.

He began his academic journey by completing his undergraduate degree in zoology at Maharaja's College in Trivandrum, which is located in the state of Kerala.

After his undergraduate studies, he went on to study agricultural science at the University of Madras, specifically at the Madras Agricultural College. He earned a Bachelor of Science degree in agricultural science during this period.

In 1947, Swaminathan moved to the Indian Agricultural Research Institute (IARI) in New Delhi to further his education in the field of genetics and plant breeding. At IARI, he pursued post-graduate studies in cytogenetics, which he completed in 1949.
Contributions to Agriculture
Green Revolution in India
Swaminathan is best known for his collaboration with American scientist Norman Borlaug in the 1960s. Together, they played a pivotal role in introducing high-yielding varieties of wheat and rice to India, which is often referred to as the Green Revolution. These high-yielding varieties significantly increased agricultural productivity and helped India achieve self-sufficiency in food production. This revolution had a profound impact on India's food security and its ability to feed its growing population.
Adaptation of Mexican Dwarf Wheat Varieties
Swaminathan's efforts in adapting Mexican dwarf varieties of wheat to Indian agro-climatic conditions were instrumental in boosting wheat production in the country. These adapted wheat varieties were resistant to diseases and pests while also producing higher yields, contributing significantly to food production and alleviating hunger.
Development of High-Yielding Basmati Rice
Swaminathan's work extended to rice production as well. He played a key role in developing high-yielding basmati rice varieties. Basmati rice is known for its unique aroma and long grains, and Swaminathan's efforts in improving its yield helped meet the growing demand for this premium rice variety.
C4 Rice Research
Swaminathan also contributed to research on C4 carbon fixation in rice. C4 plants are known for their more efficient photosynthesis process, which results in higher water and nitrogen use efficiency. His work aimed to develop rice varieties with C4 photosynthesis capabilities to improve rice productivity while using water and nutrients more efficiently. This research is important for addressing the challenges of water scarcity and environmental sustainability in agriculture.
Administrator and Educator
Administrative Positions
Director-General of the Indian Council of Agricultural Research (ICAR):

He served as the Director-General of ICAR, the apex body for coordinating agricultural research and education in India. In this capacity, he played a central role in shaping agricultural policies and research agendas in India.

Secretary to the Government of India:

Swaminathan also served as Secretary to the Government of India, where he was responsible for advising the government on agricultural matters and policy formulation.
Promoting Technical Literacy
Swaminathan was a strong advocate for promoting technical literacy among farmers.

He believed that empowering farmers with scientific knowledge and techniques was essential for improving agricultural productivity. He worked to bridge the gap between scientific research and its practical application in farming.
Monitoring Weather and Crop Patterns
Swaminathan recognized the importance of monitoring weather and crop patterns to protect against malnutrition and food shortages. He emphasized the need for accurate data collection and analysis to predict and mitigate the impact of adverse weather conditions on crops.
Integration of Women and Environmental Considerations
Swaminathan was a proponent of integrating women and environmental considerations into India's development plans. He recognized the crucial role that women play in agriculture and emphasized their empowerment in agricultural activities. Additionally, he advocated for sustainable and environmentally friendly agricultural practices.
International Role at IRRI
In 1982, Swaminathan became the first Asian Director General of the International Rice Research Institute (IRRI), based in the Philippines. In this global leadership role, he continued to promote rice research and development, benefiting not only India but also rice-producing countries around the world.
Institution Builder
International Crop Research Institute for the Semi-Arid Tropics (ICRISAT)
Swaminathan was instrumental in the establishment and growth of ICRISAT, an international agricultural research organization headquartered in Hyderabad, India. ICRISAT focuses on improving crop productivity in the semi-arid tropics, which are regions prone to drought and other challenging environmental conditions. Swaminathan's efforts in supporting ICRISAT's research and development activities have had a significant impact on enhancing food security and agricultural sustainability in these regions.
International Board for Plant Genetic Resources (IBPGR)
Swaminathan played a key role in the establishment of IBPGR, an organization dedicated to the conservation and utilization of plant genetic resources for food and agriculture. The organization's mission is to safeguard the genetic diversity of crop plants and ensure their availability for future generations. Swaminathan's involvement in IBPGR helped address issues related to crop diversity and genetic resources, which are essential for crop improvement and adaptation to changing environmental conditions.
International Council for Research in Agro-Forestry (ICRAF)
Swaminathan was also involved in the promotion of ICRAF, an international research centre that focuses on agroforestry and the integration of trees into farming systems. Agroforestry practices help improve soil fertility, provide wood and other forest products, and enhance the sustainability of agriculture. Swaminathan's support for ICRAF's work contributed to the development and dissemination of agroforestry practices globally.
Later Years
United Nations Millennium Project on Hunger

:

Swaminathan co-chaired the United Nations Millennium Project on Hunger from 2002 to 2005. This initiative aimed to develop practical strategies for achieving the Millennium Development Goal of halving the proportion of people suffering from hunger and poverty.

National Commission on Farmers

:

In 2004, he chaired the National Commission on Farmers in India, which was established to recommend ways to improve the farming system and the livelihoods of farmers in the country. The commission's recommendations played a significant role in shaping agricultural policies and reforms in India.

Member of the Indian Parliament

:

In 2007, Swaminathan was nominated to the Rajya Sabha, the upper house of the Indian Parliament. His tenure in Parliament allowed him to advocate for important agricultural and social issues.

Women Farmers' Entitlements Bill 2011:

During his parliamentary tenure, he introduced the Women Farmers' Entitlements Bill in 2011. This legislation aimed to recognize and address the rights and concerns of women farmers, who play a crucial role in agriculture but often face challenges and discrimination.
Honours and Awards
S. Swaminathan received numerous awards and honours for his outstanding contributions to agriculture, food security, and sustainable development.

Ramon Magsaysay Award:

He was awarded the Ramon Magsaysay Award for Community Leadership in 1971 for his contributions to the Green Revolution and agricultural development.

Albert Einstein World Science Award

:

Swaminathan received the Albert Einstein World Science Award in 1986 for his significant achievements in science and technology.

World Food Prize

: He was the recipient of the inaugural World Food Prize in 1987, which recognized his role in improving global food security through agricultural research and development.

Civilian Awards in India

:

Swaminathan was honoured with several civilian awards in India, including the Padma Shri (1967), Padma Bhushan (1972), and Padma Vibhushan (1989), which are among the highest civilian honours in the country.
Publications
Throughout his career, M.S. Swaminathan authored numerous scientific papers and books. His publications covered a wide range of topics, including crop improvement, genetics, biodiversity conservation, and sustainable agriculture. These publications have contributed to the body of knowledge in agriculture and have guided researchers and policymakers in addressing global food security and agricultural sustainability challenges.
Summary
S. Swaminathan's life and work have left an indelible mark on Indian agriculture and global food security. His dedication to improving crop yields and promoting sustainable agricultural practices has made him a prominent figure in the field of agriculture and food science.
PRACTICE QUESTION
Q. What were the significant contributions and initiatives that characterize the role played by M.S. Swaminathan in the development of Indian agriculture?
https://www.deccanchronicle.com/nation/in-other-news/030923/ars-principal-scientist-dr-p-v-satyanarayana-honoured-with-dr-ms-swa.html