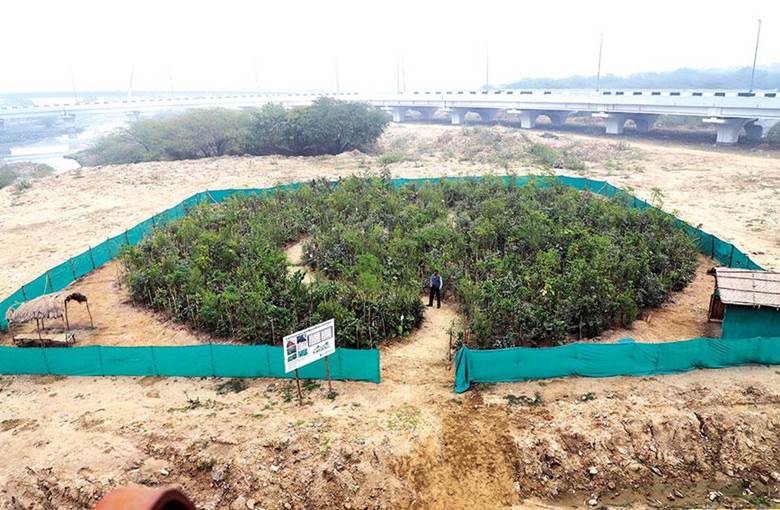 Copyright infringement not intended
In News
Kuharianwali, a village in Punjab, has become an example of expanding forest cover.

As of 2021, the district had just 1.34 % forest cover, one of the lowest in the state.

The district administration initiated a project called "My village, my forest" in October 2021.

The idea was to utilize unused land in the village and develop a "forest" by applying the so-called Miyawaki method.

In less than a year, the area is now full of plants such as neem, Arjun, Ashok, Jamun, guava and others.

The forest is now self-sustainable as plants have gained enough strength.
Miyawaki method
The Miyawaki method was designed by Japanese botanist Akira Miyawaki in the 1980s.

It is a technique to create micro forests over small plots of land.

Planting three to four saplings per square meter, using native varieties adapted to local conditions.

It Works effectively irrespective of soil and climate conditions.

Plants require eight to nine months of care before reaching a point where the micro forest becomes self-sustaining.

The method requires planting a wide variety of plants in a fairly dense manner so that the plot of land has different layers of a forest such as shrubs, trees, and canopies – on small plots of land, turning them into tiny forests.

Through this method, mini forests grow 10 times faster and become 30 times denser and 100 times more bio-diverse than those planted through conventional methods.

Significance

Help lower temperatures.

Reduce air and noise pollution.

Attracts local birds and insects.

Create carbon sinks up to 30 times or more Carbon-dioxide absorption as compared to conventional forests.

However, such forests lack some qualities of natural forests, such as medicinal properties and the ability to bring rain.
https://indianexpress.com/article/governance/with-micro-forests-how-a-district-in-punjab-expands-its-green-cover-8139702/
https://t.me/+hJqMV1O0se03Njk9