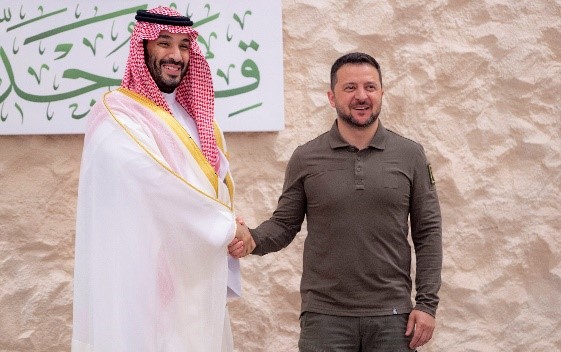 Disclaimer: Copyright infringement not intended.
Context
The talks on the Ukraine crisis concluded in the Saudi Arabian city of Jeddah.
Details
More than 40 countries, including China, India, the U.S, and European countries, but not Russia, took part in the Jeddah talks.
Participants called for continuing international efforts to build a common ground for peace.
Ukrainian President Volodymyr Zelenskyy welcomed the wide range of countries represented in the Jeddah talks, including developing countries that have been hit hard by the surge in food prices triggered by the war.
Ukraine said that this is very important because on issues such as food security, the fate of millions of people in Africa, Asia, and other parts of the world directly depends on how fast the world moves to implement the peace formula.
Role of Saudi Arabia – A Possible Mediator
Saudi Arabia, the world's biggest crude exporter which works closely with Russia on oil policy, has touted its ties to both sides and positioned itself as a possible mediator in the war, now nearly a year and a half old.
In hosting the summit, Saudi Arabia wants to reinforce its bid to become a Global Middle Power with the ability to mediate conflicts.
Saudi Arabia's Changing International Policy
Over the past few months, Saudi Arabia has attracted international attention with one diplomatic initiative after another – from its beginning of normalization with Iran, to peace talks with the Yemeni Houthis, to the reintegration of Syria into the Arab League, to efforts to broker a ceasefire in Sudan, to hosting Ukrainian President Volodymyr Zelensky during the Arab League Summit in Jeddah.
Under Mohammed bin Salman, or MBS, the international profile of Saudi Arabia has risen very fast.
It is reimagining itself as a middle power, if not a superpower.
Saudi's goal for the next 10-20 years is clear – to become a major non-Islamic, non-oil base geopolitical power.
Saudi is trying to earn that position using three major aspects:
Liberal Islam: For global acceptability, MBS is looking at liberal Islam. He wants to connect Saudi with the outside world. He doesn't want to be restricted to the Islamic world and wants to come out of the Islamic mindset.
Qatar Model: Saudi has observed the Qatar model closely and realized that to become powerful, you have to give a platform to the world. Balancing competing trends needs courage. Saudi is displaying it by holding Iran on the one side, and Syria on the other with America and China. In between, they are also in talks with Russia.
Renewable Technologies: Saudi has a huge amount of liquidity owing to the oil money. Taking a cue from the United Arab Emirates (UAE), they are now trying to create a base for newer technologies, especially renewable, the current sentiment and biggest selling point. The aim is to become a vital part of the supply chain, which is difficult for others to dislodge.
It highlights an evolution in how Saudi Arabia is positioning itself and operating on the regional and international stage.
One of the primary objectives of Saudi foreign policy has always been to counter and contain instability in the Middle East in order to keep threats at bay, limit risks to the free flow of oil exports from the Gulf and facilitate the Kingdom's domestic economic development.
Since the rise to power of Crown Prince Mohammed bin Salman in the mid-2010s, this has become even more explicit. Riyadh's number-one priority is the implementation of Vision 2030, the hugely ambitious socio-economic reform program that is supposed to transform Saudi Arabia into a modern, globally integrated knowledge economy that is less and less reliant on its hydrocarbon riches. The primary task for Saudi foreign policy is to support and enable this process, not least by reducing the threats posed to the Vision by instability or conflict in Saudi Arabia's neighborhood.
Mediator in Russia Ukraine Crisis
Holding Ukraine talks, is an image-building exercise, in line with the Qatar model. The conference is a win-win with no stakes — all Saudi is doing is hosting and taking ownership by issuing a press release. In return, the country will get publicity, become a stakeholder, get a validity for being a responsible country that intervened in global issues, and will come closer to the US and Europe.
These talks are a prime example of the success of Saudi Arabia's multipolar strategy of maintaining strong ties with Ukraine, Russia, and China.
Moving forward, Saudi Arabia wants to be in the company of India or Brazil, because only as a club can these middle powers hope to have an impact on the world stage.
PRACTICE QUESTION
Q. 'Saudi Arabia's journey from troublemaker to diplomat' seems to suggest that it is reimagining itself as a middle power, if not a superpower. Comment.
https://www.reuters.com/account/register/sign-up/?redirect=https%3A%2F%2Fwww.reuters.com%2Fworld%2Fukraine-calls-jeddah-talks-productive-russia-calls-them-doomed-2023-08-06%2F&referrer=registration_paywall_article&journeyStart=regwall-standard-no-bullets