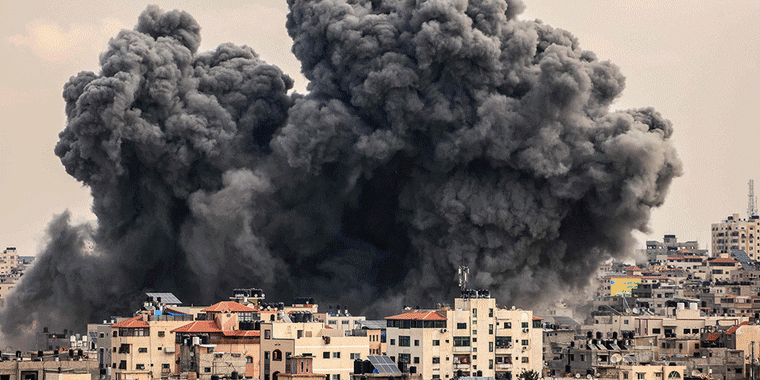 Disclaimer: Copyright infringement not intended.
Context
Over 200 Israelis and 232 Palestinians were killed in the deadliest escalation of the Israeli-Palestinian conflict in decades.
This is after the Hamas group launched a massive rocket barrage and ground, air, and sea offensive, prompting Israel to respond with intense airstrikes.
Historical Context
After the Ottoman Empire was defeated in World War I, Britain gained control of Palestine, which was inhabited by a Jewish minority and Arab majority.
The international community tasked Britain with creating a Jewish homeland in Palestine, which heightened tensions between the two groups.
In the 1920s and 1940s, the number of Jewish immigrants to Palestine increased significantly, as many Jews fled persecution in Europe and sought a homeland in the wake of the Holocaust.
Friction between Jews and Arabs, as well as resistance to British rule, intensified. In 1947, the United Nations voted to divide Palestine into separate Jewish and Arab states, with Jerusalem under international administration. The Jewish leadership embraced the plan, but the Arab side rejected it, and it was never implemented.
In 1948, unable to end the strife, British authorities withdrew and Jewish leaders proclaimed the founding of Israel.
Many Palestinians objected, and a war ensued. Neighboring Arab countries intervened with military force. Hundreds of thousands of Palestinians fled or were driven from their homes in what they call Al Nakba, or "The Catastrophe".
War And Peace
Over the years, Israel and Palestine have been involved in several skirmishes, some minor, some of catastrophic proportions that led to the deaths of thousands.
In 1987, Hamas, an acronym for Harakat al-Muqawama al-Islamiya (Islamic Resistance Movement), a political group with military capabilities, was launched by Palestinian cleric Sheikh Ahmed Yassin as a political arm of the Muslim Brotherhood, a transnational Sunni Islamist organization.
The two Palestinian uprisings, or 'intifadas', profoundly impacted Israeli-Palestinian relations, especially the second, which ended the 1990s peace process and ushered in a new era of conflict.
Both the intifadas had the involvement of Hamas.
US President Bill Clinton convened the Camp David Summit on July 11, 2000, bringing together Israeli Prime Minister Ehud Barak and Palestinian Authority Chairman Yasser Arafat for intensive final status negotiations, but the summit ended in no resolution, further worsening relations between the two nations.
Endgame
Hamas has called on its fighters in the West Bank and the Arab and Islamic worlds to join the battle against Israel.
In light of the latest conflict, tensions between Israelis and Palestinians in East Jerusalem, Gaza, and the West Bank remain high.
Israel and Egypt maintain tight control over Gaza's borders in an effort to prevent Hamas from obtaining weapons. This has led to a humanitarian crisis in Gaza, with many people struggling to access basic necessities such as food and water.
Palestinians in Gaza and the West Bank claim that they are suffering due to Israeli actions, such as the blockade of Gaza, the construction of the West Bank barrier, and the destruction of Palestinian homes.
Israel contends that it is only acting to defend itself from Palestinian violence, citing the fact that Hamas has fired thousands of rockets into Israeli territory and that Palestinian militants have carried out numerous attacks on Israeli civilians.
Implications and India's take
The surprise attack by Hamas on Israel, which has now turned into a war and can become a prolonged conflict, has raised concerns over how it will affect the global economy that is already under stress from the war in Ukraine.
For India, there are wider implications as it raises questions not only about India-Israeli economic cooperation and partnership but also about the welfare and safety of almost 9 million Indians in West Asia.
There are also concerns over how the conflict could affect the wider region, which is a key source of India's oil and gas, and impact their prices. Experts said rising oil prices could force an increase in the price of gold, which is seen as a more attractive investment hedge.
There are already signs of a hike in oil prices and if it goes up further in the coming days, it could spur inflation in India and elsewhere.
India's primary focus for now is the safety of 18,000 Indians currently living and working in Israel.
Israel is one of India's most reliable strategic partners. In past crises, Israel has stood by India and tried to help it.
Prime Minister Narendra Modi's prompt response in condemning the terrorist act of Hamas and reaffirming India's commitment to stand by Israel in its hour of crisis indicates how important the country has become for India in recent years.
But this also raised an important question about India's stand in support of the Palestinian demand for a homeland.
Economic, and defence ties
Trade between India and Israel, excluding defence, stood at $10.1 billion in 2023, according to the ministry of External Affairs. Israel is a major arms supplier of India and defence cooperation between the two sides has grown steadily over the years.
India has procured a wide array of Israeli weapons since normal diplomatic relations were established in 1992. They include Phalcon AWACS (airborne warning and control systems) and Heron, Searcher II and Harop drones to Barak anti-missile defence systems and Spyder quick-reaction anti-aircraft missile systems.
The two countries also have a robust intelligence-sharing partnership.
Though there are concerns over how the conflict could affect the wider region, there is little chance of it affecting oil supply in the Gulf countries.
In past crises, Gulf countries weaponised oil and regulated its supply but never stopped production and disrupted supplies. However, the possibility of a steep hike in oil prices remains a worry for India and the international community.
The proposed Middle East Europe Economic Corridor – a multi-billion infrastructure project announced during the G20 summit in New Delhi in September to link India with the Middle East and Europe – could now be put on hold indefinitely.
It also remains to be seen how the I2U2 Initiative with India, Israel, the US and the United Arab Emirates progresses in the near future. The I2U2 held its business forum meeting in February in Abu Dhabi. But whether the initiative now turns to more of strategic cooperation remains to be seen.
PRACTICE QUESTION
Q. Over the years, Israel and Palestine have been involved in several skirmishes that led to the deaths of thousands. What are the implications of Israel Palestine Conflict at regular intervals for India? What is India's take on the issue and what questions are raised about India's stand in support of the Palestinian demand for a homeland?