IRIS-T SLM AIR DEFENCE SYSTEM
Disclaimer: Copyright infringement not intended.
Context
European Union and NATO members Estonia and Latvia will begin negotiations with Germany's Diehl Defence for the purchase of a medium-range air defence system.
About IRIS-T SLM Air Defence System
The IRIS-T ("InfraRed Imaging System Tail/Thrust Vector-Controlled") is a medium range infrared homing missile available in both air-to-air and ground defence surface-to-air variants.

It also is called AIM-2000.

The missile was developed in the late 1990s–early 2000s by a German-led program to develop a short to medium range infrared homing air-to-air missile to replace the AIM-9 Sidewinder in use by some NATO member countries at the time.

Engine:

Solid-fuel rocket

Operational range:

25 km

Maximum speed:

Mach 3
About Estonia
Estonia is a country by the Baltic Sea in Northern Europe.

It is bordered to the north by the Gulf of Finland across from Finland, to the west by the sea across from Sweden, to the south by Latvia, and to the east by Lake Peipus and Russia.

The territory of Estonia consists of the mainland, the larger islands of Saaremaa and Hiiumaa, and over 2,200 other islands and islets on the eastern coast of the Baltic Sea.

The capital city Tallinn and Tartu are the two largest urban areas of the country.

The Estonian language is the official language of Estonia.

Estonia is a developed country, with an advanced high-income economy.

The sovereign state of Estonia is a democratic unitary parliamentary republic.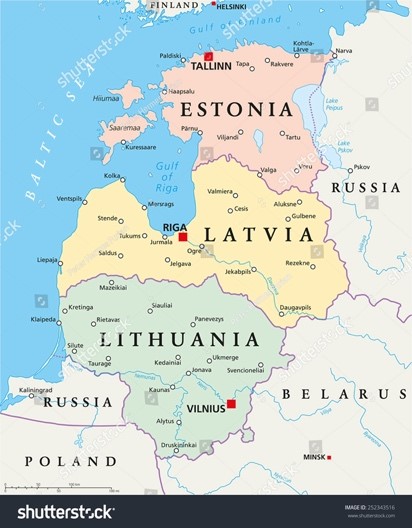 About Latvia
Latvia is a country in the Baltic region of Northern Europe.

It is one of the Baltic states; and is bordered by Estonia to the north, Lithuania to the south, Russia to the east, Belarus to the southeast, and shares a maritime border with Sweden to the west.

The country has a temperate seasonal climate.

Its capital and largest city is Riga.

Latvians belong to the ethno-linguistic group of the Balts and speak Latvian, one of the only two surviving Baltic languages.

Russians are the most prominent minority in the country, at almost a quarter of the population.

Latvia has been a democratic unitary parliamentary republic.

Latvia is a developed country, with a high-income advanced economy.

Latvia is a member of the European Union, Eurozone, NATO.
PRACTICE QUESTION
Q) Which of the following statements with reference to Latvia and Estonia is/are correct?
1. Latvia and Estonia are countries in the Baltic region of Northern Europe.
2. Both the countries have a democratic unitary parliamentary republic system.
a. 1 only
b. 2 only
c. Both 1 and 2
d. Neither 1 nor 2
Correct Answer: c
https://www.reuters.com/world/europe/estonia-latvia-look-purchase-mid-range-air-defence-germany-2023-05-21/