India-Middle East-Europe Economic Corridor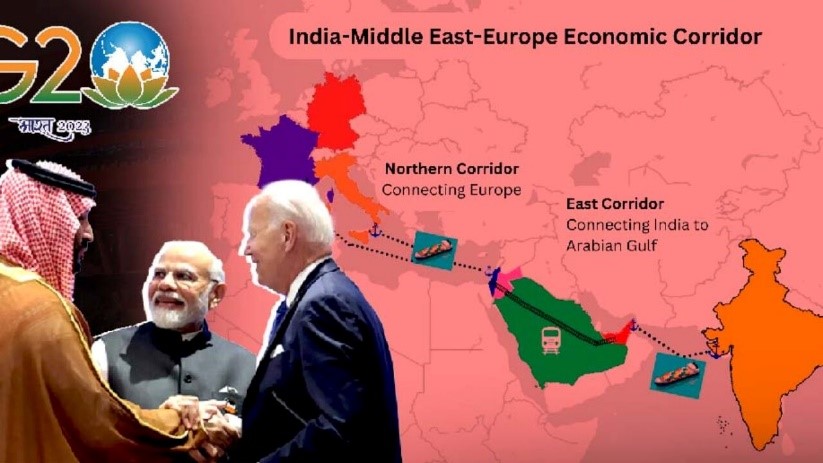 Disclaimer: Copyright infringement not intended.
Context
US President Joe Biden has hinted that one of the reasons behind Hamas' October 7 attack on Israel was the recent announcement of the India-Middle East-Europe Economic Corridor.
The corridor integrates the entire region with a network of rail, road, and ports.
READ ALL ABOUT INDIA MIDDLE EAST EUROPE ECONOMIC CORRIDOR: https://www.iasgyan.in/daily-current-affairs/india-middle-east-europe-mega-economic-corridor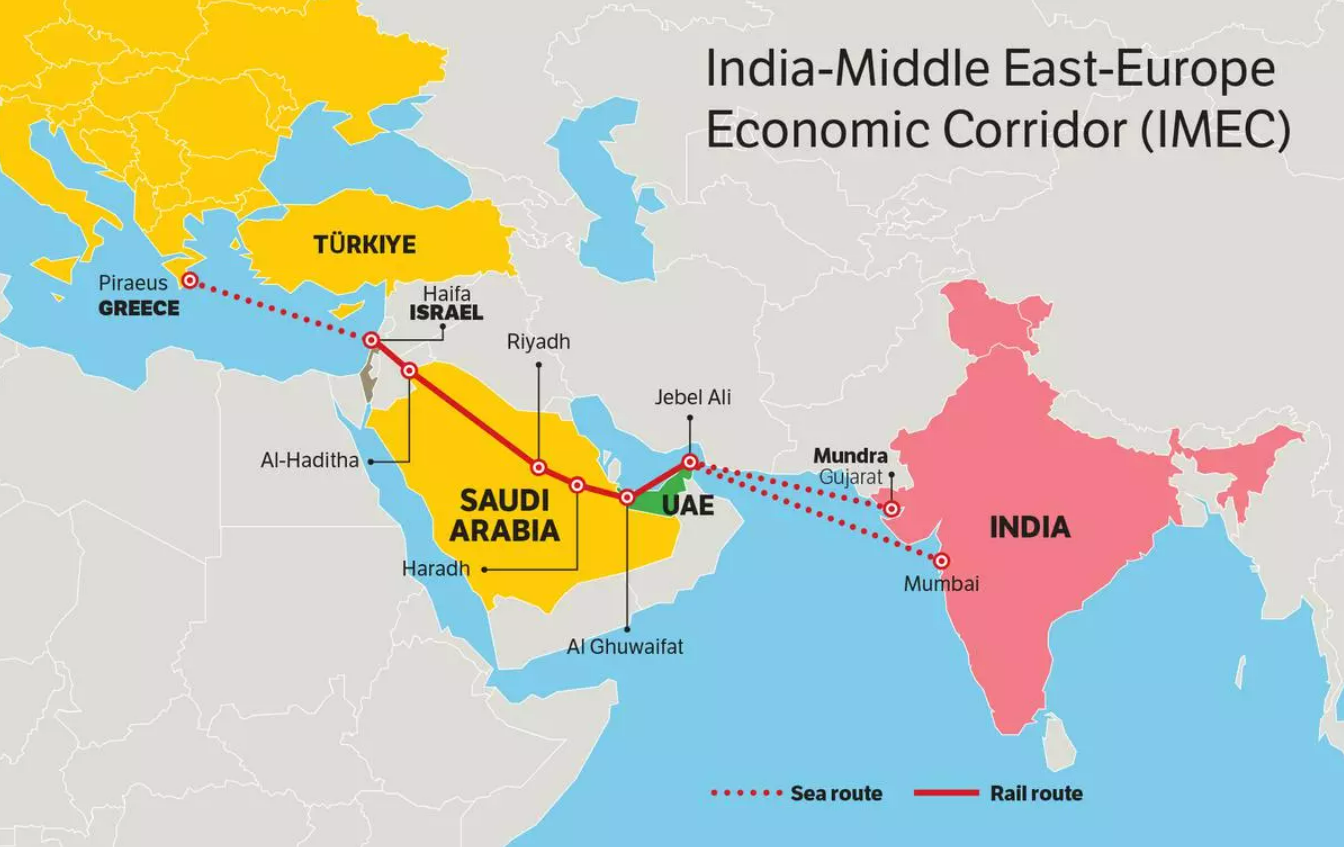 Corridor to Boost connectivity
The proposed project comprises two separate corridors, one is the east corridor connecting India to the Arabian Gulf and the other one is the northern corridor connecting the Arabian Gulf to Europe.
This corridor is all set to include a rail link with an electricity cable, a hydrogen pipeline, and a high-speed data cable laid out over it.
The rail link is said to connect India, UAE, Saudi Arabia, Jordan, Israel and Europe.
It will provide a reliable and cost-effective cross-border ship-to-rail transit network to supplement the existing maritime and road transport routes that enable goods and services to transit through this area.
So, there will be a movement of goods through standardized containers from India to Fujairah port on the east coast of UAE and then to the port of Haifa in Israel through 2650 km of railroad that will pass through Saudi Arabia and Jordan.
Goods will reach the Haifa port and from there the goods from India, Nepal, and Bangladesh will be shipped to various ports in Europe including Italy, Germany, and France.
The present Haifa port in Israel is being operated and upgraded by an Indian company. This corridor would also act as a rail bridge to send goods from Vietnam to India via Myanmar and Bangladesh and ensure that the Indian goods reach European destinations within three days.
Economic Benefits of India-Middle East-Europe Corridor
The corridor is envisioned to secure regional supply chains, increase trade accessibility, improve trade facilitation, and increase the focus on environmental, social, and governmental impacts.
Further Looking at the economic prospects, the corridor is set to increase efficiency, reduce costs, enhance economic unity, lower greenhouse gas emissions, and generate jobs across Asia, Europe, and the Middle East region.
There was a need for the development of this corridor, not only as an alternative to China's Belt and Road initiative but also to increase the flow of energy and digital communication between the strategically important nations.
The project will also help build infrastructure that is needed for growth in the lower and middle-income nations.
The intent of this project to link continents to commercial hubs and facilitate the development and export of clean energy is a big step towards India's vision of being the third largest economy in the world.
PRACTICE QUESTION
Q. The India-Middle East-Europe Corridor is touted as a counter to China's Belt and Road Initiative. What are the expected economic benefits of the India-Middle East-Europe Corridor? Discuss.