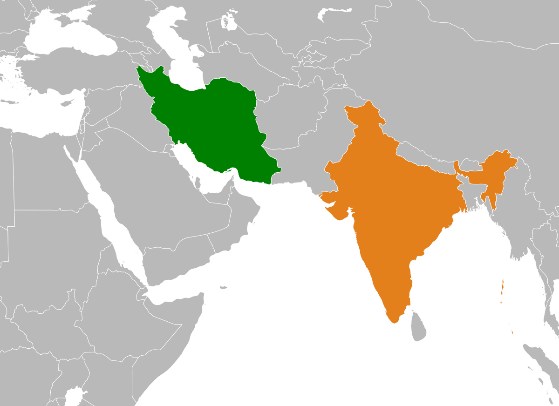 Disclaimer: Copyright infringement not intended.
Context
Prime Minister Shri Narendra Modi had a telephone conversation today with H.E. Dr Seyyed Ebrahim Raisi, President of the Islamic Republic of Iran. The two leaders discussed matters of bilateral and regional importance.
India-Iran Ties
History
The age-long historical relations between the Iranians and the people of the Indian subcontinent date back to a very remote past.
In the splendid civilization of Mohenjodaro and the Sindh Valley which flourished between 2500 and 1500 BC, there are visible signs of relationship with the Iranian civilization.
The ancient relics, earthenware and the marked resemblance in their designs and patterns are strong evidence in favor of this assertion.
Ties between both ancient Persia and ancient India date back millennia.
During the Middle Ages, there was a fusion of medieval Persian culture in India, especially from the Delhi Sultanate till the period of Mughal Hindustan.
Until the British colonization of India, the court language of India was Persian. During colonization, relations between India and the rest of the world were subject to drastic changes, and consequently, contact between Iran and India decreased.
Post-Independence Era
The two countries shared a border till 1947 — or the creation of Pakistan and share several common features in their language, culture and traditions.
Independent India and Iran established diplomatic relations on 15 March 1950.
During much of the Cold War, relations between India and the erstwhile Imperial State of Iran suffered due to their differing political interests: India endorsed a non-aligned position but fostered strong links with the Soviet Union, while Iran was an open member of the Western Bloc and enjoyed close ties with the United States.
While India did not welcome the 1979 Islamic Revolution, relations between the two states strengthened momentarily in its aftermath.
However, Iran's continued support for Pakistan in the India–Pakistan conflict and India's close relations with Iraq during the Iran–Iraq War greatly strained bilateral ties.
In the 1990s, both India and Iran supported the Northern Alliance against the Taliban in Afghanistan, the latter of which received overt Pakistani backing and ruled most of the country until the 2001 United States-led invasion.
They continued to collaborate in supporting the broad-based anti-Taliban government, led by Ashraf Ghani and backed by the international community until the Taliban captured Kabul in 2021 and re-established the Islamic Emirate of Afghanistan.
INDIA'S APPROACH TO IRAN
India's foreign policy after its independence in 1947 can be divided into three periods.
In the first period, from 1947-1990, the country's policy was marked by "Nehruism," or nonalignment with the superpowers and coalition with Third World countries.
In the second period, from 1991-2001, neoliberal ideas and economic reform became a priority. India's fundamental objectives were to acquire advanced technology, resolve political disputes with neighbours, and hasten globalization.
In the third period, from 2001 to the present, India's foreign policy focus has shifted from economics to security. Military power and defensive capabilities have taken a more prominent role. India also seeks interaction with superpowers, greater influence in global affairs, and a permanent seat on the UN Security Council.
Cooperation and Convergence
Given their affinities, there are various areas of potential cooperation for Iran and India.
Connectivity
With the land route through Pakistan out of bounds for India, Iran provides an alternate connectivity route to Afghanistan and the republics of Central Asia for trade.
Iran is crucial in the success of the International North South Transit Corridor.
International Structure
Both countries are looking to revise the global security equation and the structure of international security. Iran objects to the world management model, especially the UN Security Council structure.
India, for its part, as a nascent great power, is seeking a permanent seat on the Council. Because the two countries are outsiders in regard to this structure, they are brought together.
Economics
While bilateral trade between Iran and India experienced fluctuations over the past decade, it achieved a significant milestone in the 2000s with the establishment of a "strategic partnership" between the two nations.
India is under pressure from its Western allies vis-à-vis its relationship with Iran, yet India's sustained economic growth makes Iran's economic cooperation and energy indispensable.
Note: The signing of the Joint Comprehensive Plan of Action (JCPOA) had initially propelled trade relations between Iran and India to reach an impressive volume of US$18 billion. However, the subsequent withdrawal of the United States from the JCPOA in May 2018 and the imposition of multi-layered sanctions on Iran presented formidable challenges to bilateral trade.
India and Iran have witnessed a notable surge in bilateral trade, with exports and imports between the two countries experiencing significant growth. Despite facing challenges such as sanctions and import restrictions from the US, both nations recognize the immense potential for economic cooperation.
The value of India's exports to Iran saw a remarkable increase in 2022, reaching US$1,847 million, representing a substantial increase of 44 percent. At the same time, India's imports from Iran experienced a significant rise of 60 percent, totaling US$653 million. The notable growth in bilateral trade was largely driven by India's rice exports to Iran, which reached an impressive value of US$1.098 billion, demonstrating a remarkable growth rate of 52 percent.
Major Indian exports to Iran include rice, tea, fresh fruits, sugar, drugs/pharmaceuticals, artificial jewellery and electrical machinery, the major Indian imports from Iran are dry fruits, glass and glassware, inorganic/organic chemicals, natural or cultured pearls, leather, gypsum and precious or semiprecious stones.
Iran, for a long period of time, was consistently one of India's top-three oil suppliers.
Energy was the bedrock of India-Iran economic ties for decades, to the point that critical infrastructure such as the Mangalore refinery (MRPL) was largely built keeping in mind supplies of the kind of 'heavy crude' that came from Iran.
India's economic strength, sizable population, military capabilities, nuclear power status, and its membership in BRICS have garnered Iran's attention. In line with its "Look East" roadmap, Iran is increasingly prioritizing the enhancement of ties with India. From Iran's perspective, multilateral organizations like the BRICS bloc and the Shanghai Cooperation Organization play a pivotal role. Recently, Iran's trade with BRICS member countries reached a substantial US$34 billion.
As India continues to navigate geopolitical challenges, its dedication to fortifying trade relations with Iran remains resolute. By actively engaging in strategic dialogues and exploring avenues of cooperation, India aims to forge a mutually beneficial and resilient business environment that transcends external pressures.
However, in 2023 India had to stop procurement of crude oil from Iran after the US did not continue with sanction waivers to India and several other countries.
Foreign Trade Policy (FTP) 2023
India's foreign trade policy (FTP) 2023 outlines key objectives, including strengthening exports, promoting growth, and transforming India into a leading commercial trade center.
Emphasizing the use of the Indian rupee in cross-border trade and deepening trade relations, the policy document highlights the rupee as a potential global currency in the years to come. These goals hold considerable relevance for trade with Iran.
Diversifying India-Iran trade portfolio
Currently, agricultural products and fruits constitute a significant portion of trade between India and Iran. Mutual investment support, expanded cooperation in medicine and pharmaceutical raw materials, and stronger bilateral and multilateral trade agreements can further enhance economic ties.
Iran's major export goods to India predominantly include petroleum products, which experienced a four-fold growth in 2022. Other notable export goods from Iran to India include paint raw materials and fruits.
Moreover, the trade potential between the two nations extends to a wide range of products such as fruit, tea, sugar, fresh fruits, drugs/medications, soft drinks, industrial machinery, meat, minerals, organic chemicals, fertilizers, plastics, glass, leather, almonds, pistachios, dates, and saffron. Furthermore, non-oil trade opportunities encompass goods, services, investment, tourism, education, and hold immense potential for exponential growth in the medium and long term.
Stability and Regional Security
One of the top security issues for India is Pakistan, as the two neighbors have a long relationship of animosity.
Communal tension and violence between Hindus and Muslims have risen in some areas of India over the past decade, and India's growing relationship with Israel and the United States, which has brought about domestic criticism, has prompted India to reinforce its ties with the Muslim world.
Iran can be helpful to India by providing it with a Muslim partner that acts as a counterbalance to Pakistan, and thus Iran presents a potential strategic advantage for India.
International Terrorism
Tehran and New Delhi are both concerned about the spread of pernicious Sunni Islamist militias in South Asia and the revival of Wahhabi power in Asia and the Middle East. This concern led to the establishment of a joint committee in 2003 targeted at eliminating terrorist activities, gun trafficking, and the narcotics trade.
During the Taliban era, when Iran was under a serious threat from both Pakistan and Afghanistan, it decided to expand its cooperation with India and Russia, and even helped the United States to overthrow the Taliban.
India and Iran welcomed the Taliban's demise in October 2001 and made Afghanistan's reconstruction and stability a common, critical goal. Thus, counterterrorism can be a significant area for convergence and integration between the two countries.
Geopolitical Ties
From a geopolitical perspective, despite the two countries having some common strategic interests, India and Iran differ significantly on key foreign policy issues.
India has expressed strong opposition to Iran's nuclear program and while both nations continue to oppose the Taliban, India supported the presence of NATO-led forces in Afghanistan, unlike Iran.
Strategic and Defense Cooperation
One of the most significant provisions of 2003's New Delhi Declaration sought to upgrade defense cooperation between Iran and India.
The wide-ranging partnership involved all three military services: the army, navy, and air force. After the Iran-Iraq War, Tehran rebuilt its conventional arsenal by purchasing tanks, combat aircraft, and ships from Russia and China.
Iran solicited Indian assistance in 1993 to help develop new batteries for three Kilo-class submarines it had purchased from Russia.
The submarine batteries provided by the Russians were ill-suited to the warm waters of the Persian Gulf, and India had substantial experience operating Kilo-class submarines in warm water.
Iran remains inclined to acquire Indian assistance for other upgrades to its Russian-supplied military hardware, including MiG-29 fighters, warships, and tanks.
However, despite these initiatives, strategic and defense cooperation between the two countries is relatively low. The reason for this is India's turn to the West.
India-Iran energy and infrastructure collaboration
Despite facing hurdles such as import restrictions on Iranian oil and reduced Indian involvement in projects like the Chabahar port, energy, and infrastructure, both countries recognize the substantial potential of their economic cooperation. The vast hydrocarbon reserves in Iran and India's energy needs have served as a solid foundation for their economic collaboration over the past decades.
In 2022, the export of Iranian oil products to India experienced remarkable growth, reaching US$175 million, quadrupling the previous year's figure.
Moreover, Iran's abundant gas reserves, which rank second globally, present opportunities for fuel diversification, decarbonization, and increasing the share of gas in India's energy mix until 2030. Submarine pipelines offer a viable means for transferring Iranian gas to India, and reviving the Iran-Pakistan India gas pipeline (IPI) remains a possibility.
Furthermore, investment and infrastructure collaborations present opportunities for New Delhi to re-engage with Iran. Areas such as the development of

offshore gas fields like Farzad B

, as well as the petrochemical and fertilizer industries, hold potential for cooperation between India and Iran.
Analysis of Key issues
Several key issues shape the Iran-India relationship. Iran and India have the largest and the fourth largest Shi`i Muslim populations in the world, respectively. Therefore, they share a mutual concern over Sunni-Shi`i conflicts, especially in Pakistan. Through emphasizing these conflicts, New Delhi sees an opportunity to limit Pakistan's influence in international Islamic forums.
In addition, Iran's geopolitical position is significant for India, as it can counteract China's increasing presence throughout Asia and boost India's regional influence. New Delhi is working with Tehran to open the Iranian port of Chabahar.
The development of this port as well as Indian investment in infrastructure along Iran's border with Afghanistan not only helps India to counter the massive Chinese investment in Pakistan's Gwadar port but also boosts India's influence in Afghanistan, which counters Pakistan's influence there.
Lastly, Iran is rich in oil and gas reserves and thus can help meet India's domestic energy needs and aid it in avoiding an over-reliance on Saudi Arabia, which has had traditionally close ties with Pakistan.
PRACTICE QUESTION
Q. Iran's geopolitical position is significant for India, as it can counteract China's increasing presence throughout Asia and boost India's regional influence. What are the areas of cooperation between the two countries? Discuss.