HEAT WAVES IN DIFFERENT PARTS OF THE WORLD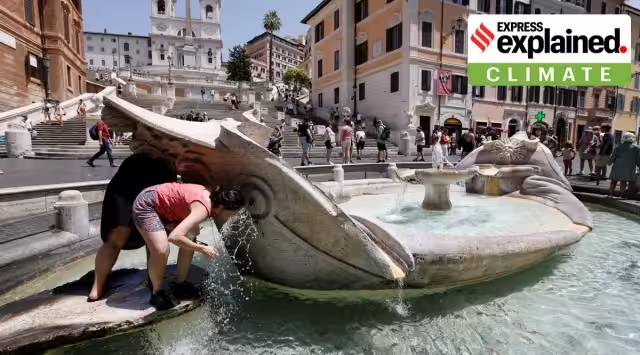 Disclaimer: Copyright infringement not intended.
Context
The recent occurrence of extreme heat waves in various parts of the world and their connection to climate change
Details
The passage discusses the recent occurrence of extreme heat waves in different parts of the world, including the Cayman Islands, North America, Europe, and Asia.
These record-breaking temperatures are a stark reminder of the impact of climate change, leading to extreme weather events becoming more frequent globally.
North America
Phoenix, Arizona, witnessed 19 consecutive days of temperatures above 43.3 degrees Celsius, breaking a 1974 record.
Southern California and Nevada also experienced a blazing heat wave, with excessive heat warnings affecting over 100 million people in the Western USA.
Canada faced its worst wildfire season, with nearly 25 million acres burned by 887 wildfires.
Europe
Europe experienced two consecutive heat waves, with temperatures breaking records in Italy, Greece, and France.
Italy's Sardinia and Rome recorded extreme temperatures, leading to red weather alerts in 20 cities.
Greece saw temperatures above 40 degrees Celsius, causing wildfires in various regions.
Spain's Canary Islands witnessed a wildfire that displaced residents and affected thousands of acres.
Asia
China faced a series of heat waves, with a record-breaking temperature of 52 degrees Celsius in Sanbao, Xinjiang.
West Asian countries like Iran and Saudi Arabia also experienced soaring temperatures, with Saudi Arabia surpassing 50 degrees Celsius.
India had milder temperatures due to monsoon rains, but faced record heat in February and April.
Global Warming and Climate Change
Extreme weather events are linked to global warming caused by excessive carbon emissions.
The Earth's atmosphere traps heat due to the greenhouse gas effect, leading to a 1.16-degree Celsius increase in temperature since the pre-industrial age.
Mass-scale floods, droughts, heatwaves, and heavy rainfalls are becoming more frequent due to climate change.
Consequences of Inaction
Scientists warn that breaching the 1.5-degree Celsius global warming limit could cause irreversible damage to the planet's ecosystem, impacting humans and other living beings.
Urgent actions to reduce greenhouse gas emissions are necessary to mitigate the effects of climate change.
El Nino's Impact
The current crisis of extreme heat waves is also influenced by the El Nino weather pattern, causing abnormal warming in the equatorial Pacific Ocean.
El Nino increases the likelihood of temperature records being broken and triggers more extreme heat globally.
PRACTICE QUESTION
Q) Extreme heat waves and their increasing frequency have become a global concern, impacting various regions worldwide. Analyze the factors contributing to the occurrence of extreme heat waves, and their consequences on the environment, human health, and ecosystems. (150 words)
https://indianexpress.com/article/explained/explained-climate/how-different-countries-are-facing-debilitating-impact-of-heat-waves-8848747/