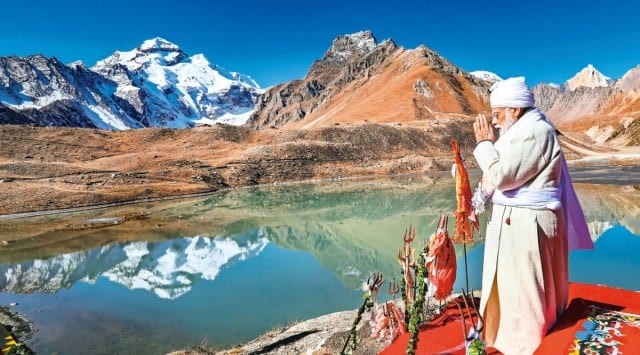 Disclaimer: Copyright infringement not intended.
Context
PM Modi's visit to Gunji, near Kalapani in Uttarakhand, has stirred controversy in Nepal.
Political figures raised concerns over the visit and the alleged violation of diplomatic protocols.
Details
Border Disputes Reignited
The visit reignited tensions over border disputes between India and Nepal.
These concern areas like Kalapani, Limpiadhura, and Lipulekh, which are depicted on both countries' official maps but administered by India.
Commitment to Resolution
Both countries expressed commitments to resolve the territorial disagreements through peaceful bilateral discussions.
About Gunji
Geographical and Cultural Significance:
Gunji is positioned in the Pithoragarh district, close to the borders of Tibet and Nepal.

Its strategic location has led to its historical significance as a trading point on the ancient Trans-Himalayan trade route.

The local population primarily comprises the Bhotia and Shauka tribes.
Socio-Economic Aspects:
The villagers primarily engage in agriculture, animal husbandry, and trade.

Focus is on cultivating crops such as barley, wheat, and potatoes.

Livestock rearing, especially of yaks and sheep, is also a significant source of livelihood.

Gunji has historically served as a hub for cross-border trade between India, Tibet, and Nepal.
Tourism and Adventure:
Gunji serves as a base for several popular trekking trails, including the Kailash Mansarovar Yatra and the Nanda Devi trek.

It is near to the Nanda Devi National Park, a UNESCO World Heritage Site.
Cultural Festivals and Traditions:
Festivals such as Losar, Phool Dei, and Basant Panchami are marked.
About Adi Kailash
Adi Kailash is highly revered as the abode of Lord Shiva. It is also considered a sacred pilgrimage site for Buddhists and Jains.
It is located in the district of Pithoragarh, Uttarakhand.
The Pilgrimage Trek typically commences from the village of Kutti in Uttarakhand.
Conclusion
Despite its geographical remoteness, Gunji continues to charm visitors with its unique blend of cultural heritage, natural beauty, and adventure opportunities.
PRACTICE QUESTION
Q. Which of the following rivers does the Gunji village in Uttarakhand, India, lie close to?
a) Ganges
b) Yamuna
c) Alaknanda
d) Kali
Answer: d)