EXERCISE DESERT FLAG VIII
Copyright infringement not intended
Context: An Indian Air Force contingent comprising of 110 Air Warriors reached at Al Dahfra airbase of United Arab Emirates for participating in Exercise Desert Flag VIII.
Details:
This is the first occasion when the LCA Tejas will participate in an international flying exercise outside India.
About:
Exercise Desert Flag is a multilateral air exercise in which Air Forces from UAE, France, Kuwait, Australia, UK, Bahrain, Morocco, Spain, Republic of Korea and USA

would also be participating.

The aim of the exercise is to participate in diverse fighter engagements and learn from the best practices of various Air Forces.
About Tejas:
LCA Programme: Background
In 1983, the Government of India established the LCA project with the initial goal to develop a new light combat aircraft to replace the ageing IAF fighters,especially the MiG-21 variants.

In 1984, the Government of India established Aeronautical Development Agency (ADA) under the aegis of Defence Research and Development Organisation (DRDO) to manage the LCA programme.
Tejas under LCA Programme
The HAL Tejas is an Indian, single engine, delta wing, light multirole fighter.

In 2003, the LCA was officially named "Tejas". It is the smallest and lightest in its class of contemporary supersonic combat aircraft.

The Tejas is the second supersonic fighter developed by HAL after the HAL HF-24 Marut.

The Tejas currently has three production models – Tejas Mark 1, Mark 1A and trainer variant.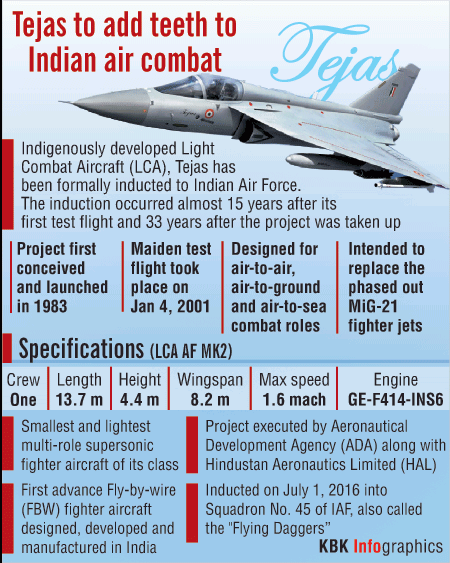 LCA Mk II
The LCA-Mk2 will be a heavier and much more capable aircraft than the current LCA variants.

The Mk2 is 1,350 mm longer featuring canards and can carry a payload of 6,500 kg compared to 3,500 kg the LCA can carry.

Stealth aircraft:

It would be a twin engine stealth aircraft with an internal weapons bay and a diverter less supersonic intake, which has been developed for the first time for which the design is complete.

It will be a 25-tonne aircraft with internal carriage of 1,500 kg of payload and 5,500-kg external payload with 6,500 kg of internal fuel.

The AMCA will have stealth and non-stealth configuration.
PRACTICE QUESTION
Q) Which of the following statements are correct with reference to HAL Tejas?
a. It is an Indian, single-engine, delta wing, light multirole fighter.
b. It is the first supersonic fighter developed by HAL.
I. Only a
II. Only b
III. Both a and b
IV. Neither a not b
Answer: Option I
https://newsonair.gov.in/News?title=Indian-Air-Force-contingent-reaches-in-UAE-to-participate-in-Exercise-Desert-Flag-VIII&id=456464