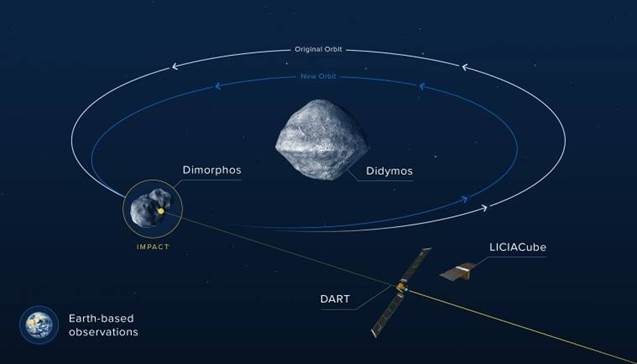 Copyright infringement not intended
About
National Aeronautics and Space Administration (NASA)

in the first-of-its-kind, save-the-world experiment is going to destroy a small, harmless asteroid.

The asteroid's name is Dimorphos, it is about 7 million miles (9.6 million kilometres) from Earth.

NASA's press release states that the experiment is about asteroid deflection, not disruption; this experiment isn't going to blow up the asteroid.

DART (Double Asteroid Redirection Test) is the

first planetary defence test mission.

It will test the new technology to protect the earth in case an asteroid heads towards Earth.

It has a single instrument: a camera used for navigating, targeting and chronicling the final action.

The technology would allow a spacecraft to crash into an asteroid and change its route.

It will be a suicide mission and the spacecraft will be destroyed in the collision with the asteroid.
https://indianexpress.com/article/explained/explained-sci-tech/why-a-nasa-spacecraft-will-crash-into-an-asteroid-8167425/
https://t.me/+hJqMV1O0se03Njk9