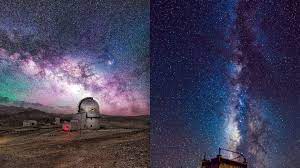 Disclaimer: Copyright infringement not intended.
Context
Department of Science & Technology (DST), has undertaken to set up India's first-ever "Night Sky Sanctuary" in Ladakh which will be completed within next three months.
Details
The proposed Dark Sky Reserve will be located at Hanle in Ladakh as a part of Changthang Wildlife Sanctuary.
Stakeholders will work together to prevent the night sky from being illuminated and polluted, which severely threatens scientific observations and the sky's natural conditions.
Hanle is ideally suitable for the project because it is situated in the freezing desert region of Ladakh, far from any human interference, and has dry weather conditions all year round.
Significance
The site will have activities to help in boosting local tourism and economy through interventions of Science and Technology.
It will boost Astro tourism in India and will be one of the world's highest-located sites for optical, infra-red, and gamma-ray telescopes.
https://www.pib.gov.in/PressReleasePage.aspx?PRID=1856505