Context
Rare Chrysilla volupe spiders discovered at Puttenahalli lake.
About Chrysilla volupe spiders:
The Chrysilla volupe was believed to be extinct for 150 years, until it was discovered at the Wayanad Wildlife Sanctuary (WWS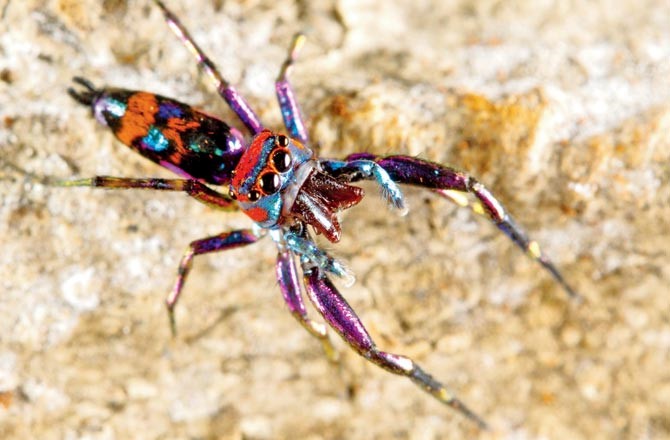 The spider belongs to the family of jumping spiders (Salticidae) and scientifically named Chrysilla volupe.
Male spiders are 5.44 mm long including stretched legs and 1.76 mm wide.
They have a carapace in reddish orange colour with two iridescent blue stripes, stated PNLIT in the release.
Females measure 2.61 mm long and 0.88 mm wide, and have a greyish carapace with grey eyebrows with all legs yellow in colour.
About Puttenahalli lake
It is a small, restored freshwater lake located in
The primary water sources are rain and surface water diverted to the lake through channels.
The lake is currently maintained by Puttenahalli Neighbourhood Lake Improvement Trust (PNLIT) .
The lake was on the brink of extinction, but due to the efforts of PNLIT, is now a haven for bird-watchers and on its way to being completely restored.
About The Wayanad Wildlife Sanctuary
It is an animal sanctuary in Wayanad, Kerala, India.
Wayanad Wildlife Sanctuary is the second largest wildlife sanctuary in
Established in 1973, the sanctuary is now an integral part of the Nilgiri Biosphere Reserve.
It is bounded by protected area network of Nagarhole and Bandipur of Karnataka in the northeast, and on the southeast by Mudumalai of Tamil Nadu.
It is part of the Deccan Plateau and the vegetation is predominantly of the south Indian moist deciduous teak forests.
Wayanad district has the largest population of Adivasi in Kerala. Scheduled tribes here include Paniyas, Kurumas, Adiyans, Kurichiyas, Ooralis and Kattunaikkans.
The sanctuary is part of the Nilgiri Biosphere Reserve, which is a UNESCO World Heritage Site.
https://www.thehindu.com/news/cities/bangalore/rare-chrysilla-volupe-spiders-discovered-at-puttenahalli-lake/article35456761.ece?homepage=true