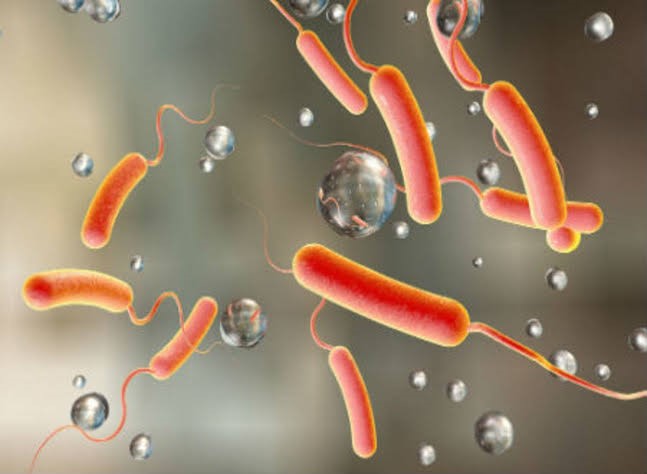 Disclaimer: Copyright infringement not intended.
Context: As per UNICEF, the Worst cholera outbreak since 2017 is affecting children in Congo.
Impact of Cholera Epidemic on DRC
Rising Conflicts
Since 2017, conflict and displacement in the eastern Democratic Republic of the Congo (DRC) have gone up due to this.
Rising cases
DRC is stated as a statistically significant contributor to the global epidemiology of

In 2017, various parts of Congo, including the capital Kinshasa, have been affected by cholera, with almost 55,000 cases and more than 1,100 deaths.
Adverse impact on children
There have been at least 31,342 suspected or confirmed cholera cases and 230 deaths, many of them children, in the first seven months of 2023 across DRC.
Internal displacements
More than 6.3 million people have been internally displaced in DRC which is the highest in Africa.
The threat of further displacements
There is the danger it will continue to spread in displacement sites where systems are already overwhelmed and the population, especially children, is highly vulnerable to illness and potentially death.
Overcrowded camps
The overcrowded displacement camps have become the breeding grounds for cholera transmission.
Other health risks
The families living in cholera hotspots faced multiple other health risks, including malnutrition and lack of access to prenatal care and vaccinations.
Epidemic level of disease
It is endemic in several parts of DRC, with about 189,000 cases reported every year.

An estimated 2.9 million cases and 95,000 deaths occur annually.
Efforts to curb cholera
Global Task Force on Cholera Control (GTFCC)
In 2014 the Global Task Force on Cholera Control (GTFCC), with its Secretariat based at WHO, was revitalized.

The GTFCC is a network of more than 50 partners active in cholera control globally, including academic institutions, non-governmental organisations and United Nations agencies.
End Cholera strategy
In October 2017, GTFCC partners launched a strategy for cholera control Ending Cholera: A global roadmap to 2030. The country-led strategy aims to reduce cholera deaths by 90% and eliminate cholera in as many as 20 countries by 2030.

A resolution promoting control of cholera and endorsing "Ending Cholera: A global roadmap to 2030" was passed in May 2018 at the 71st World Health Assembly.
Cholera Kits
To ensure efficient and effective deployment of necessary materials for the investigation and confirmation of cholera outbreaks, as well as the treatment of cholera patients, WHO has developed a set of cholera kits.
UNICEF's efforts
To combat this emergency, UNICEF has called for $62.5 million to enhance its prevention and response activities to cholera and water, sanitation and hygiene (WASH) crisis for the next five months.

It seeks to reach 1.8 million people, including 1 million children.

Currently, just 9 per cent of the funds have been raised, signalling a dire need for international support.
About cholera
Cholera is an acute diarrhoeal infection caused by ingestion of food or water contaminated with the bacterium Vibrio cholerae.

Cholera remains a global threat to public health and an indicator of inequity and lack of social development.
Symptoms
Cholera is an extremely virulent disease that can cause severe acute watery diarrhoea.

Cholera affects both children and adults and can kill within hours if untreated.

Most people infected with V. cholerae do not develop any symptoms although the bacteria are present in their faeces for 1-10 days after infection.

Among people who develop symptoms, the majority have mild or moderate symptoms.

Minorities develop acute watery diarrhoea with severe dehydration. This can lead to death if left untreated.
History
During the 19th century, cholera spread across the world from its original reservoir in the Ganges delta in India.

Six subsequent pandemics killed millions of people across all continents.

The current (seventh) pandemic started in South Asia in 1961, reached Africa in 1971 and the Americas in 1991.

Cholera is now endemic in many countries.
Prevention and Control
Surveillance
Cholera surveillance should be part of an integrated disease surveillance system that includes feedback at the local level and information-sharing at the global level.

Countries affected by cholera are encouraged to strengthen disease surveillance and national preparedness to rapidly detect and respond to outbreaks.
Water and sanitation interventions
The long-term solution for cholera control lies in economic development and universal access to safe drinking water and adequate sanitation.

Actions targeting environmental conditions include the implementation of adapted long-term sustainable WASH solutions to ensure the use of safe water, basic sanitation and good hygiene practices in cholera hotspots.

The WASH solutions for cholera are aligned with those of the Sustainable Development Goals (SDG 6).
Treatment
Cholera is an easily treatable disease. The majority of people can be treated successfully through prompt administration of oral rehydration solution (ORS).
Community Engagement
Local cultural practices and beliefs are central to promoting actions such as the adoption of protective hygiene measures such as handwashing with soap, safe preparation and storage of food and safe disposal of the faeces of children.

Community engagement should be done throughout the outbreak response with increased communication regarding potential risks, symptoms of cholera, and precautions to take to avoid cholera.
Conclusion
Cholera cases are under-reported globally. The infections and deaths this year are much more than the total of 18,403 suspected cases of cholera in the entire year or 12 months in 2022. If urgent action is not taken within the next few months, there is a significant risk that the disease will spread to parts of the country that have not been affected for many years.
PRACTICE QUESTION
Q. The Democratic Republic of Congo is going through the worst cholera epidemic. This highlights that a multifaceted approach is key to controlling cholera and reducing deaths. Critically evaluate. ( 250 words)
https://www.downtoearth.org.in/news/africa/children-in-congo-facing-worst-cholera-outbreak-since-2017-unicef-91276