Disclaimer: Copyright infringement not intended.
Context
After facing a delay of nearly five years, the work on the Mumbai-Ahmedabad High-Speed Rail Corridor is speeding up.
Mumbai–Ahmedabad High-Speed Rail Corridor (MAHSR)
Mumbai–Ahmedabad High-Speed Rail Corridor (MAHSR), is an under-construction high-speed rail line, which will connect India's economic and financial hub, Mumbai, with the largest city of the state of Gujarat, Ahmedabad.
When completed, it will be India's first high-speed rail line.

The stretch of 50 km from Surat to Bilimora is expected to be completed by 2026.
Details
Speed:
The train will run at a speed of 350km per hour and the operational speed of the train will be 320kmph.
Length of Corridor:
The total length of the bullet train corridor is 508.17 km and the train is expected to take around 2 hours and 58 minutes to travel between Ahmadabad and Mumbai, covering eight stations in Gujarat and four in Maharashtra.
Tracks and Construction Technology:
The trains will run on special tracks called the "slab track system", popularly known as HSR technology for the construction of tracks, patented by Japanese.

Using designs procured from Japan, construction is being done through the Full Span Launching Method, one of the sophisticated bridge construction technologies in the world.
Compared to Aeroplanes:
The services will come at a fare matching the economy-class flights and are likely to have a higher free-luggage limit.

The bullet train will have less check-in time, more leg space and above all, connectivity, which is denied on-board airplanes.
Funding:
The Japanese government funded more than 80 per cent of the project at an interest rate of 0.1 per cent and has given India 50 years to repay.
Track Technology (Ballasted Vs Non Ballasted)
Traditional ballasted track
Ballasted track is commonly composed of steel rail, railroad tie, railway fasteners and ballast bed.

On traditional ballasted track, the rail is mounted onto a wooden or concrete sleeper.

A layer of gravel is laid between ground and railway sleeper to form the track bed. Track bed (ballast bed) can improve the flexibility and drainage performance of railway track.

Traditional ballasted track has been used since the earliest days of the Victorian railways and has changed little in concept since that time.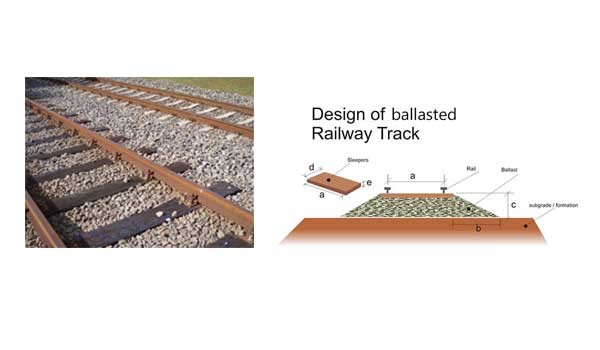 Advantages:
Ballasted track requires low investment cost.

Ballasted track is usually easy to lay.

Ballasted track has good drainage performance.
Disadvantages:
Train run on the ballasted track with banged sound and low speed. so that, passengers may feel uncomfortable.

Ballasted track is easy to be deformed.

Ballasted bed requires frequent and costly maintenance.

Train speed is limited on the ballasted track.

Ballasted track has poor life expectation (about 15-20yrs).

Ballasted track produce more pollution by releasing dust from ballast.

Ballasted track has higher noise level than non-ballasted track. It is necessary to take effective noise reduction measures.
Non-Ballasted Track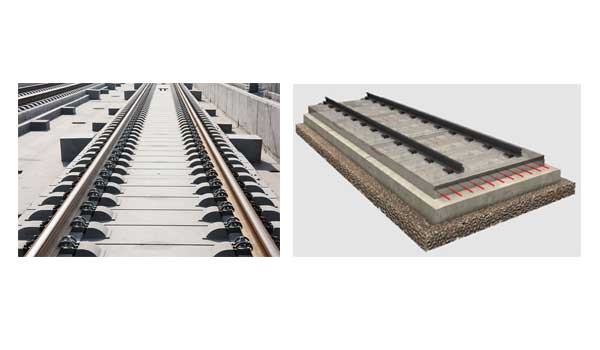 Non-ballasted track, also called ballastless track, is the railway track whose bed is composed of concrete and bituminous mixture, etc. Generally, non-ballasted track is made up of steel rail, railway fasteners and slab.

Non-ballasted track's railway sleeper is formed by concrete casting.Instead of ballast bed, steel rail and railway sleeper is laid on the concrete track.

With concrete track slab systems, the ballast is replaced by a rigid concrete track slab which transfers the load and provides track stability.

Resilience is introduced into the track system by means of elastomeric components. These may be pads, bearings or springs depending on the type of slab track system.

Non-ballasted track is the advanced track technology in the world.
Concrete Slab Track Technology (A type of Non-Ballasted Track)
Slab track is one of the most important types of non-ballast track structure.
Slab Track structure also called ballastless track, is a unique feature of Japanese High Speed Railway, popularly known as Shinkansen. The first HSR in Japan i.e. Tokaido Shinkansen began operational in 1964 between Tokyo and Shin-Osaka.
Advantages:
Non-ballasted track need less maintenance, save cost.

Non-ballasted track can reduce dust and beautify the environment.

Non-ballasted track has great ride performance and stability.

Non-ballasted track has long durability and service life (about 50-60yrs).

Non-ballasted track has high train speed and make passengers feel comfortable.
Disadvantages:
Non-ballasted need more investment cost than ballasted track.

Non-ballasted track cannot be laid in some area like clay deep cutting, soft dirt road and earthquake area.

Possibilities for improvement are limited.
About National High Speed Rail Corporation Limited
National High-Speed Rail Corporation Limited (NHSRCL) was incorporated in 2016 under the Companies Act, 2013.

Its objective is to finance, construct, maintain and manage the High Speed Rail Corridor in India.

The Company has been modeled as 'Special Purpose Vehicle' in the joint sector with equity participation by Central Government through Ministry of Railways and two State Governments - Government of Gujarat and Government of Maharashtra.

The Company would be ushering India into the category of few countries of the world (about 15) using High Speed Railway System.
Pros and Cons of Bullet Trains
Disadvantages of Bullet Train in India
Cost
A project report by the Indian Institute of Management, Ahmedabad estimates that at least 1 lakh passengers at fares approximately Rs. 1,500 per 300 km would be required daily for the project to break even.

The cost of air fare between the two cities is around Rs. 2,500. With comparable fare to air ways the project doesn't seem to serve the purpose.
Complexity of the project:
The complexity of the project also arises due a variety of socio-economic implications like land acquisition, rehabilitation, and environmental concerns.
Enormous Public Expenditure
Bullet train project in India would be a massively expensive involving enormous public expenditure that India cannot afford as a huge public investment is needed in social infrastructure and poverty eradication.
Meant for Elites only
With majority of Indian population travelling in sleeper class or lower class for thousands of kilometers the project will be benefiting only international corporates, local contractors and a small number of aspirational elites indulging in luxury travel.
Newer technologies in line
With the advent of new technologies like Hyperloop Transportation Technologies which propose to make travel as fast as 760 miles per hour, investing a humongous capital on bullet train seems a cursory and outdated.
Should develop existing Railway System rather
The cost of the project is more than 1.5 lakh crore for a single rail line. Instead, this money can be invested in the development of the present railway system which is a case deserving more immediate attention, seeing the recent rail accidents in India.
Kakodkar committee recommendation
Furthermore, the Kakodkar committee recommended an investment of Rs. 1 lakh crore for upgrading the safety and security of the railways.
Not successful in many countries
Only a few high-income countries have HSR while others have failed in their efforts or abandoned after debating about it.
Does not serve 90 percent of travellers
90% of railway passengers of India travel through sleeper class or lower class so this huge sum of money should be invested in the development of the present railway system which is for the larger population.
Advantages of Bullet Train in India
A new step towards a Technologically Advanced Nation
High-Speed Railways (HSR) in India is going to be a new step towards a technologically advanced nation that would help in the development of infrastructure as well as reduce unemployment.
An attractive FDI option
India entering into the HSR group would work as a status symbol for the country, attracting not only the audience from all over the world but also making her an attractive FDI option.
High-speed connectivity
India is a vast country and the need to travel faster has become a necessity. While air transport can cater to such needs, the capacity that it offers simply cannot match that of the railways.

While making incremental changes to improve existing infrastructure is desirable, it is equally important to adopt proven state-of-the-art technologies.The High Speed Railway Line will be effective in meeting this requirement.

Apart from diverting passengers from road and air, Bullet train generates a new class of passengers as well.

With the average operating speeds higher than 250 km/h, High Speed Railways will make the distance of 500 km reachable in two hours.
Less stress on the Railways:
The conventional Indian Railways lags substantially in extending, accelerating and modernizing its infrastructure and services.

There is a serious need tosegregate its passenger business from freight.

With advent of bullet trains the stress on the railways would be reduced.
Employment:
The bullet train project is expected to create 4,000 direct job opportunities, along with 20,000 indirect jobs.

20,000 construction workers will also be employed during the set up period of Ahmedabad-Mumbai bullet train.
Urban expansion:
New bullet train stations set to come up along the route will attract urban growth. This will again shift the pressure of urbanization from the existing urban centers.
Environmental:
In the backdrop of increasing concerns over environmental pollution and degradation of fossil fuels, energy-efficient and environmentally friendly, high-speed electric trains emit an eighth and a fifth of carbon dioxide as against automobiles and airplanes per passenger km, respectively.
Enhanced Safety:
High-Speed Railways' safety record is remarkable. With a 2,500-km network, providing high frequency, up to 14 trains per hour, the Shinkansen/Bullet train ever since its inception has maintained a unique record of no fatal accident.
Decrease Travel Time:
Bullet trains will decrease travel time hence increasing the connectivity as well as ease the means of transport, hence eliminating regional differences.
Boost to businesses within cities
As the speed of bullet trains is higher interstate travel would increase and a boost would be given to various businesses within cities.
Free of the heavy population
Railways would be a little free of the heavy population they carry.
Decongest the roads/ highways:
Once the trains are functional covering longer routes in a shorter period would be easier thus providing an alternative mode of transport to decongest the roads/ highways.
Economic Feasibility question not valid:
The question of economic feasibility is being raised. However, similar questions were raised during the introduction of telecom services and the commission of Maruti. As the service expanded and the demand increased, not only did the respective areas become profitable, but the prices also went down outrageously.
Other avenues:
The prime purpose of Bullet trains in India to provide convenience to commuters.

However, it can also make a difference in freight transportation.

Be it courier mail services, perishables, or other items, any fast alternative to overloaded lorries should be welcome for businesses as well as private consumers.
Benefits of High-Speed Rail
There are a number of social and economic benefits that comes with the introduction of High-Speed Rail.

Most recent examples are from Japan, Europe and China where high-speed rail has done wonders for the common citizens by providing high speed connectivity between various towns and cities.
Social Benefits
There are a number of positive externalities of high-speed rail like economic travel, reduced CO2 emission,comparatively less land required than a 6 lane highway for same passenger capacity and employment generation because of higher economic activity and faster connectivity.
Economic benefits
Transportation by HSR would be powered by indigenous electric power like diesel/petrol and aviation fuel need by cars and airplanes, which is largely imported. This will benefit the Indian economy and reduce its relevance on imported fuel.

According to a study conducted by London School of Economics and Political Science, towns connected to a new high-speed line saw their GDP rise by at least 2.7% compared to the neighbors not on the route.

Their study also found that increased market access through high-speed rail has a direct correlation with a rise in GDP-for each 1% increase in market access, there is a 0.25% rise in GDP.
Final Thought
The High-Speed Rail (HSR) project would afford many quantifiable benefits like saving in travel time, vehicle operation cost, reduction in pollution, job creation, reduction in accidents/ enhanced safety, imported fuel substitution, and reduction in pollutants.The project would also boost the infrastructure and add to the growth of economy.
PRACTICE QUESTION
Q. High-Speed Railways (HSR) in India is going to be a new step towards a technologically advanced nation that would help in the development of infrastructure as well as reduce unemployment. However, it is massively expensive involving enormous public expenditure that India cannot afford. Rather this huge public investment should be used for social infrastructure and poverty eradication. Do you agree?
https://www.thehindu.com/news/national/bullet-train-project-speeds-up-with-completion-of-50-km-of-viaduct-180-kms-of-pier-works-construction/article66777381.ece