COURSE FOCUS & OBJECTIVE :
Attention CSE aspirants! The much-awaited Prelims 2023 is around the corner.
https://www.upsc.gov.in/sites/default/files/Notif-CSP-23-engl-010223.pdf
CSAT is the General Studies Paper-II in the UPSC Civil Services Prelims scheme of papers. In order to qualify the 200-marks CSAT Prelims paper, you need to score 33% or 66 marks. It is extremely important to note that if you do not qualify CSAT, you will not be eligible for Mains no matter what your score is in the General Studies-I paper.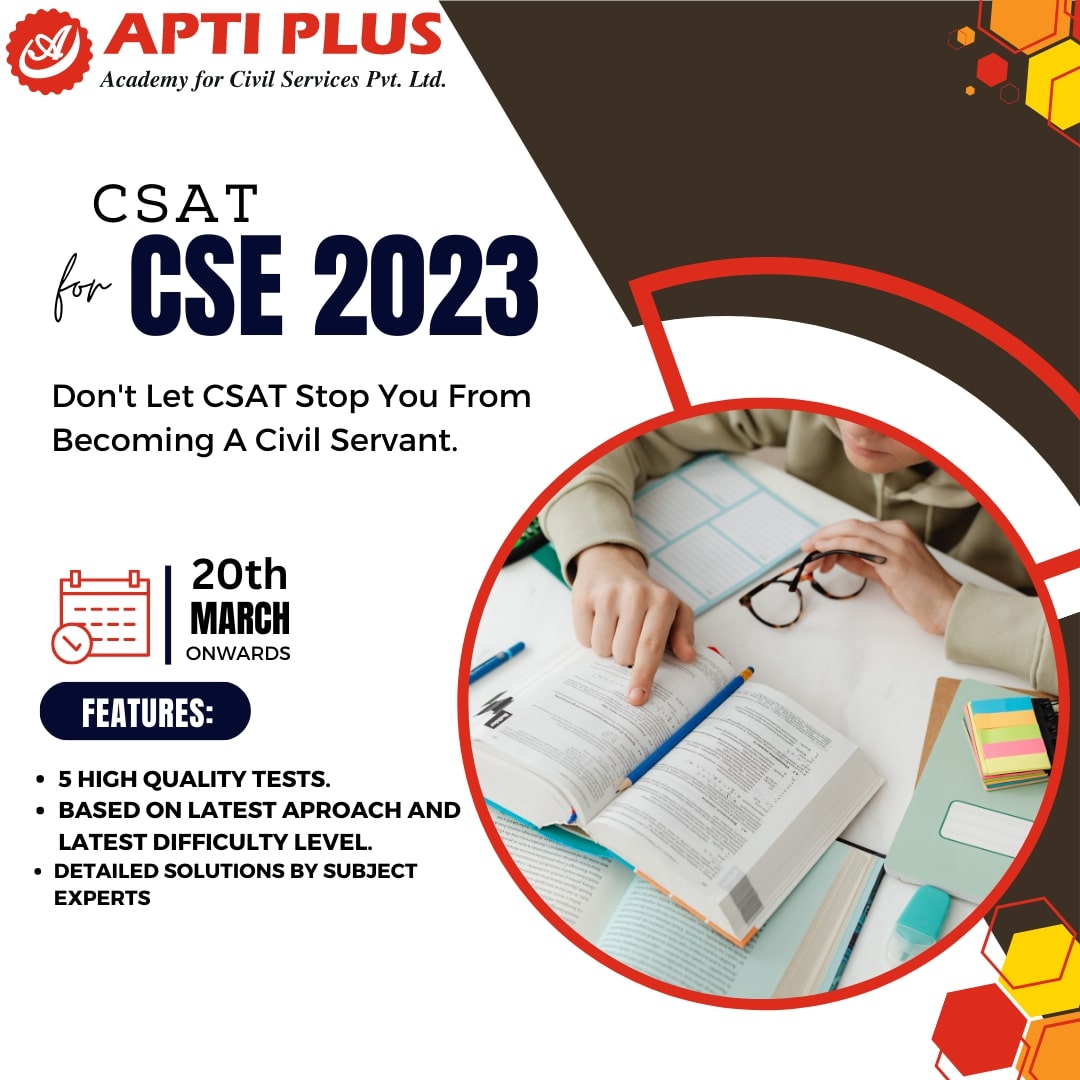 Aspirants should remember that even though the exam is qualifying in nature, many candidates neglect the CSAT and score exceptionally high in GS Paper I but loose the opportunity to crack the exam. So, start with reading the syllabus carefully and going through the previous year papers. Do a SWOT analysis, know the topics those are more familiar to you, do more practice on those topics and finally attempt more mock exams to boost your success rate.
Don't let CSAT stop you from becoming a civil servant!
Participate in the All India CSAT test series 2023 and evaluate, improve yourself and decimate Prelims with ease.
Learning is not complete without practice
Excelling in UPSC CSE will help you become a prestigious IAS Officer. Preparing for UPSC CSE isn't easy. The UPSC CSE examination is exhaustive, dynamic, unpredictable and covers all the topics extensively and therefore it is very important to plan and prepare for the exam accordingly. One also has to remember that no matter how much they prepare, they have to keep one thing in mind that the competition is against some of the sharpest brains in the nation. The smarter the aspirant prepare, the better his/her result will be.
One of the most important parts of the UPSC CSE examination is attempting the test series. These test series are going to play a very important role in refining any aspirant's performance.
Prove your mettle on the national stage!
Participate in the All India CSAT test series 2023 and evaluate, improve yourself and decimate the first and most crucial stage with ease.
Apti Plus Academy's All India CSAT test series 2023 is a stepping stone to cracking the UPSC CSE
Learn, Revise, Evaluate, Improve and Succeed by evaluating yourself before UPSC evaluate you!
Decimate UPSC CSE Prelims 2023 with full-length CSAT mock test. Curated by India's most adroit professionals & renowned academicians with vast experience in UPSC. Increase marks through in-depth analysis & corrective measures and Detailed Test Report with All India Ranking. Full flexibility as aspirants can take Tests anytime and anywhere. Closely Aligned to UPSC CSAT Syllabus, Understand requirements & prepare effectively according to the demands of the examination. Don't miss out on any topics of the Syllabus & get complete coverage.
Special features of All India CSAT test series 2023 by APTI PLUS:
RESEARCHED CONTENT: The content in these CSAT online Mock Tests is based on the latest examination pattern which extensively covers the entire syllabus.
BEST PREPARATORY TOOLS: Subject-wise & topic-wise Questions based on the latest pattern, in addition to previous year question papers.
DEVELOPS TEMPERAMENT: These best CSAT Mock Tests help develop the real-time exam temperament of students before the actual competition.
ADVANCE LEVEL: Problems in these best CSAT Mock Tests are of advanced level which will increase the solving ability of the student.
DETAILED ANALYSIS: This best CSAT test series will provide systematic assessment & feedback on students' performance which will help them in identifying their strengths and weaknesses.
COMPETE NATIONALLY
Tests under the CSAT test series have been prepared by a pool of expert faculties.
COURSE COMMENCEMENT: starts 20th March 2023
MODE:

Online
COURSE HIGHLIGHTS:
5 High-quality tests
Based on the latest approach and the latest difficulty level
Detailed solutions by subject experts
| | |
| --- | --- |
| DATE | TEST ID |
| 20th March | CSAT 01 |
| 3rd April | CSAT 02 |
| 17th April | CSAT 03 |
| 1st May | CSAT 04 |
| 15th May | CSAT 05 |
WHY CHOOSE APTIPLUS?
By bringing core values of integrity and determination; time-tested unique pedagogy; nationally-renowned faculty; innovative courses & test series; scientifically-designed study material; personalized coaching and enabling infrastructure through single platform, APTI PLUS provides aspirants with a very powerful system that can help them unfold their full potential systematically.
Why this course?
There are so many benefits of attempting these CSAT online Mock Tests, particularly those by APTI PLUS.
Efficient time management: This is the first and most important thing you should take care of. Time is of the essence in CSE Prelims and there are many instances where the candidate is not able to give his or her best because of this improper timing. This is the reason why you should write All India CSAT test series 2023 by APTI PLUS.
Quick Results and Feedback: this All India CSAT test series 2023 provides you with immediate result and feedback. These are two of the most important things that will help you with your preparation.
Flexibility: Time is of the essence for every CSE aspirant and this All India CSAT test series 2023 will not have a negative impact on your time in any way. You do not need to go anywhere else to try out the test and another good thing about these is that you can try the test whenever you need it. You can write CSAT online Mock Tests at a time that suits you and this will help you save good money too.
Try to get tested more often: Since you can write these CSAT online Mock Tests at a time that suits you, you can try these tests as many times as you like. The more you practice and the more you do, the more successful you are in the test. These best CSAT Mock Tests will help you to practice more often and try more questions. The great thing about these is that you will be given a detailed report on how you are doing, time management and accuracy.
Increases Your Self-Confidence: Self-esteem has always been an important factor. These best CSAT Mock Tests that you will try are nothing less than a real test and attempting them will have a positive impact on your performance.
All India CSAT test series 2023 by APTI PLUS is one of the best methods to improve the level of confidence and rectifying the mistakes in one's preparation.
All India CSAT test series 2023 by APTI PLUS help you develop the skill required to tackle the uncertain nature of the paper. Few questions asked in UPSC Prelims will be such about which one may have no idea at all. However, a candidate with good practice of facing similar questions in All India CSAT test series 2023 will have an upper hand in tackling such situations.
Also, an all India rank in the CSAT test series 2023 by APTI PLUS will help him/her in analyzing the true nature of the competition and evaluating his/her preparation level.
In order to fulfill your aim to score well and rank high, you should know how to safeguard your score against negative marking by means of answering correctly. So, if you attempt the All India CSAT test series 2023 by APTI PLUS as frequently as possible, the probability of attempting the question paper correctly by means of choosing the right answers.
The All India CSAT test series 2023 helps you make an assessment of your competence among your peers.
When you revise and re-revise, whatever knowledge you have gained while preparing for the exam, gets firmly registered in your mind. And the All India CSAT test series 2023 by APTI PLUS helps boost the process further.
If there is any shortcut to achieving high marks within a limited time in CSAT, then that is CSAT mock tests by APTI PLUS.
Candidates will get extra vital information
Past year papers can be accessed from: https://www.upsc.gov.in/recruitment/recruitment-test/question-papers/archives
For prelims specific updates visit: https://www.upsc.gov.in/examinations/Civil%20Services%20(Preliminary)%20Examination,%202023
To see cut-off marks in prelims visit: https://www.upsc.gov.in/examinations/cutoff-marks
For all updates visit: https://www.upsc.gov.in/