Context
Ministry of Petroleum & Natural Gas stated that the ethanol blending has Improved from 1.53% during Ethanol Supply Year 2013-14 to 7.93% ongoing ESY 2020-21.
E-100 pilot projects
It has been launched at Pune city by Public Sector Oil Marketing Companies (OMCs) on June 05, 2021.
Aim: to enhance fuel choice and facilitate sale of E-100 fuel.'
The Motor Spirit and High Speed Diesel (Regulation of Supply, Distribution and Prevention of Malpractices) Order, 2005 was amended to permit the direct sale of Bio-ethanol (E100) by an oil company for use as standalone fuel or blending with motor spirit, for compatible automobiles to all consumers.
It has to be in accordance with the standards specified by the Bureau of Indian Standards.
Notified National Policy on Biofuels - 2018
It provided an indicative target of blending 20% ethanol in petrol by 2030.
NITI Aayog "Roadmap for Ethanol Blending in India 2020-25" report outlines the journey for 20% ethanol blending in the country.
India's Biofuel Economy:
India is one of the fastest growing economies and the third largest consumer of primary energy in the world after the US and China.
India's fuel energy security will remain vulnerable until alternative fuels are developed based on renewable feedstocks.
The government of India targets reducing the country's carbon footprint by 30-35% by the year 2030.
These targets will be achieved through a five-pronged strategy which includes:

Increasing domestic production
adopting biofuels and renewable
implementing energy efficiency norms
improving refinery processes and
achieving demand substitution.

The government of India has proposed a target of 20% blending of ethanol in petrol and 5% blending of biodiesel in diesel by 2030 and introduced multiple initiatives to increase indigenous production of biofuels.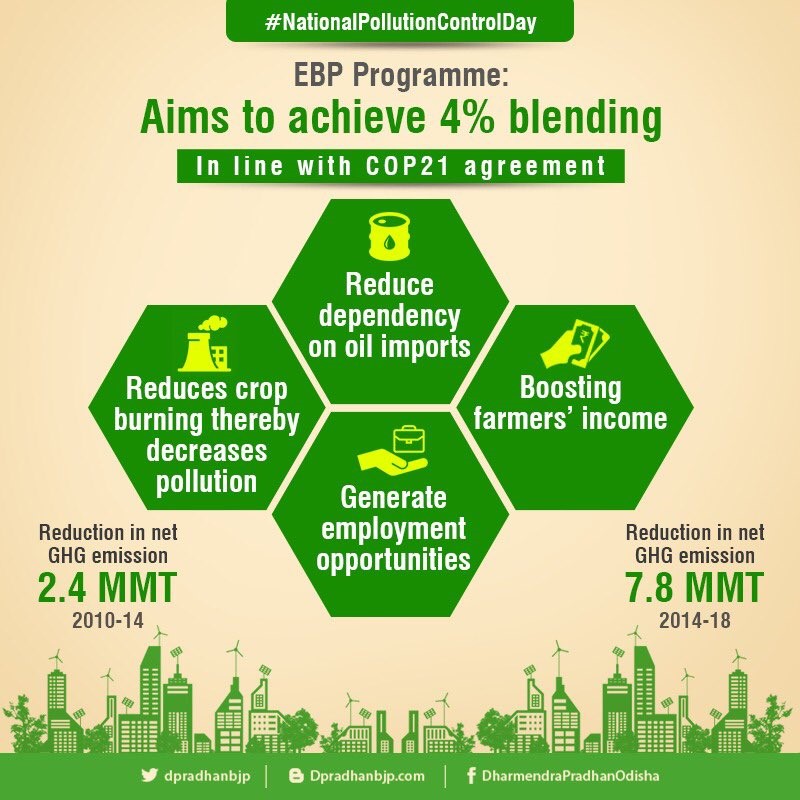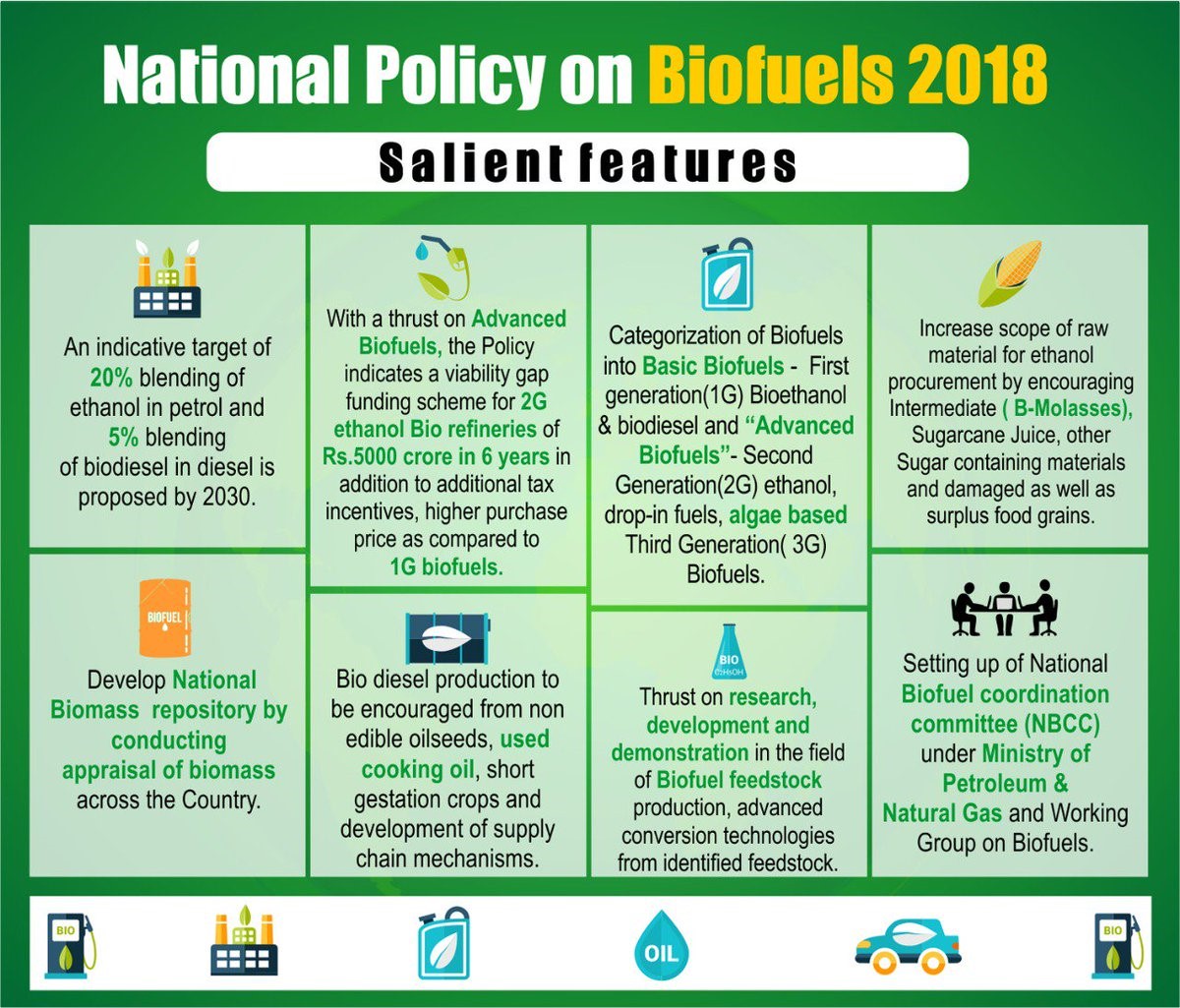 What are 1G and 2G biofuels?
1G Bioethanol plants utilise sugarcane juice and molasses, byproducts in the production of sugar, as raw material.
2G plants utilise surplus biomass and agricultural waste to produce Bioethanol.
Third generation biofuels - These are produced from micro-organisms like algae.
Fourth generation biofuels - These are produced from genetically modified (GM) algae to enhance biofuel production.
The prices of both sugarcane and bio-ethanol are set by the central government.
Benefits of India's ethanol blending mandates include:
Reduce Import Dependency: Will saves foreign exchange (forex).
Cleaner Environment: Reducing crop burning and converting agricultural residues/wastes to biofuels will further reduce greenhouse gas (GHG) emissions.
Health Benefits: Prolonged reuse of cooking oil for preparing food, particularly in deep-frying, is a potential health hazard and can lead to many diseases. Used cooking oil (UCO) is a potential feedstock for biodiesel and its use for making biodiesel prevents reuse of UCO within the food industry.
Solid Waste Management: There are technologies available, which can convert solid waste and plastics to drop-in fuels.
Infrastructural Investment in Rural Areas: Establishing additional 2G biorefineries across the country will spur infrastructural investment in rural areas.
Employment Generation: 2G biorefinery can contribute 1200 jobs across plant operations, village level entrepreneurs and supply chain management.
Additional Income to Farmers: By adopting 2G technologies, agricultural residues/wastes that otherwise are burnt can be converted to ethanol. Farmers can realise an additional revenue source if markets are developed for these residues/wastes.
Major programs supporting the development of biofuels production and use in India include:
Viable gap funding (VGF) for commercial scale 2G ethanol plants under Pradhan Mantri JI-VAN Yojana
Financial assistance for demonstration scale 2G integrated bioethanol under Pradhan Mantri JI-VAN Yojana.
Grants for research and development from DBT to 5 Centres for Excellence in the Bioenergy area.
The National Policy on Biofuels 2018 specifically promotes advanced biofuels to achieve a target of 20% blending of biofuels with fossil-based fuels by 2030.
Measures that can improve Bio-fuel economy:
Currently in India, Biofuel development is centred around the cultivation of Jatropha plant seeds. There is need to develop new feedstock for biofuels.
To facilitate the blending of biofuels with conventional fuels, there is need to set up advanced biorefineries.
Research and development should be promoted to support generation of bio-fuel from waste. As it will ensure realizing the goal of waste management and waste to energy.
https://www.business-standard.com/article/news-cm/ethanol-blending-improves-from-1-53-to-7-93-over-last-seven-years-121071900723_1.html