Disclaimer: Copyright infringement not intended.
Context: Australia has unveiled plans to buy up to five U.S. nuclear-powered submarines, then build a new model with U.S. and British technology under an ambitious plan to bulk up Western muscle across the Asia-Pacific in the face of a rising China.
Details:
The announcement came at an event at a San Diego, California, naval base where U.S. President Joe Biden hosted Australian Prime Minister Anthony Albanese and British Prime Minister Rishi Sunak.

US said it had "safeguarded stability in the Indo-Pacific for decades" and that the submarine alliance would bolster "the prospect of peace for decades to come."

US President stressed, Australia, which joined a newly formed alliance known as AUKUS with Washington and London 18 months ago, will not be getting nuclear weapons.

However, acquiring stealthy submarines powered by nuclear reactors puts Australia in an elite club and at the forefront of U.S.-led efforts to push back against Chinese military expansion.

IAEA,

UN nuclear watchdog, said it has to ensure that "no proliferation risks" will come from the deal.
Background:
It is anew trilateral security partnership called AUKUS (Australia-U.K.-U.S.).

AUKUS aim:

to "update and enhance shared ability to take on the threats of the 21st century.
What are the terms of the grouping?
Intent for AUKUS is to preserve a free and open Indo-Pacific in the long term.

It drew a sharp response from China, whose territorial ambitions across the Indo-Pacific may well have been a key factor behind the formation of this group.

Beijing's consternation that AUKUS will "undermine" regional peace and "intensify" an arms race.

Cornerstone of AUKUS

: U.S. and the U.K. will transfer technology to build a fleet of nuclear-powered submarines for Australia within 18 months.

It is the first agreement on the technology to be publicly signed since the three countries ( Australia, U.K. and U.S) announced the formation of a defence alliance, AUKUS, to confront strategic tensions in the Pacific where China-US rivalry is growing

Under the AUKUS deal, Australia would obtain eight state-of-the-art, nuclear-powered but conventionally armed submarines capable of stealthy, long-range missions.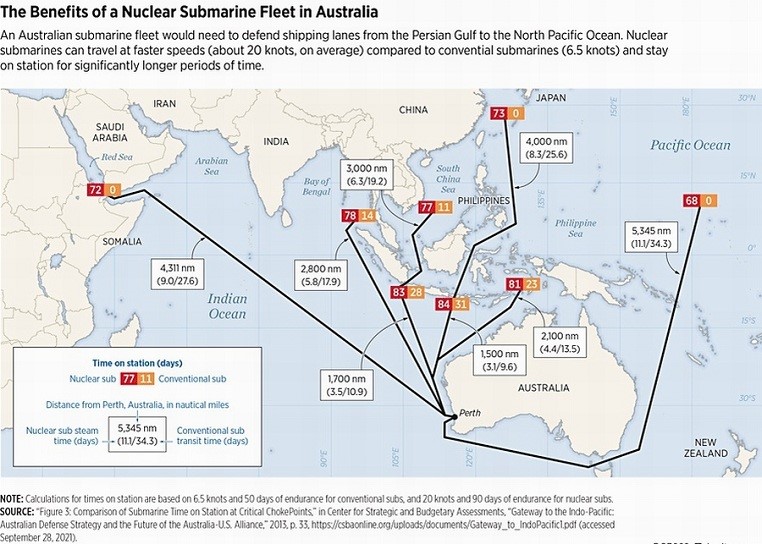 Will AUKUS be a game changer?
It is unlikely and the reasons are
US, as a leading global military power, already has a strong presence in the Indo-Pacific

, especially in a grouping that includes Australia, India, and Japan— the Quadrilateral Security Dialogue, or Quad.
US, the U.K., Australia, Canada, and New Zealand are members of Five Eyes, an intelligence-sharing alliance, which also has regional security implications.

AUKUS will not likely deter Beijing's strategic calculus across the region

, particularly relating to its maritime ambitions and territorial expansionism.

AUKUS that has potential to cause a recalibration of China's plans in this realm is the nuclear-powered submarines.

It will raise the stakes over strategic flashpoints such as the South China Sea and Taiwan.
Does India stand to gain from this development?
New Delhi may derive secondary benefitsfrom having three advanced nations with arguably the most sophisticated military know-how in the world coming together to support a free and open Indo-Pacific.

Given the inroads that Beijing has made in recent decades with its Belt and Road Initiative, including through projects or proposals for infrastructure development in Southeast Asia, Sri Lanka, the Maldives, and beyond into Central Asia, fears in South Block over 'encirclement' by China may be partially mitigated by AUKUS.

India will work with the transnational institutional arrangementsin place, roping in like-minded nations into symbiotic partnerships, and calibrate future alliance plans to evolving security situations across one of the most complex strategic ecosystems in the world.
PRACTICE QUESTION
Q) The new tri-nation partnership AUKUS is desired to counter China's ambitions in the Indo-Pacific region. Discuss. (250 words)
https://epaper.thehindu.com/ccidist-ws/th/th_delhi/issues/28661/OPS/G3KB0690V.1+GSVB06K7H.1.html