ANDAMAN AND NICOBAR COMMAND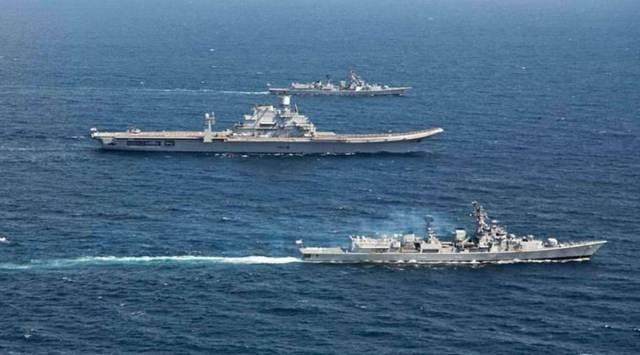 Disclaimer: Copyright infringement not intended.
Context
Since 2013, China has engaged in an intense campaign of building artificial islands in the South China Sea.
Details
Using a huge fleet of dredgers, it has created over 3,000-4,000 acres of new land atop reefs and rocks.

Three such maritime outposts — Fiery Cross, Mischief and Subi Reefs — have been provided with runways and harbours as well as guided-missile batteries.
China's strategy
China's island strategy has two objectives.

By developing a capability to monitor all traffic that moves under or above the sea — termed "maritime domain awareness" — a nation can extend its defensive perimeter well beyond the homeland.

Moreover, by providing island outposts with surveillance facilities and fortifying them, a nation can project power over a huge oceanic expanse.
About Andaman and Nicobar Command (ANC)
It is the only tri-service theater command of the Indian Armed Forces, based at Port Blair in the Andaman and Nicobar Islands, a Union Territory of India.

It was created in 2001 to safeguard India's strategic interests in Southeast Asia and the Strait of Malacca by increasing rapid deployment of military assets in the region.

It provides logistical and administrative support to naval ships which are sent on deployment to East Asia and the Pacific Ocean.

The Andaman and Nicobar Command is commanded by a Three-star officer (rank of Lieutenant General of the Indian Army or equivalent) who reports directly to the CDS (Chief of Defense Staff) in New Delhi.
Strategic Importance of ANC
Andaman and Nicobar Islands (A&N) fall on the maritime boundary of Bay of Bengal and Andaman Sea.

Indian exclusive economic zone (EEZ) to the north and west of A&N falls within Bay of Bengal and to east of A&N falls within Andaman Sea.
Control over vital global shipping route
These are crossed by over 94,000 merchant ships every year carrying world's 40% freight trade to and from China, South Korea and Japan.

The Ten Degree Channel within India's EEZ is world's busiest shipping trade route which also connects to very narrow and contiguous Malacca and Singapore straits.

This area is part of the much larger Indian Ocean region through which 90% of the world's trade passes, which in turn is part of the larger Indo-Pacific region which hosts most of the global maritime trading activity.
Control over critical shipping chokepoints
This route is considered world's biggest strategic chokepoint in military terminology.

Safety, security and freedom of navigation in this area is vital for the global economy.
QUAD force multiplier
QUAD nations continue to hold regular military exercise in the ANC influence area, such as Exercise Malabar.

It allows India to counter China's "string of pearls" with "Necklace of Diamonds" ports: Changi Naval Base in Singapore, Chabahar Port in Iran, the Assumption Island in Seychelles, and Duqm Port in Oman.
Historic and contemporary geostrategic soft and hard power
The area in and around ANC influence zone is part of historic Greater India which was dotted with numerous Indianised Hindu-Buddhist kingdoms.
Port-development led encirclement
To enhance the regional connectivity, trade, safety, security, and to protect the Strait of Malacca channel, India is developing several strategic ports in the influence zone of ANC, namely:

Port of Chittagong in Bangladesh with rail connectivity to Tripura,

Port of Mongla in Bangladesh,

Sittwe Port as part of Kaladan Multi-Modal Transit Transport Project in Myanmar,

Sabang deepsea port under India–Indonesia strategic military and economic partnership.

Along with India's Sagar Mala projects aimed at developing several coastal ports in India, India is also considering developing more ports in the influence zone of ANC, such as the Dawei Port Project.
Protection of exclusive economic zone
The region suffers from the problem of piracy.

ANC is guarantor of the safety and security of exclusive economic zone of India, which also lies in the vicinity of EEZs of several other nations including Indonesia, Malaysia, Thailand, Myanmar, Bangladesh, Maldives and Sri Lanka.
Concluding remarks
The 1999 Kargil episode, the 2004 tsunami and successive military face-offs with China culminating in the 2020 Galwan clash, offer stark reminders that crisis situations can develop in the blink of an eye.

Hence, preparedness is crucially important, especially for a remote island entity.

To guard against future surprises, the ANC needs to be suitably fortified and its force levels and firepower urgently augmented.

To this end, the command must be invested with capabilities for:

Maintaining comprehensive, three-dimensional maritime domain awareness;

defending the archipelago against military intrusions;

tracking and interdicting hostile ships/submarines; and

launching a rapid reaction force, when required, via airlift or sealift.

For the ANC to become India's maritime bastion in the Bay of Bengal and to play a significant role in the ongoing Indo-Pacific "Great Game", it must be adequately bolstered and retained as an independent joint command.
MUST READ ARTICLES:
https://www.iasgyan.in/daily-current-affairs/andaman-nicobar-islands
PRACTICE QUESTION
Q) India could play a key role in infusing dynamism into the Quad/Malabar construct by offering Port Blair in the Andamans as the location for a shore-based secretariat and 'watering hole' for member navies. Critically Analyse. (250 words)
https://indianexpress.com/article/opinion/columns/the-maritime-great-game-why-delhi-needs-to-bolster-the-andaman-and-nicobar-command-8629277/