AGARTALA-AKHAURA RAIL LINE PROJECT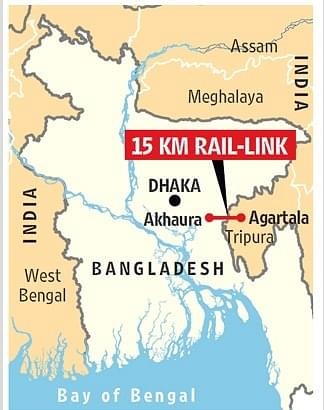 Disclaimer: Copyright infringement not intended.
Context
Prime Minister Narendra Modi and his Bangladesh counterpart Sheikh Hasina virtually inaugurated Agartala-Akhaura rail line project.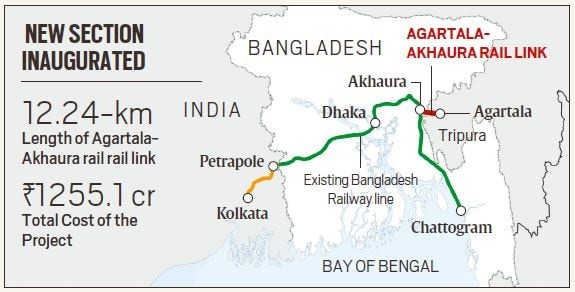 Agartala-Akhaura Rail Line Project
About
Akhaura–Agartala line is a railway line between Bangladesh and India.
Link
It will connect India's Northeastern state of Tripura with Bangladesh.
The train will start from Agartala and move to Nischintapur, on the Indian-Bangladesh border, where the immigration checks will be held. The first station on the Bangladesh side will be Gangasagar.
Signing
The 15-km-long project, was signed by both countries in 2013.
Route portion
Of the 15 km link, 33.52 percent (5.05 km) is in India and the remaining 10.014 km is in Bangladesh.
Aim
The line aims to enhance bilateral trade and tourism, as well as reduce travel time between Agartala and Kolkata via Dhaka.
Priority Region
The Northeast has been earmarked as a priority region in this policy.
Strategic Importance
The project is part of India's "Act East Policy", which aims to promote economic cooperation and develop strategic ties with countries in the Asia-Pacific region.
Line Specifications
It will be a dual gauge station for both passenger and goods interchange.
The Indian Railways portion has a broad gauge system while the portion in Akhaura has a metre gauge system.
In a broad gauge, the distance between the two tracks is 1.676m, while in the metre gauge system, the distance stands at one metre.
Benefits
It will reduce the travel time between Agartala and Kolkata, via Dhaka to 10 hours from 31 hours.
Why is the project important to Tripura?
For land-locked Tripura, any connectivity project is of great practical significance.
The project is crucial for connectivity in the NE region and would make Tripura the gateway for tourism.
Tripura is going to be the gateway for tourism and transport between India and Bangladesh.
Due to the Agartala-Akhaura railway project, the distance between Agartala and Kolkata will be effectively reduced from 1600 km to 500 km.
Tripura shares an 856-km international border with Bangladesh, the second highest after West Bengal. The North Eastern state is surrounded by the country on all three sides except Assam on the fourth.
With the new connectivity project, people on both sides can now hope for closer and smoother ties.
Significance
The upcoming rail project will "boost the bilateral relations between India and Bangladesh", which will help grow small-scale industries in the border area and boost tourism in the Northeast region, particularly Tripura.
It will also help in the export and import of commodities faster and help the local producers to export their products outside the country faster.
Other connectivity routes between India and Bangladesh
As of now, there are five broad gauge routes connecting India and Bangladesh, namely Gede-Darshana, Benapole-Petrapole, Singhabad-Rohanpur, Radhikapur-Birol and Haldibari-Chilahati.
There are also three passenger trains running between India and Bangladesh — Kolkata-Dhaka Maitree Express, Kolkata-Khulna Bandhan Express and New Jalpaiguri-Dhaka Mitali Express.
PRACTICE QUESTIONS
Q. Which of the following routes connect India and Bangladesh?
A. Benapole-Petrapole
B. Gede-Darshana
C. Singhabad-Rohanpur
D. Radhikapur-Birol
Choose the correct code.
A) Only 1
B) 2 and 4
C) 1, 3 and 4
D) All
Answer: D) All