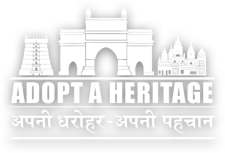 Disclaimer: Copyright infringement not intended.
Context
The Archaeological Survey of India (ASI) has 3696 monuments under protection, which are spread, throughout the country.

These monuments not only exhibit the rich cultural heritage of India but also play a significant role in fostering the economical growth.

In order to sustain the rich cultural legacy, the heritage sites require time to time enhancement of the amenities. To this end and to further enhance the experience of visitors, ASI launched "Adopt a Heritage 2.0" programme.
Details
The "Adopt a Heritage 2.0" programme is an initiative launched by the Archaeological Survey of India (ASI) with the aim of preserving and enhancing India's rich cultural heritage. Here are the key points about this program:
Objective
The program aims to encourage corporate stakeholders to collaborate with the ASI in preserving and maintaining historical monuments and heritage sites across India.

It seeks to enhance the amenities at these sites using funds allocated through Corporate Social Responsibility (CSR) initiatives.
Revamped Version
"Adopt a Heritage 2.0" is an updated version of a scheme that was initially launched in 2017.

This revised program clearly outlines the specific amenities required for different monuments, in accordance with the Ancient Monuments and Archaeological Sites and Remains Act (AMASR Act) of 1958.
Application Process
Corporate stakeholders interested in participating in the program can apply for adopting a monument or specific amenities at a monument through a dedicated web portal, which has the URL indianheritage.gov.in.

The portal provides comprehensive details about the monuments available for adoption, including gap analysis and estimated financial requirements.
Responsibilities of Selected Stakeholders
The selected stakeholders are responsible for developing, providing, and maintaining amenities in various categories, including hygiene, accessibility, safety, and knowledge.

By participating, they have the opportunity to be recognized as responsible and heritage-friendly entities.
Term of Appointment
The initial term of appointment for selected stakeholders is five years, and it may be extended for an additional five years.
Indian Heritage App
Alongside the program, a user-friendly mobile app called "Indian Heritage" was launched.

This app showcases heritage monuments across India, providing state-wise details of monuments, photographs, information about public amenities, geo-tagged locations, and a feedback mechanism for citizens.

The launch of the app is in phases, starting with ticketed monuments in Phase I.

Additionally, an e-permission portal was launched with the URL asipermissionportal.gov.in. This portal simplifies the process for obtaining permissions for photography, filming, and developmental projects at heritage monuments, addressing operational and logistical bottlenecks.
Collaboration
The "Adopt a Heritage 2.0" program is a collaborative effort between the Ministry of Tourism, Ministry of Culture, and the Archaeological Survey of India (ASI).
Background
The original "Adopt a Heritage Scheme" was launched in September 2017 (World Tourism Day), with the aim of inviting entities, including public and private sector companies, as well as individuals, to develop and upgrade tourist amenities at selected monuments and heritage sites in India.

It encourages these entities, referred to as "Monument Mitras," to use CSR funds for site upkeep and development.

Benefits for Monument Mitras: Monument Mitras receive visibility on-site premises and on the Incredible India website as recognition for their contribution to heritage preservation and development.
Conclusion
Overall, the "Adopt a Heritage 2.0" program seeks to engage corporate stakeholders in the preservation and enhancement of India's cultural heritage, while also improving the experience for visitors to these historical sites.
PRACTICE QUESTION
Q. What is the primary objective of the "Adopt a Heritage 2.0" program recently launched by the Archaeological Survey of India (ASI)?
A) To promote tourism in India's cultural heritage sites.
B) To invite foreign investors to adopt and renovate Indian monuments.
C) To encourage corporate stakeholders to contribute to the preservation and maintenance of heritage monuments.
D) To facilitate international collaboration in the restoration of archaeological sites.
Answer: C)