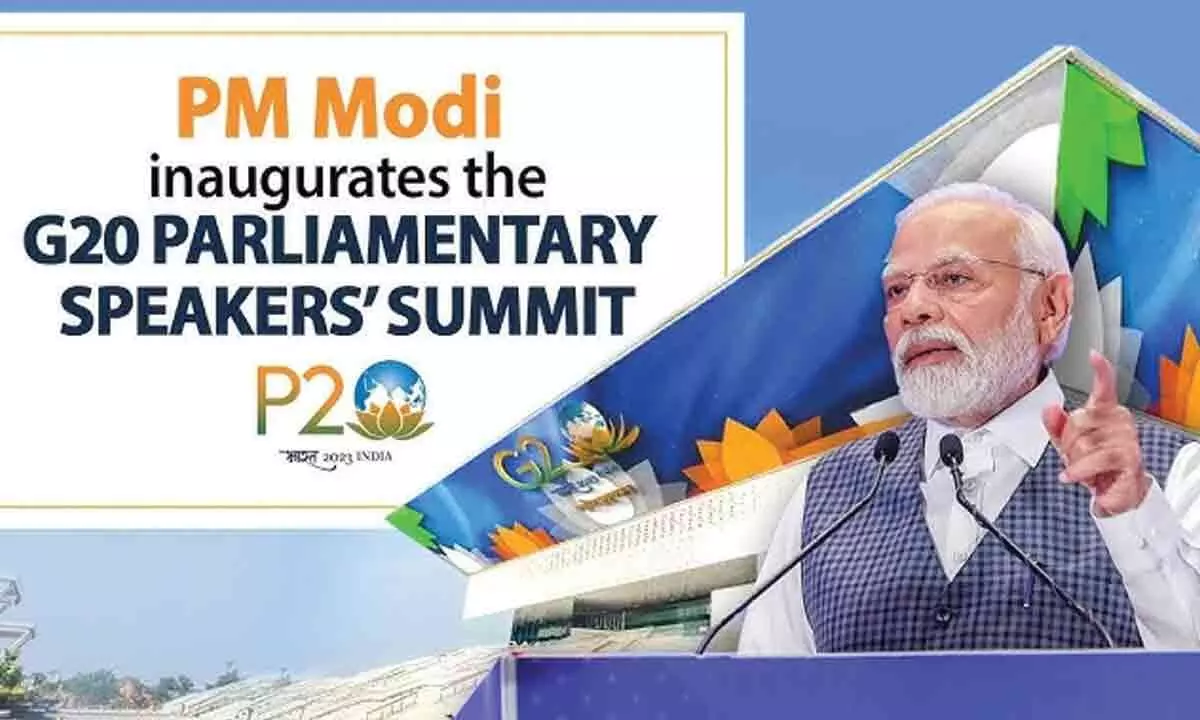 Copyright infringement not intended
Picture Courtesy: www.thehansindia.com
Context: The 9th G20 Parliamentary Speakers' Summit (P20) held in New Delhi on October 13, 2023, marked a significant event where leaders from various countries gathered to discuss global priorities and initiatives.
Key Highlights of meetings and discussions
The Lok Sabha Speaker expressed gratitude to Australia for supporting India's priorities and initiatives during the G20 Summit. He also commended Australia's backing of India's initiative for the inclusion of the African Union in G20. Both leaders acknowledged the deepening bilateral relations between India and Australia and emphasized the need to expand parliamentary cooperation between the two countries.

The Speaker discussed strengthening cooperation between the Parliaments of India and Bangladesh. He expressed satisfaction with the increasing connectivity in various sectors such as road, rail, air, waterways, and digital infrastructure between the two nations.

He highlighted the significance of initiatives like the 'Global Biofuel Alliance' and the 'India-Middle East-Europe Economic Corridor

,' which have strengthened the relationship between India and the UAE. These initiatives have brought the two countries closer and opened avenues for further collaboration.
About P20
P20, or Parliament-20, is a gathering of Parliamentary Speakers and presiding officers from the Parliaments of G20 countries, as well as invitee nations.
The P20 group was established during the G20 Presidency of Canada in 2010.

P20 serves as a platform for discussions and collaborations among the leaders of the world's major economies. It provides an opportunity to recognize the efforts and methods of international collaboration of G20 member nations. The conference allows for deliberations on emerging issues faced by the global community.

The 20203 conference was organized in New Delhi, India.

The theme for this year's P20 conference is 'Parliaments for One Earth, One Family, One Future.' This theme emphasizes global unity and shared responsibility towards the planet and its inhabitants.

The conference includes sessions on various crucial topics such as 'Transformation in People's Lives through Public Digital Platforms', 'Women-led Development', 'Accelerating SDGs' (Sustainable Development Goals), and 'Sustainable Energy Transition'.
Conclusion
P20 provides a vital platform for leaders to collaborate, discuss pressing issues, and work towards common goals, fostering international cooperation and understanding among the G20 nations and their invitee counterparts.
Must Read Articles:
G20 WORKSTREAMS: https://www.iasgyan.in/daily-current-affairs/g20-workstreams
G20 DECLARATION ON HEALTH: https://www.iasgyan.in/daily-current-affairs/g20-declaration-on-health
PRACTICE QUESTION
Q. In the ever-changing global landscape, how relevant is the G20 in addressing contemporary economic, environmental, and social challenges, and what specific initiatives or policies can the G20 nations implement to enhance their impact on the world stage?