TAPPING INDIA'S TOURISM POTENTIAL
TAPPING INDIA'S TOURISM POTENTIAL
Introduction
Every region in India is identified with its handicraft, fairs, folk dances, music and people. Hence, India is a country with great potential for tourism. The tourism industry employs a large number of people, both skilled and unskilled. It promotes national integration and international brotherhood. There is no other country in the world that offers such a wide choice of destinations like India.
With a total area of 3,287,263 sq. km extending from the snow-covered Himalayan heights to the tropical rain forests of the south, India has a rich cultural and historical heritage, variety in ecology, terrains and places of natural beauty spread across the country. This provides a significant opportunity to fully exploit the potential of the tourism sector.
The Indian tourism and hospitality industry has emerged as one of the key drivers of growth among the services sector in India.
In 2020, the Indian tourism sector accounted for 39 million jobs, which was 8% of the total employment in the country.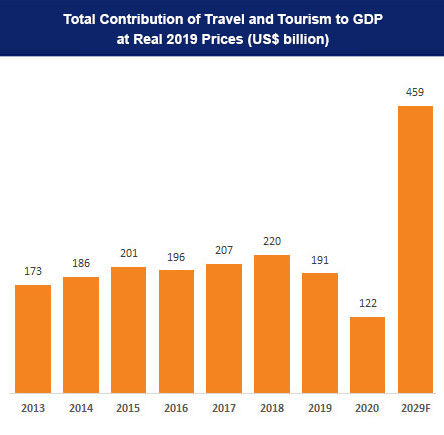 Market Size
According to World Travel and Tourism Council, India is ranked 10th among 185 countries in terms of travel & tourism's total contribution to GDP in 2019. During 2019, the contribution of travel & tourism to GDP was 6.8% of the total economy, Rs. 1,368,100 crores (US$ 194.30 billion). In 2020, the Indian tourism sector accounted for 39 million jobs, which was 8% of the total employment in the country.
Achievements of Tourism Industry in India
Investment
India was globally the third largest in terms of investment in travel and tourism in 2018, accounting for 5.9% of the total investment in the country.
Employment
According to The World Travel and Tourism Council (WTTC),tourism generated 6.8% of India's GDP in 2019 and supported 39.80 million jobs which is 8 % of its total employment.

In 2014, Tourism & Hospitality sustained a total of 36.7 million direct, indirect, and induced jobs in India, which is more than the jobs created in banking, automotive manufacturing, chemicals manufacturing, education, financial services, and mining sectors.
Number of employees in the travel and tourism sector across India from financial year 2014 to 2019(in millions)
Medical tourism
The total number of inward medical tourists doubled in the last three years in India.
Global Rankings
India's rank in the Travel & Tourism Competitiveness Index (TTCI), 2017 has also shown 25 places jump from 2013.

Rank of India in TTCI Report of 2017 was 40th as compared to 52nd in 2015 and 65th in 2013.
Challenges plaguing the Tourism Industry
Lack of proper infrastructure
An entrenched framework of infrastructure which includes proper transportation facilities, health facilities, stable, and uninterrupted connectivity and other human resources are mandatory for stable tourism.

India positioned 112nd in the ICT readiness component and 104th rank in the health and hygiene components of the WEF's Travel and Tourism Competitiveness Index, 2017.

This basically mirrors the poor-quality infrastructure our nation has.
Human resources
To maintain the growth of our Indian travel and tourism industry a large amount of skilled man force is required at different levels.

In the past years, there was an exploding increase in manpower for other sectors like banking, engineering, and medicine. This gradually prompted abatement in the human resources available for the tourism sector.
Insufficient promotion and marketing
Great promotion and enough marketing push are excessively indispensable for a nation's travel industry improvement.

In India, the financial backing allotted to help and advance the travel industry is less contrasted with other tourist destinations.
Taxation
High taxes on the entire industry including the airline facilities, hotels, and tour operators are highly expensive.

This is the one main reason why India loses to other less expensive countries when it comes to tourism.
Security issues
The increasing rate of sexual abuse of women, theft, credit card fraud, identity theft, food poisoning, terrorism, and public violence is affecting Indian tourism to a high extent.
B2B Pricing Wars
The B2B travel industry in India is a highly cluttered market offering a homogenous range of choices and highly customized services.

Due to this most destination management companies in India are proposing and selling trips by pricing out the competition.

This has led to the advent of extremely low margins and a growing dependence on what is known as the "shopping culture."
Technology and Funding
Well-funded big companies are thriving through the deployment of state-of-the-art technology and innovation.

Lack of proper infrastructure, funding, and research data acts as a major disadvantage and tends to leave the smaller companies at the mercy of big companies.

At present, in India, well-funded companies such as MakeMyTrip and ClearTrip have done really well in cementing their positions in the travel industry.

However, the inbound travel industry in India is still not very large and is dominated by a few large B2B companies.

Smaller travel companies led by innovation have not received the recognition that they deserve.

Perception of India
Lack of cohesiveness across various state-led tourism campaigns has limited India as a clichéd, and stereotypical spiritual destination. We can refer to this tourist section as the Eat-Pray-Love crowd.

This is despite of the fact that as a travel destination, we have lots to offer such as ancient culture, historical heritage, spiritual experiences, beautiful landscapes, natural diversity, adventure, wildlife and so on.
Eg- The mighty Himalayas are our asset.
Socio-Political Agitations
For example, the temporary closure of Jammu and Kashmir to tourists and socio-political and religious agitations in other northern states of the country rendering them unattractive to tourists.
Tourism Policy
Lack of an Integrated Tourism Promotion Programme has hindered the growth of tourism.

Indifference of many states and union territories to tourism, which has not yet been accorded industry status by them, is another factor limiting its growth.
Suggestions
Association with Policymakers
Experts in the fields of hotel management and tourism must be associated with all the decision-making bodies.
Coordination
Better liaison should exist between State Tourism Department and ITDC.
Tourism Planning Board
A state-level Tourism Planning Board can be set up to do perspective planning to provide the required fillip to the tourism industry in India.
Subsidy
Electricity and water to tourism & hospitality units should be charged at a subsidized rate and on actual consumption against fixed load.
Infrastructure Status
Grant infrastructure status to all hotels to allow them to avail electricity, water and land at industrial rates as well as better infrastructure lending rates with access to larger amounts of funds as external commercial borrowings. It will also make them eligible to borrow from India Infrastructure Financing Company Limited (IIFCL).
National Tourism Policy
A national tourism policy should be issued by the Ministry of Tourism, Government of India which covers common protocols for entry of a tourist into a state. This will act as a uniform guideline for all states to follow.
Targeted Marketing Campaign
The states and union territories should have a targeted marketing campaign to communicate the safety measures taken by the Government at various tourist attractions and the private stakeholders to ensure the safety of the tourists when travelling to the destination.

This will help to educate tourists and build their confidence to travel for tourism purposes.
Leave Travel Allowance
The Government can provide tax rebate of upto rupees 1.5 lakhs for spending on Domestic holidays in the lines of the Leave Travel Allowance (LTA).
Tourism Fund
Creation a separate Tourism fund under the aegis of Ministry of Tourism to support the Hospitality and Travel Industry in this time of crisis. The fund should be accessible to the Industry as a collateral-free 10-year loan.
Combating Pandemic Crisis
Stimulus package to stabilize and support the sector in the near term, including a workforce support fund to ensure that there are no job losses.
MSMEs as PSL
Lending to MSMEs in the Hospitality sector may be treated as 'Priority Sector lending', which will enable increased access to bank finance.
Steps taken to promote Tourism in India
DekhoApnaDesh
The 'DekhoApnaDesh' webinar series is an effort to showcase India's rich diversity under "Ek Bharat Shreshtha Bharat."

The DekhoApnaDesh Webinar Series is presented in technical partnership with Ministry of Electronics and Information Technology's Department of National e Governance.
Swadesh Darshan Scheme
This is a central sector scheme; - 100% funded by Central Government of India.

The funding available for Corporate Social Responsibility (CSR) initiatives of Central Public Sector Undertakingsand Corporate Sector is also used in this scheme.

The scheme aims to promote, develop and harness the potential of tourism in India.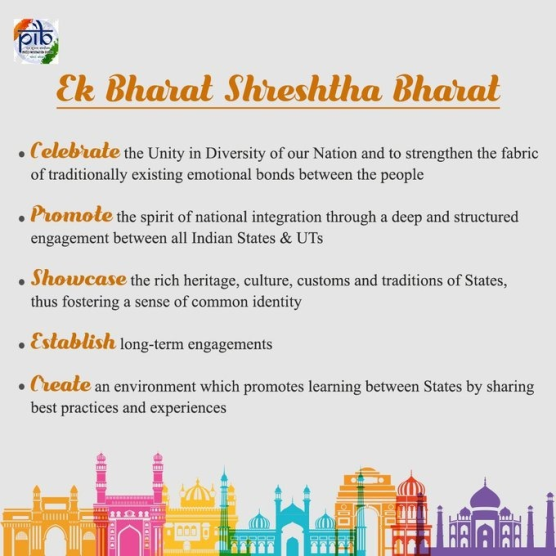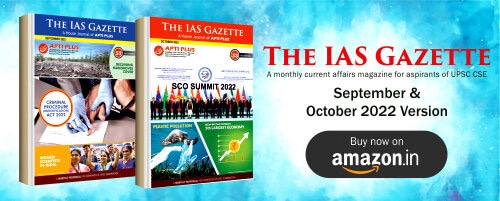 MICE
Meetings, incentives, conferences and exhibitions (MICE) is a type of tourism in which large groups, usually planned well in advance, are brought together. Recently there has been an industry trend towards using the term 'meetings industry' to avoid confusion from the acronym.

Aim:

to promote India as a MICE Destination (Meetings, Incentives, Conferences and Exhibitions).
PRASHAD
Central Financial Assistance to States/UTs under the schemes of SwadeshDarshan, National Mission on Pilgrimage Rejuvenation and Spiritual Heritage Augmentation Drive (PRASHAD) and Assistance to Central Agencies for the development of tourism related infrastructure in the country.
e- visa Facility
Extension of e- visa facility to citizens of 167 countries.
Incredible India 2.0 campaign
Niche tourism products like Heritage Tourism, Adventure Tourism, Cruise Tourism, Rural Tourism, Wellness & Medical Tourism, MICE, Golf, etc. are being promoted through the Incredible India 2.0 Campaign.
Helpline
Launch of 24x7 toll-free multi-lingual tourist helplinein 12 International languages including Hindi and English.
Global Tourism Mart for India
Organisation of annual Global Tourism Mart for Indiain line with major international travel marts being held in countries across the world. It provides a platform for all stakeholders in tourism and hospitality industries to interact and transact business opportunities.
International Buddhist Conclave
Organisation of biennial International Buddhist Conclave. It showcases the Buddhist Heritage in India and boost tourism to the Buddhist sites in the country and cultivate friendly ties with countries and communities interested in Buddhism.
Annual International Tourism Mart
Organisation of Annual International Tourism Mart for promotion of tourism in North Eastern States.
"Know India" seminars
Promotional activities in tourist-generating markets overseas through the India Tourism Offices abroad with active participation in travel fairs and exhibitions; organizing Road Shows, "Know India" seminars & workshops.
Swachh Paryatan
The Ministry of Tourism launched a mobile application called Swachh Paryatanwhich will let citizens report any hygiene issues at various tourist destinations across the country.
Adarsh Smarak
ASI has identified 100 monuments to be developed as Model Monuments. These monuments would be provided with necessary tourist facilities including Wi-Fi, security, signage, encroachment-free area, and interpretation centres showing short films about the importance of monuments and signboards of Swachh Bharat Abhiyan.
SAATHI
Ministry of Tourism developed an initiative called SAATHI (System for Assessment, Awareness & Training for Hospitality Industry) by partnering with the Quality Council of India (QCI) in October 2020.

The initiative will effectively implement guidelines/SOPs issued with reference to COVID-19 for the safe operations of hotels, restaurants, B&Bs and other units.
Audio Odigos
Ministry of Tourism launched Audio Guide facility App called Audio Odigosfor 12 sites in India (including iconic sites).
Adopt a Heritage Project
Ministry of Tourism has launched the 'Adopt A Heritage' project.

Heritage sites are being offered for adoption by the public sector, private sector and individuals to become 'Monument Mitras' for developing amenities and facilities at these sites under this programme.
'Special Tourism Zones'
Creation of 'Special Tourism Zones' anchored on Special Purpose Vehicles (SPVs) in partnership with the States.

Creation of Special Tourism Zones would lead to the overall development of the areas and offer diverse tourism experiences which would help in creating livelihood and improve the standards of local communities living in those areas.
Glass Top Coaches
Ministry of Tourism as part of its Rail Tourism Policy is collaborating with the Ministry of Railways for the manufacturing of three glass to coaches to be deployed on scenic rail routes of the country.

Two glass top coaches were launched in 2017 on the Vishakhapatnam – Araku Valley and Dadar to Madgaon route. The third glass top coach is being constructed for the Qazigund – Baramullah route in Jammu and Kashmir.
Conclusion
Tourism sector is predicted to grow at an annual rate of 6.9% to $460 bn by 2028 which is 9.9% of GDP.

Government of India is rightly working to achieve a 2% share in the world's international tourist arrivals by 2025.

To achieve its goals India needs a colossal move from the conventional marketing techniques that are still being followed to a much more modern approach.

It is time to showcase the cultural diversity of the country and reinforce the principle of "Tourism for All".
https://sansadtv.nic.in/episode/committee-report-tapping-indias-tourism-potential-17-november-2022