PERSPECTIVE: Safeguarding Cultural Heritage
PERSPECTIVE: Safeguarding Cultural Heritage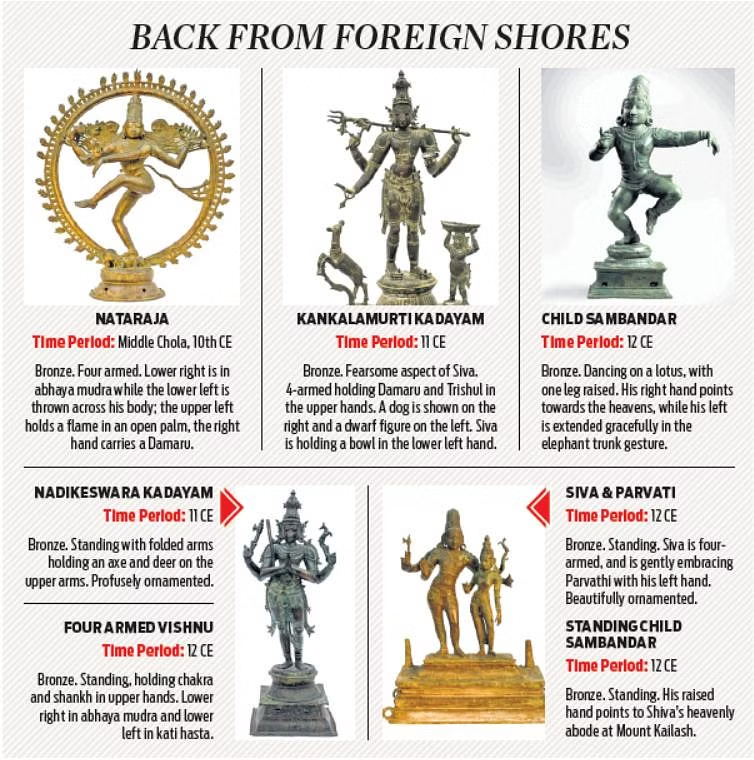 Disclaimer: Copyright infringement not intended.
Context
A parliamentary panel has recommended setting up a "dedicated cultural heritage squad" for the recovery of stolen antiquities.
Details
The department-related Parliamentary Standing Committee on Transport, Tourism, and Culture said this in a report tabled in both Houses of Parliament on Monday.
In its "Three Hundred Forty-Eighth Report on the subject 'Heritage Theft – The Illegal Trade in Indian Antiquities and the Challenges of Retrieving and Safeguarding Our Tangible Cultural Heritage'", the committee suggested that the government could set up a "multi-departmental task force" to speed up the retrieval process.
The task force, as recommended by the committee, should include senior officials from the Ministry of Home Affairs for police and investigation, the Ministry of External Affairs (for coordination with foreign governments), the Archaeological Survey of India, along senior scholars and experts.
India's rich and diverse artistic heritage is under the persistent threat of extinction. Almost every region has its traditional form of art heritage. However, with the advent of globalization, these cultural traditions are fast eroding.
Introduction
Safeguarding measures to ensure that intangible cultural heritage can be transmitted from one generation to another are considerably different from those required for protecting tangible heritage (natural and cultural).
However, some elements of tangible heritage are often associated with intangible cultural heritage. That is why the Convention includes, in its definition of intangible cultural heritage, the instruments, objects, artifacts, and cultural spaces associated with it.
India has one of the largest geo-political expanses and one of the greatest volume and diversity in heritage. This vast heritage repository of India is recognized globally as a significant part of its unique cultural identity.
Even beyond India, several countries across the world, house some of the best specimens of our country's heritage in their museums often narrating the glory of Indian culture along with the tales of colonial legacy; while others in southeast Asia have extraordinary monuments standing as testimony to the spread of Indian culture.
An initial survey indicates the total quantum of India's built heritage and archaeological remains may roughly amount to a total of 400000 plus heritage structures across the country including centrally protected monuments, state-protected monuments, heritage buildings under various religious trusts, historic cities, and archaeological sites.
The Constitution of India has divided the jurisdiction over these monuments, cultural heritage, and archaeological sites as follows
Union:

Ancient and Historical Monuments and Archaeological sites and remains, declared by Parliament, by law to be of national importance.

State:

Ancient and Historical Monuments other than those declared by Parliament to be of national importance.

Concurrent:

Besides the above, both the Union and States have concurrent jurisdiction over archaeological sites and remains other than those declared by law and Parliament to be of national importance

Article 253 of the Constitution of India

, enables Parliament to legislate for the implementation of any treaty, agreement, or convention with any other country or country, or any decision, made at any international conference, association, or other body. Any such legislation can be enacted even if the subject matter of the legislation is an item in the State List of the Constitution of India.
Threats to Indian Art heritage
Inadequate human resources: There are acute shortages of staff in all key positions in the ASI. This adversely affects the security and maintenance of monuments.
Lack of reliable database: As observed by the CAG report, the ASI does not have a reliable database of the exact number of protected monuments under its jurisdiction.
Improper Conservation Policy: The ASI does not have an updated and approved Conservation Policy to address the conservation and preservation requirements. There is an absence of any prescribed criteria for the prioritization of monuments that require conservation work. As a result, monuments are selected arbitrarily for carrying out conservation works.
The issue with governance: Governance from the Ministry of Culture is lax and deficient on aspects of the adequacy of policy and legislation, financial management, monitoring of conservation projects and provision of human resources to concerned agencies
Funds: There is a lack of funds for conservation projects and maintenance. Further, faulty budgeting of conservation works aggravates the problem.
The impact of protecting, conserving, interpreting and showcasing India's built heritage needs to be recognised at multiple levels
International Level -

As part of a Universal Shared Heritage to build global relations in the future by connecting with stories and routes of cultural exchange through history and, learning from international practices.

National Level -

As a tool for nation-building and branding its unique cultural identity with iconic sites and magnificent monuments in each region of India including its World Heritage Sites that narrate its rich, complex and layered history.

Local Level -

To guide sustainable development of its historic cities and sites at the local level linking directly with reuse and socio-economic benefits to the community while addressing the UN Sustainable Development Goals at the same time.
The rationale behind preserving India's heritage
Implications
There are several implications at international, national and local levels when a country works progressively in the direction of heritage management and heritage preservation.
India, since independence, has been proactive in ensuring the rich heritage of the country is protected, conserved and interpreted in the right light and showcased appropriately.
Management
No nation exists in isolation and its global footprint is critical in deciding how the nation is perceived by other countries.
As part of a Universal Shared Heritage, heritage management leads to building global relations, even economic ties, by establishing connections based on historical trade routes, cultural exchanges and stories and anecdotes from the past.
Also, common links of similar traditions and practices facilitate modern-day economic and social ties between nations.
Conservation and protection
At the national level, heritage protection and conservation and the pride associated with a unique heritage are important for 'nation building and branding of the country's cultural identity'.
India is home to thousands of iconic sites and breathtaking monuments whose history and architecture have trickled down through various dynastic and cultural influences.
The multi-layered cultural heritage diversity in India is simply a reflection of how complex, rich and old India's history is.
Infrastructural development
At a local level, heritage protection and conservation is not only a binding force within communities and groups but also a catalyst for economic development.
Development of a heritage site leads to infrastructure development, opens up employment and enterprising opportunities and also provides exposure to local communities and furthers social development.
Proactive government initiatives and schemes
Digitise and centralise information
There is a need to digitise and centralise information and data for use by the public and industry personnel. The government is fast working towards creating a National Archaeological Database and a National GIS Database for heritage monuments and sites that 'will be authenticated and validated by ISRO'.
Ensure the Archives Data
Resources are being directed towards reactivating the National Mission on Monuments and Antiquities (NMMA), launched in 2007, to complete its listing of built heritage and antiquities. Simultaneously, initiatives are being undertaken to ensure the Archives Data is accessible digitally and the archives are recorded and stored as per the conservation norms for uniformity.
Strategy to restructure the Archaeological Survey of India
The government is also charting out a strategy to restructure the Archaeological Survey of India (ASI), establish connections with people, support the state government and religious trusts for heritage conservation and clearly 'define byelaws for prohibited and regulated areas' around heritage monuments.
Developing heritage
Special efforts are also being made towards developing heritage as a 'tool for development and employment generation'.
Also, establishing partnerships with national and international institutions for capacity building for heritage management is being prioritised in the time to come.
Significance
Economic significance
The cultural industries are important components of modern economies. The presence of cultural sites, services, and art forms tends to enhance tourism, sustain livelihoods, and attract investment.
Historical-Social Significance
The non-economic benefits of culture include the preservation of history, the development of knowledge, and the nurturing of creativity.
Way Forward
India's rich and diversified cultural heritage includes a vast corpus of constructed heritage, including ancient and historical monuments, archaeological sites and remnants.

These monuments, places, and relics should be conserved and appreciated since they symbolise India's distinct culture and history.

While technology offers immense potential, challenges such as technological obsolescence, limited IT manpower, and the cost of conversion can be overcome through continued collaboration, research, and investment in emerging technologies.
India's efforts to harness technology for the protection and promotion of its cultural heritage have generated encouraging outcomes. India is preserving, making accessible, and promoting its rich cultural past through digitization, enhanced scanning techniques, collaborative projects, and research.
By embracing innovation and technology, India can preserve its past for future generations while also cultivating a greater awareness of its unique cultural tapestry.
Conclusion
Safeguarding measures must always be developed and applied with the consent and involvement of the community itself. In certain cases, public intervention to safeguard a community's heritage may be undesirable, since it may distort the value such heritage has for its community.
Moreover, safeguarding measures must always respect the customary practices governing access to specific aspects of such heritage, for example, sacred intangible cultural heritage manifestations or those that are considered secret.
CITATIONS:
https://sansadtv.nic.in/episode/perspective-safeguarding-cultural-heritage-26-july-2023
https://ich.unesco.org/en/safeguarding-00012
https://oneindiaonepeople.com/indias-unique-heritage-needs-to-be-preserved/
https://youthincmag.com/heritage-of-india-in-dire-need-of-preservation-why