PERSPECTIVE| 'FIVE YEARS OF KHELO INDIA'
PERSPECTIVE| 'FIVE YEARS OF KHELO INDIA'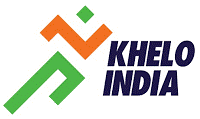 Context:
The Khelo India Mission has just completed 5 years.
Details:
It's a GOI programme which envisages providing sports infrastructure of international standards to budding athletes and to inculcate a holistic approach towards fitness for the citizens.

The ultimate aim of the programme

is to make India a sporting nation.
The programme started in 2018 and now boasts of supporting over 2500 chosen athletes in different disciplines. So how successful has Khelo India been and what are the challenges that lie ahead.
About Khelo India Programme
Origin:
Khelo India is based on Gujarat's model of "Khel MahaKumbh" in which there are 27 disciplines and schools and colleges from across the country participates in it. Khelo India is a merger of the three schemes namely, Rajiv Gandhi Khel Abhiyan, Urban Sports Infrastructure Scheme and National Sports Talent Search Scheme.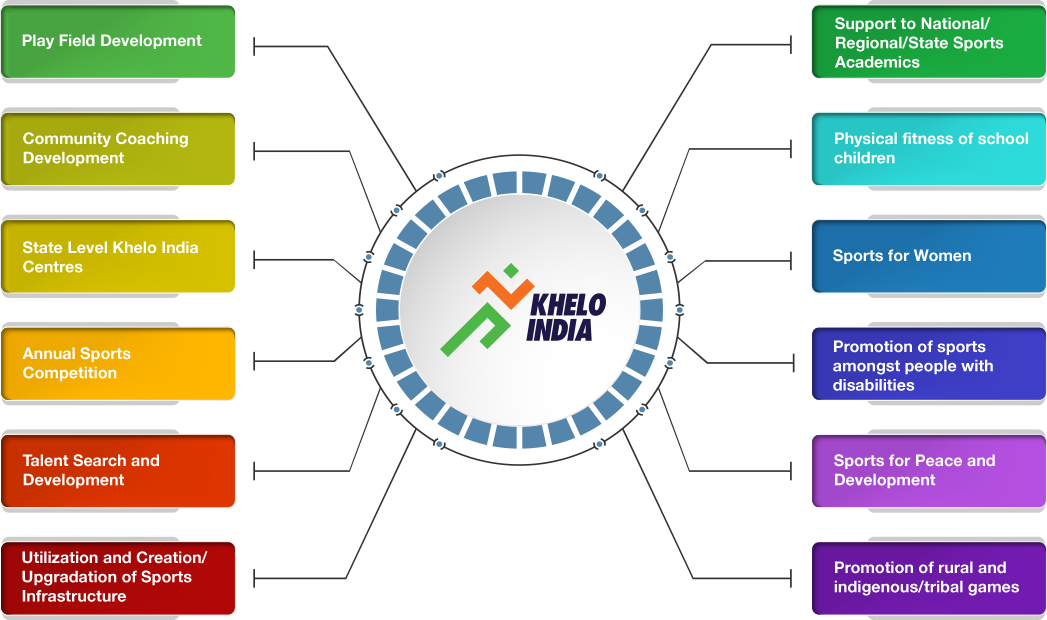 Khelo India Programme is a national scheme/scheme for the development of sports in India.
Launched:
It was launched in the year 2018 in Delhi by the then Sports Minister Col Rajyavardhan Singh Rathod.
Objective:
This Programme has been started to improve the sports culture in India.

With the objective of mainstreaming sports as a means for national development, economic development, community development and personal development, the Union Cabinet has approved urban sports infrastructure by adding 'Rajiv Gandhi Khel Abhiyan' (earlier called Yuva Krida and Khel Abhiyan).

Mass participation of youth in annual sports competitions through a structured competition;

Guidance and nurturing of the talent through existing sports academies and new set up either by the central Government or State Government or in PPP mode.

Creation of Sports Infrastructure at mofussil, Tehsil, District, State levels, etc.
Approval by:
The 'Khelo India' Programme was approved by the scheme and the National Sports Talent Search System Programme.
Eligibility:
Under- 17 category= Candidates who are less than the age of 17 years can participate in it.

Under- 21 category

=Candidates who are less than the age of 21 years can participate in it.
Categories of the Khelo India Scheme
The different verticals of the Khelo India scheme include the following:
Playfield development
Community coaching development
Support to National, regional, and state sports academics
Physical fitness of school children
Promotion of sports amongst people with disabilities
Sports for women
State-level Khelo India Centers
Annual sports competition
Sports for peace and development
Talent search and development
Utilization and creation or up gradation of sports infrastructure

Promotion of rural and indigenous or tribal games
Assistance under Khelo India Scheme
Talented players identified under the Khelo India scheme in priority sports disciplines at different levels by the high-powered committee are provided annual financial assistance of Rs.5 lakh per annum for eight years.
Need for Khelo India Programme
The importance of sports and fitness in one's life is invaluable. Playing sports inculcates team spirit, develops strategic & analytical thinking, leadership skills, goal setting and risk taking.

A fit and healthy individual leads to an equally healthy society and strong nation. Sports is an extremely important component for the overall development of our nation.

India, in the last few years has made steady progress in the field of sports.

This tremendous potential needs to be showcased at a global platform. It's time we inspire young talent, give them top-notch infrastructure and training of the highest level.
Khelo India School Games
The Khelo India School Games (KISG), a part of the Khelo India scheme, was held from 31 January to 8 February 2018 in New Delhi. Under-17 athletes were invited to participate across 16 disciplines: Archery, Badminton, Athletics, Basketball, Football, Boxing, Gymnastics, Judo, Hockey, Kabaddi, Shooting, Kho-Kho, Volleyball, Swimming, Wrestling, and Weightlifting.
Achievements of the Khelo India Scheme
133 new sports infrastructure projects were approved across 27 states/UT at a total sanctioned cost of Rs.826 crore.

First Khelo India School Games (KISG) was conducted with the participation of 3,507 athletes.

The second edition of the games, i.e. Khelo India Youth Games Maharashtra, 2019, was successfully conducted with the participation of 5,925 athletes.

2,437 sporting talents across 20 sports disciplines are selected under the talent search and development vertical.

A total of 99 academies (State government, Central Government, and private) are accredited for training Khelo India Athletes (KIAs).

Khelo India mobile application was launched to enable the general public to obtain information and ease of access to the different aspects of the game, available play fields across India, or mapping the fitness parameters of young school children.

The first national-level Training of Trainer (TOTs) program for the Central Board of Secondary Education (CBSE) teachers was held and 198 physical education teachers trained are certified as master trainers.

A total of 30 regional or state-level TOTs have been conducted, where 1,547 certified regional trainers were trained.

Under the 'Physical fitness of school children' component, 1,168 schools and 23,947 assessors are registered. 2,70,821 student profiles have been created for physical fitness assessment in the Khelo India Mobile App, out of which 92,583 assessments have been made.

Support of Rs.3 crore was given to the Boxing Federation of India to conduct the AIBA Women's Boxing Championship, 2018, held in New Delhi from 15-24 November 2018.

2,124 trainees are covered under 18 state-level Khelo India centers of the Sports Authority of India.
Benefits of Khelo India Scheme:
It is a Pan India sports scholarship scheme which covers the 1000 most talented athletes every year in various sports disciplines.

Athletes who got selected are provided with scholarship of Rs. 5 lakhs for 8 consecutive years.

This scheme encourages schools and colleges to organize sports events and competitions of high standard.

It strengthens and revamp the sports culture of India at the grassroot level.

It encourages "sports for all" and "sports for excellence".

A sporting culture is developed by identifying, developing and encouraging talent in sports discipline.

Program facilitates deprived

and poor youth to engage in sports rather than in unproductive work.

The scheme covers around 200 million children between 10 to 18 years under a massive National Physical Fitness Drive.

It also promotes 20 universities in the country as a hub of sporting excellence.
Challenges of Khelo India Scheme:
Lack of clarity around key issues
The Government of India's attempt to promote sports and fitness has led to many changes, at least at the policy level, in the last five years.

Khelo India Youth Games (KIYG) now seems to have superseded Khelo India School Games (KISG), but what this means has not been clearly articulated.
Underutilisation of resources
Many experts, at both the national and international levels, feel that if India wants to become a sporting nation, the country will have to invest heavily in building a modern infrastructure and a robust grassroots system.

In the 2020-21 budget, the Government of India allocated Rs 2826.92 crore (about $380 million) for sports, which represented an increase of Rs 50 crore (about $6.75 million) from the revised estimates of 2019-20.
A new model of governance
Needless to say, the current model of governance of Indian sports clearly lacks accountability and transparency, which creates an environment that is conducive to wide-scale corruption, threatening a tournament's overall credibility.
Shortage of coaches
The Committee observed that there are 1,524 posts for coaches in various cadres. At present, 980 of these posts are filled, creating a shortfall of 544 coaches.
Khelo India Youth Games 2022:
Tau Devi Lal Sports Complex in Panchkula, Haryana is the main venue for the Games 2022 with the seating arrangement of 7,000 spectators. Five venues are selected for organizing as many as 25 different varieties of sports under Khelo India Youth Games 2022 namely Delhi, Ambala, Panchkula, Shahabad and Chandigarh. Furthermore, five traditional sports are also included in the 2022 Games. They are Gatka, Yogasana, Mallakhamba, Thang- Ta and Kalaripayattu.
Way Forward:
Administration
The Khelo India scheme is implemented by a General Council chaired by the minister-in-charge. The Council functions as the policy making body for the scheme.
Utilisation of funds:
The Committee observed that during 2018-19 and 2019-20, the actual expenditure on the Khelo India scheme was Rs 324 crore and Rs 318 crore, respectively. However, the estimated allocation was Rs 520 crore and Rs 500 crore, respectively.
Talent identification:
The Committee observed that the process of talent identification was complex and lengthy. Talent identification begins with pan-India trials of children by talent scouts (eminent coaches and players). Once players are shortlisted from these competitions, they are called for an assessment camp, where a final list of players is composed.
Sports infrastructure:
The Committee noted that schools, colleges, and universities lack sports infrastructure. Currently, to fill these gaps in sports infrastructure, the Department uses two mechanisms:
(i) setting up sports centres in select universities, and
(ii) providing grants to states to build infrastructure. The Committee observed that only 13 states have been given these grants. It noted that certain states including Bihar, Jharkhand, and Odisha did not receive any grants.
Education:
The Khelo India scheme identifies and trains players for international sports events such as the Olympics. The Committee noted that in 2018-19, of the 1,518 players selected for training, only 625 joined the accredited academies, and 893 dropped out.
Conclusion
It is concluded that the khelo India programme are higher in motivate the new generation for sports competition. Khelo India programme is essential for modification of the athlete and to development the sports culture of India. And it also helpful for the athlete to all round

Sports enjoyment is positive affective response to the sports experience that reflects development generalized feelings such as pleasure, liking and fun and is a ―border and more inclusive construct'' derived from both internal and external origins.

We need to inculcate a strong spirit of participation in sports that enables players to demonstrate their true potential. Only then can India realise its dream of becoming a sports super power.

The Khelo India programme has been introduced to revive the sports culture in India at the grass-root level by building a strong framework for all sports played in our country and establish India as a great sporting nation.
https://sansadtv.nic.in/episode/perspective-five-years-of-khelo-india-27-april-2023