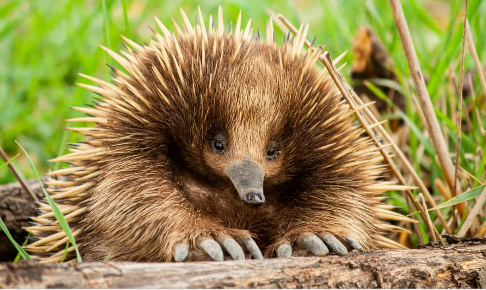 Disclaimer: Copyright infringement not intended.
Context
An elusive echidna named as Zaglossus attenboroughi, feared extinct after disappearing for six decades has been rediscovered in a remote part of Indonesia.
Zaglossus attenboroughi
The Zaglossus attenboroughi, a kind of long-beaked echidna named for famed British naturalist David Attenborough, had last been seen in 1961.
Echidnas are nocturnal and shy, making them difficult to find at the best of times, and the Attenborough long-beaked echidna has never been recorded outside the extremely remote Cyclops Mountains of Indonesia's Papua region.
Attenborough's long-beaked echidna (Zaglossus attenboroughi), also known as Sir David's long-beaked echidna or the Cyclops long-beaked echidna, is one of three species from the genus Zaglossus that inhabits the island of New Guinea.
It lives in the Cyclops Mountains, which are near the cities of Sentani and Jayapura in the Indonesian province of Papua. It is named in honour of naturalist Sir David Attenborough.
It is currently classified as critically endangered by the IUCN.
Description
It is the smallest member of the genus Zaglossus, being closer in size to the short-beaked echidna (Tachyglossus aculeatus).
The male is larger than the female, further differentiated by the spurs on its hind legs.
The long-beaked echidna is not a social animal, and it comes together with its own kind only once a year, in July, to mate.
During the reproduction stage, the female lays the eggs after about eight days, with the offspring staying in their mother's pouch for around eight weeks or until their spines develop.
The creature is nocturnal; it rolls up into a spiny ball when it feels threatened, resembling the behavior of a hedgehog.
It weighs from 5 to 10 kilograms (11 to 22 lb).
The diet of Sir David's long-beaked echidna consists of earthworms, termites, insect larvae, and ants.
PRACTICE QUESTION
Q. Recently, Zaglossus attenboroughi was in news. What is it?
A.Porcupine
B.Arthropoda
C.Echidna
D.Echinoderm
Choose the correct code.
A

B

C

D
Answer
3. C