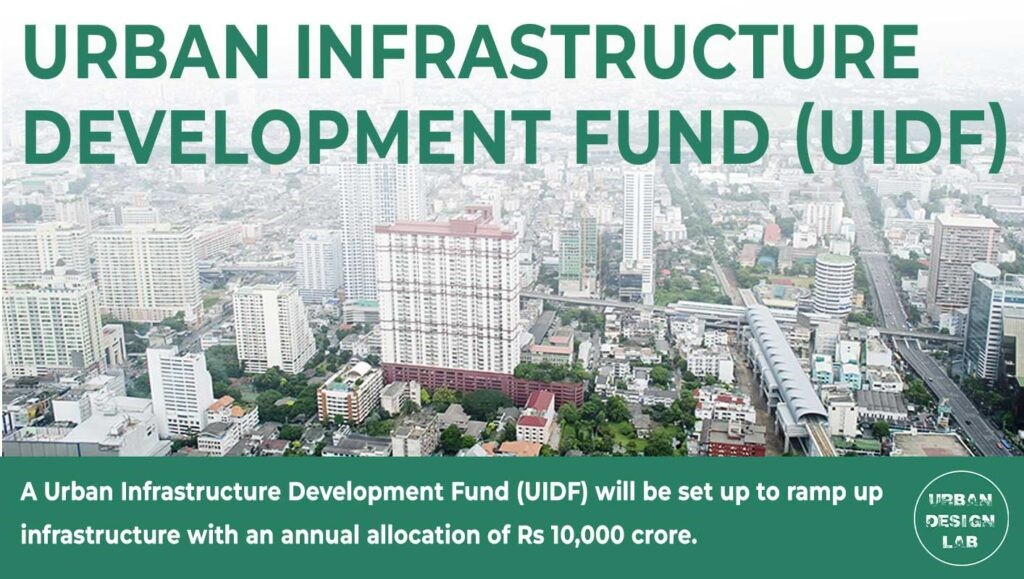 Copyright infringement not intended
Picture Courtesy: urbandesignlab.in
Context: The Urban Infrastructure Development Fund (UIDF) announced in the FY24 Budget is set to disburse its first tranche of loans to fund ongoing projects in tier-2 and tier-3 cities, according to officials from the Union Housing and Urban Affairs Ministry. States are also in the process of preparing proposals for new projects to be funded under this initiative.
Key details about the UIDF and its operation include:
Eligibility Criteria

:

The UIDF aims to provide low-cost loans to 459 tier-2 cities with a population ranging from 1 lakh to 9,99,999 and 580 tier-3 towns with a population between 50,000 and 99,999, as per the 2011 Census.

Execution:

The National Housing Bank (NHB) is responsible for executing the UIDF and issuing guidelines for its implementation in July. States were asked to submit their proposals by September.

Funding for Ongoing Projects

:

Cities have been permitted to seek funds for ongoing projects for the first two years of UIDF. As a result, the disbursement of funds for such projects is expected to occur soon.

Project Categories

:

The projects that are set to be funded under UIDF include sewage treatment plants, sewerage networks, water supply, sanitation, construction of roads, comprehensive area development, local area planning for decongestion, heritage conservation, town-planning schemes, and parks with open gyms that do not involve major construction.

Combination with Other Schemes

:

The funding from UIDF can be combined with funding from other schemes of the Ministry, such as the Swachh Bharat Mission and AMRUT, to support and enhance urban infrastructure development.

Loan Terms:

Cities can obtain loans at an interest rate that is 1.5 percentage points less than the prevailing bank interest rate. The repayment period is seven years from the date of withdrawal, with a two-year moratorium period. During the moratorium period, interest payments are required at the end of each quarter.

Loan Amounts

:

The loan amounts are determined based on the project costs, with 90% of the project cost for projects in the range of Rs 5-10 crore, 85% for projects in the range of Rs 10-50 crore, and 75% for projects in the range of Rs 50-100 crore.

Exclusions

:

UIDF funds cannot be used for maintenance work, administrative expenses, housing projects, power projects, telecom projects, urban transport, health projects, or education projects, as per the guidelines.
Summary
The UIDF is an important initiative that aims to support infrastructure development in tier-2 and tier-3 cities, address critical urban needs, and enhance the quality of life for residents in these areas. The UIDF provides financial assistance to urban local bodies, state governments, and private entities for implementing urban infrastructure projects. The UIDF also facilitates the creation of an enabling environment for urban development by providing technical assistance, capacity building, and policy advocacy. The UIDF is expected to have a positive impact on the economic growth, social inclusion, and environmental sustainability of tier-2 and tier-3 cities.
Must Read Articles:
Urban Infrastructure Development Fund: https://www.iasgyan.in/daily-current-affairs/urban-infrastructure-development-fund-14
PRACTICE QUESTION
Q. Urban development plays a crucial role in India's overall development trajectory. Discuss the significance of urban development in India's growth story, highlighting its contributions to economic, social, and environmental aspects. Identify and analyze the major challenges faced by urban areas in India today. Propose strategies and initiatives that could pave the way forward for sustainable and inclusive urban development in the country.
https://indianexpress.com/article/india/first-set-of-infra-loans-for-tier-2-tier-3-cities-to-be-disbursed-soon-8922944/