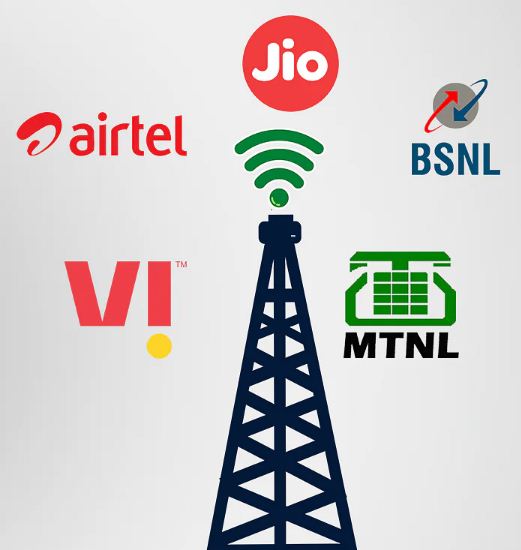 Disclaimer: Copyright infringement not intended.
Context
5G telecom services will be made available in India from October 2022 onwards and the industry would decide on the pricing structure.
Telecom Regulatory Authority of India
In the year 1997, TRAI Act was enacted to regulate the telecommunications sector in India.

It also provided for a mechanism of dispute resolution among the stakeholders of the telecom sector.

It was amended in 2000, establishing a Telecom Disputes Settlement and Appellate Tribunal (TDSAT) to take over the adjudicatory and disputes functions from TRAI.
Telecom Regulatory Structure in India
Telecommunications in India began as a Government monopoly

, which was then liberalized in the early 1990s and private sector participation was permitted gradually.

Major parties in the Indian telecom market include BSNL (Bharat Sanchar Nigam Limited), Bharti Airtel, Vodafone Idea Limited, and Reliance Jio Infocomm.

National Telecom Policy, 1994, allowed entry of private entities in the telecom sector and with entry of the private sector, the need was felt to have a regulator for this sector

.

Establishment of Telecom Regulatory Authority of India in 1997 through enactment of TRAI Act. Initially, TRAI played the role of regulator as well as adjudicator.

The TRAI Act was amended, and established a Telecom Disputes Settlement and Appellate Tribunal (TDSAT) to take over the adjudicatory and disputes functions from TRAI.

The Ministry of Communications and Information Technology presides over the telecom industry

in India and governs the following bodies:

The Department of Telecommunications exercises its exclusive privilege establishing, maintaining, and working telegraph and wireless equipment and grants Licenses for such activities.

Wireless Planning Commission

(WPC) responsible for Frequency Spectrum Management, including licensing of wireless stations and caters to the needs of all wireless users in India.

Telecom Regulatory Authority of India

(TRAI) is an autonomous statutory body with the sole authority to take binding decisions on the fixation of tariffs for the provision of telecommunications services. TRAI's recommendations are mandatory for the DoT to consider before licensing telecom services.

Telecom Disputes Settlement and Appellate Tribunal

has been vested with exclusive powers to adjudicate any dispute between the licensor (DoT) and a licensee; service providers; and service providers and groups of customers.
Telecommunications Laws and Regulations
The Indian Telegraph Act, 1885
It empowers the Government of India to take control of the existing telegraph lines and lay down the necessary infrastructure for further expansion of telecommunications in India.

It authorizes the Government of India to grant telecom Licenses on such conditions and in consideration of such payments as it thinks fit, to any person to establish, maintain, and work a telegraph within any part of India.

It authorizes the Government of India to take possession of licensed telegraphs and to order interception of messages on the occurrence of any public emergency or in the interest of public safety.

Any dispute concerning a telegraphic appliance/ apparatus/ line between the telegraph authority and a licensee shall be determined by arbitration by an arbitrator appointed by the Central Government

.
The Telecom Regulatory Authority of India Act, 1997
The Telecom Regulatory Authority of India was established under the Telecom Regulatory Authority of India Act, 1997.

It empowered the TRAI with quasi-judicial authority to adjudicate upon and settle telecom disputes.

The Act was amended in 2000 to clearly distinguish between the regulatory and recommendatory functions of TRAI. The Amendment also set up the TDSAT; jurisdiction of civil courts.
The Information Technology Act, 2000
The Act was passed to promote e-commerce, to legally recognize electronic documents and digital signatures as valid authentication of electronic documents.
The Information Technology Amendment Act of 2008
It provided additional focus on information security and added several new sections on offences such as cyber terrorism and data protection.

It provides penalties for various offences such as cybercrime, e-commerce frauds such as cheating by impersonation, and pornography

.
National Digital Communications Policy, 2018
The National Digital Communications Policy (NDCP) was enacted with the goal of digital empowerment and well-being of Indian citizens; it outlines a set of goals, initiatives, strategies, and intended policy outcomes.

Provisioning of Broadband for All by 2022.

Creating four million additional jobs in the digital communications sector by 2022.
Aim of India's Communication Policy:
Connect India:

Creating robust digital communications infrastructure to promote 'Broadband for All' as a tool for socio-economic development, while ensuring service quality and environmental sustainability.

Secure India:

Ensuring sovereignty, safety, and security of digital communications to secure the interests of citizens and safeguard the digital sovereignty of India with a focus on ensuring individual autonomy and choice, data ownership, privacy, and other Future Technologies.

Innovate India:

Promoting next-generation technologies and services through investments, innovation, and intellectual property rights (IPR) generation to harness the power of emerging digital technologies, including 5G, AI, IoT, cloud, and big data to enable the provision of future-ready products and services.
India's Telecom Sector
India's telecommunication network is the second largest in the world by number of telephone users (both fixed and mobile phone).

It has one of the lowest call tariffs in the world enabled by mega telecom operators and hyper-competition among them.

India has the world's second-largest Internet user-base.

Indian telecom industry underwent a high pace of market liberalization and growth since the 1990s and now has become the world's most competitive and one of the fastest growing telecom markets.
Industry Scenario
India is expected to have a digital economy of $1 tn by 2025.

The Telecommunications industry is divided into following subsectors: Infrastructure, Equipment, Mobile Virtual Network Operators (MNVO), White Space Spectrum, 5G, Telephone service providers and Broadband.

Over the last seven years, the Indian Telecom Tower industry has grown significantly by 65%. The number of mobile towers increased from 400,000 in 2014 to 660,000 in 2021. Similarly, the number of Mobile Base Transceiver Stations have grown rapidly by 187% and increased from 800,000 in 2014 to 2.3 mn in 2021.

It is also estimated that 5G technology will contribute approximately $450 bn to the Indian Economy in the period of 2023-2040. Currently, the auction of IMT/5G spectrum is undergoing.

India added over 500 Mn new smartphone users over the last decade. We are expected to have 850 Mn smartphone users by 2026, representing ~55% of the total population.

The DoT is targeting a combination of 100% broadband connectivity in the villages, 55% fiberisation of mobile towers, average broadband speeds of 25 mbps and 30 lakh kms of optic fibre rollouts by December 2022. By December 2024, it is looking at 70% fiberisation of towers, average broadband speeds of 50 Mbps and 50 lakh kms of optic fibre rollouts at a pan-India level.
Union Budget 2022 Highlights
Spectrum auctions to be conducted in 2022 for the rollout of 5G mobile services

Scheme for design-led manufacturing under PLI Scheme to be launched to build a strong 5G ecosystem

Contracts for laying optical fibres in all villages to be awarded under the Bharat Net project in FY 22-23

Government Initiatives
Some of the other major initiatives taken by the government for growth for telecom companies are as follows:
BharatNet
The Government is implementing the flagship BharatNet project (in phases), to link each of the 2.5 lakh Gram Panchayats of India through optical fibre network.

This is the largest rural connectivity project of its kind in the world and is the first pillar of Digital India Programme.

It will facilitate the delivery of various e-Services and applications including e-health, eeducation, e-governance and e-commerce in the future.

The project envisages optimal mix of underground fibre, fibre over power lines, radio and satellite media for providing broadband connectivity which can be utilized by all categories of service providers on non-discriminatory basis.
Twitter Sewa
The Ministry of Communications & Information Technology has launched Twitter Sewa, an online communications platform for registration and resolution of user complaints in the telecommunications and postal sectors.
Net neutrality framework
The Telecom Regulatory Authority of India (TRAI) has released a consultation paper which aims to offer consumers free Internet services within the net neutrality framework and has proposed three models for free data delivery to customers without violating the regulations.
Two options of payments
The Government of India has liberalized the payment terms for spectrum auctions by allowing two options of payments to telecom companies for acquiring the right to use spectrum, which include upfront payment and payment in installments.
Amendment of the Unified License for telecom operations
The Department of Telecommunications (DoT) has amended the Unified Licence for telecom operations which will allow sharing of active telecom infrastructure like antenna, feeder cable and transmission systems between operators, thereby lowering the costs of operations and leading to faster rollout of networks.
National Action Plan for Skill Development in Telecom Sector
The Ministry of Skill Development and Entrepreneurship (MSDE) signed a Memorandum of Understanding (MoU) with Department of Telecommunication (DoT) to develop and implement National Action Plan for Skill Development in Telecom Sector, with an objective of fulfilling skilled manpower requirement and providing employment and entrepreneurship opportunities in the sector.
Recommendation against dropped calls
The Telecom Regulatory Authority of India (TRAI) has directed the telecom companies or mobile operators to compensate the consumers in the event of dropped calls with a view to reduce the increasing number of dropped calls.
PLI scheme
PLI scheme is an initiative that provides incentives to domestic industries to boost local production.

Through this scheme the Government aims to give companies incentives on incremental sales from products manufactured in domestic units.

PLI) Scheme has been introduced in Telecom & Networking Products sector for Enhancing India's Manufacturing Capabilities and Enhancing Exports – Atmanirbhar Bharat. In October 2021, 31 companies (including both domestic and global companies) were provided approval under the PLI Scheme.
Read: https://www.iasgyan.in/daily-current-affairs/pli-scheme-1
Wi-Fi Hotspots
For accessing broadband services in all the 2.5 lakh Gram Panchayats under BharatNet, around 12.5 lakh Wi-fi hotspots will be set up (with 5 hotspots in each panchayat on an average) in rural areas. This is going to provide broadband access to millions of people in rural areas. In addition to the Wi-Fi hotspots provisioned in the BharatNet, the Government is going to setup 1 Wi-Fi Hotspots infrastructure at BSNL's Telephone Exchanges in rural areas.
Comprehensive Telecom Development Plan for North East Region
The Government has approved a Comprehensive Telecom Development Plan for North East Region to be funded from Universal Service Obligation Fund (USOF).

This project will connect 8621 villages through installation of 6000 mobile tower sites. The Department is also implementing a project for laying over 3000 km of Submarine Optical Fibre Cable between Mainland (Chennai) and Port Blair and five other islands namely Car Nicobar, Little Andaman, Havelock, Kamorta and Great Nicobar Islands of Andaman & Nicobar Islands.
Introduction of Virtual Network Operators (VNO)
The Government has issued guidelines for UL(VNO) on 31st May, 2016. VNO system allows Telecom Service Providers to utilize their networks and spectrum efficiently by sharing active and passive infrastructure.

Further, VNOs can provide services in small towns and rural areas using the network of existing TSPs having unutilised capacity or by last mile connectivity. This apart, the VNOs can be effective in providing services in airports or buildings or in smart cities.
Right of Way Rules
The Government has notified the Indian Telegraph Right of Way Rules, 2016 to regulate underground infrastructure (optical fibre) and over ground infrastructure (mobile towers).

This rule is applicable to all telecom service providers holding a licence under the Indian Telegraph Act, 1885.

These rules have simplified the grant of right of way permissions for creation of telecom infrastructure by making it transparent and time-bound.

This measure is expected to facilitate an increase in the pace of creation of infrastructure both in both rural and urban areas.
5G Network
The fifth generation of mobile network communication technology- known as 5G, holds the promise of applications with high social and economic value, leading to a 'hyper-connected society' in which technology will play an even more important role in people's lives.

5G will not only facilitate but also add a new dimension to the missions like 'Digital India' and 'Smart Cities'.

DoT is supporting research and study in 5G through financial assistance to institutions of national importance for establishment of 'Indigenous 5G Test Bed at IIT Chennai, in collaboration with premier technology institutions including IIT Delhi, IIT Mumbai, IIT Hyderabad and IISC Bengaluru.
Machine to Machine (M2M) networks
Department of Telecommunications (DoT) intends to facilitate complete ecosystem around M2M networks in the backdrop of 'National Telecom M2M Roadmap' which will act as the foundation for a digital society leading to integration of physical & digital infrastructure.
Transition to IPv6
Planned transition to Next Generation Internet Protocol i.e. IPv6 assumes significance as it is essential for sustainable growth of Internet, one of the key pillars of Digital India.
National Digital Communications Policy 2018
The Policy aims to accomplish the following Strategic Objectives by 2022:
Provisioning of Broadband for All

Creating 4 Million additional jobs in the Digital Communications sector

Enhancing the contribution of the Digital Communications sector to 8% of India's GDP from 6% in 2017

Propelling India to the Top 50 Nations in the ICT Development Index of ITU from 134 in 2017

Enhancing India's contribution to Global Value Chains

Ensuring Digital Sovereignty
Bottlenecks
The Indian government has worked on liberalizing certain policies in the past few years but has been protective of the telecom sector for reasons of national security.

However, the telecom industry has also borne the consequences of disruptive policy challenges within the country, retrospective taxation, restrictions on types of equipment, besides suffering from huge debts and expenses on telecom licensing and spectrum buying, issue of payment of Adjusted Gross Revenue (AGR).

Given the rapid pace of technological developments and their effect on the economy, the telecom sector, more than any other sector, needs to have policies that facilitate growth and are in coherence with global trends.
Looking Forward
As a next step, like other countries, DoT would need to strongly consider allowing Cloud, Voice Services and Software-Defined Wide Area Network (SD-WAN) over the internet, and allowing Voice over Internet Protocol (VoIP). This will help organisations be cost-effective, agile, and focus on providing better products and services with superior customer experience.

Going forward, the latest technologies like 'Internet via satellite' will drastically increase internet penetration to the remotest locations in the country. This is expected to further propel digitization efforts, with many rural and remote users gaining access to the World Wide Web.

Commercial Internet satellite

, though at a nascent deployment stage, will co-exist along with the future of telecom technology—5G and 6G. While satellite internet could address the coverage challenges, 5G and 6G technologies would address the need for higher speed, performance without latency, and immersive experience

. Although the telecom sector in India has struggled with restrictions and policy disruptions for long, the reforms taken up by the government now point towards a new era of healthy growth. These reforms will bring alive the digital aspirations of 1.3 billion people and accelerate India's journey to be a digitally powered economy.

India's telecom journey has moved paces away from the first telegraph communication set up in Kolkata and is on a good trajectory towards digitalization. Further reforms in telecom regulations will propel the future of Digital India to greater heights.
https://www.thehindu.com/business/Industry/5g-telecom-service-rollout-from-october-says-communications-minister/article65703422.ece