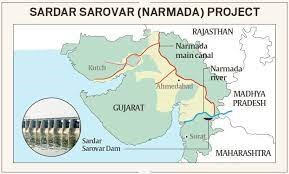 Disclaimer: Copyright infringement not intended.
About Sardar Sarovar Dam (SSD)
SSD is a concrete gravity dam built on the Narmada River in Gujarat's Narmada district in Kevadia.

Sardar Vallabhbhai Patel was the inspiration for the dam's name.

It is the third-highest concrete dam in India, with a length of 1.2 km and a depth of 163 m, after Bhakra (226 meters) in Himachal Pradesh and Lakhwar (192 meters) in Uttar Pradesh.

This dam will be the second largest in the world in terms of the volume of concrete used in gravity dams, after the Grand Coulee Dam in the United States.

It is part of the Narmada Valley Project, which entails the construction of a succession of huge irrigation and hydroelectric multi-purpose dams on the Narmada River.

The dam features two powerhouses, one at the canal head and one at the river bed, with installed capacities of 250 MW and 1,200 MW, respectively.

Madhya Pradesh, Maharashtra, and Gujarat share power advantages in the following proportions: 57:27:16.

Reservoir: The dam creates a massive reservoir known as the "Sardar Sarovar Reservoir" or "Narmada Lake," which spans many Gujarat districts.
Facts about the Narmada River
It is peninsular India's greatest west-flowing river.

Its source is Narmada Kund in Amarkantak, Madhya Pradesh's Anuppur district, at an elevation of roughly 1057 m in the Maikala range.

The river travels through Madhya Pradesh, Maharashtra, and Gujarat between the Vindhya and Satpura hill ranges before entering the Arabian Sea in the Gulf of Cambay around 10 kilometers north of Bharuch, Gujarat.

The river's overall length from source to sea is 1312 kilometers (815 miles).

The river has various waterfalls, the most notable of which is the Dhuandhar Falls, located southwest of Jabalpur.

The Narmada has various tributaries, the most important of which are the Tawa, Barna, Hiran, and Orsang rivers.
Significance of Dams
Clean Energy Source:

Dams provide clean energy. Many governments have welcomed dams as a means of reducing their dependency on costly fossil fuels.

Irrigation:

Dams and canals store and provide water for irrigation, allowing farmers to use it to grow crops.

Irrigation canals from rivers and dams are used to transport water in locations where water and rain are scarce (such as the desert).

Dams can assist in preventing flooding if they are properly planned. They collect excess water to keep it from flowing downstream.

Drinking Water Source:

Because dam water is freshwater, it can also be utilized as drinking water.
Dams and Destructions
Dams have an impact on aquatic life by preventing fish movement and limiting their ability to access spawning habitats, find food, and avoid predators.

Dams obstruct river flow:

Dams and reservoirs operate as physical barriers to the movement of water bodies by fragmenting them and influencing their seasonal flow.

Large dams, even if structurally sound, are considered "high hazard" infrastructure because to the potential for significant loss of human lives, livelihoods, and devastation in the case of disaster.

Reservoir-Induced Seismicity:

There is a substantial correlation between earthquakes and dam loading and unloading. The Koyna and Warna region may be the most prominent example of reservoir-induced seismicity (RIS).

Displacement of People:

One prevalent issue that is frequently disregarded by authorities is land submergence and large-scale displacement of people caused by the construction of big dams.

Older Dams Represent a Greater Risk:

According to the report, older dams represent greater safety hazards, cost more to maintain, and have deteriorating functionality due to sedimentation.

Over 1,115 big dams will be 50 years old by 2025 globally.

China, the United States, and India are the countries having the most major dams.

Greenhouse Gas Emissions:

Hydropower reservoirs release considerable volumes of greenhouse gases, particularly in tropical climates.
PRACTICE QUESTION
Dam failures are always catastrophic, especially on the downstream side, resultingting in a colossal loss of life and property. Analyze the various causes of dam failure and give two examples of recent dam failure.
https://timesofindia.indiatimes.com/ahmedabad/heavy-rain-batters-gujarat-narmada-dam-water-discharge-causes-flooding-9600-shifted-to-safety/articleshow/103737809.cms?from=mdr
https://www.google.com/search?sca_esv=566856875&sxsrf=AM9HkKmjvy7WXubjmMXaRKbYm5f4KoU6qQ:1695195256154&q=sardar+sarovar+dam+upsc&tbm=isch&source=lnms&sa=X&sqi=2&ved=2ahUKEwjXk8W41riBAxXB4TgGHcmUBhYQ0pQJegQIDBAB&biw=1280&bih=563&dpr=1.5