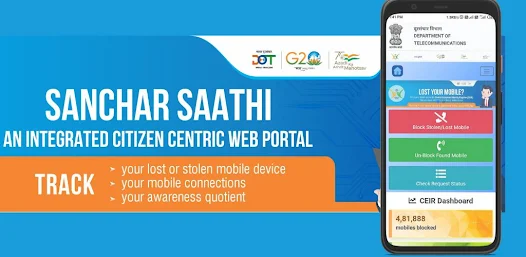 Copyright infringement not intended
Picture Courtesy: play.google.com
Context: Reforms introduced by the Union Minister for Telecommunications to address cybercrimes and financial fraud. The reforms are aimed at strengthening the citizen-centric portal called Sanchar Saathi and implementing changes to the bulk procurement of SIM cards.
Sanchar Saathi
Sanchar Saathi is a citizen-centric portal introduced in India to combat cybercrimes and financial fraud related to mobile connections. The portal provides various services to citizens.
Connection Verification: Citizens can use the Sanchar Saathi portal to verify the mobile connections that are registered under their names. This service enables users to ensure that the mobile connections associated with their identity are accurate and legitimate.
Stolen/Lost Phone Blocking: Users can block mobile phones that have been reported as stolen or lost. This functionality helps prevent unauthorized use of stolen or lost devices, enhancing security and reducing the potential for misuse.
Reporting Fraudulent Connections: The portal provides a feature that allows citizens to report any suspicious or unwanted mobile connections. This empowers users to play an active role in identifying and reporting fraudulent activities related to mobile connections.
Device Verification: Sanchar Saathi enables users to verify the authenticity of a mobile device before making a purchase. This is done by utilizing the device's IMEI (International Mobile Equipment Identity), which serves as a unique identifier for mobile devices. Verifying the device's authenticity can help users avoid purchasing counterfeit or unauthorized devices.
Since its launch, Sanchar Saathi has achieved several results, including:
Analyzing 114 crore (1.14 billion) active mobile connections.
Identifying 66 lakh (6.6 million) suspicious connections.
Disconnecting 52 lakh (5.2 million) connections that failed re-verification.
Blocking 66,000 WhatsApp accounts.
Freezing eight lakh (800,000) bank/wallet accounts.
Filing more than 300 FIRs against over 1,700 dealers.
Reform on Point of Sale (PoS)
The reform concerning the Point of Sale (PoS) involves changes to how SIM cards are distributed and sold.
Franchisees, agents, and distributors of SIM cards (PoS) must be registered with the licensees or telecom network operators.
The operator is responsible for "indisputable" verification of the PoS, including mandatory police verification.
Existing SIM card providers have 12 months to comply with registration requirements.
If a PoS is involved in illegal activities, the agreement can be terminated, and the entity may be blacklisted for three years. A penalty of ₹10 lakh can also be imposed.
Reform on Bulk SIM Cards
The reform related to bulk SIM cards aims to prevent their misuse.
Replacing the system of bulk procurement of SIM cards with a system involving "business" connections, which requires KYC (Know Your Customer) completion for all end-users.
Businesses can procure any number of connections, subject to completing KYC for the end-users.
Demographic details from the printed Aadhaar card are required by scanning the QR code to prevent misuse.
Subscribers must undergo the entire KYC procedure to replace their SIM cards, and there's a 24-hour period during which outgoing and incoming SMS facilities are barred.
Challenges and Observations
Researchers at the Centre for Internet and Society (CIS), raise concerns about the enforcement of these provisions, especially at the local store level. Adequate infrastructure and safeguards are necessary to handle sensitive data during the SIM card distribution process.
Overall, these reforms are introduced to strengthen cybersecurity, prevent fraud, and enhance accountability in the telecommunications sector in India.
PRACTICE QUESTION
Q. What is the main objective of the Sanchar Saathi portal?
1. To provide free internet access to citizens.
2. To promote the sale of mobile devices.
3. To facilitate communication between government officials.
4. To combat cybercrimes and financial fraud related to mobile connections.
How many of the above statements is/are correct?
A) Only one
B) Only two
C) Only three
D) All four
Answer: A
Explanation: D) To combat cybercrimes and financial fraud related to mobile connections. The Sanchar Saathi portal is designed to tackle issues such as cybercrimes and financial fraud by offering services that help citizens verify connections, block stolen phones, report suspicious connections, and authenticate devices.
https://epaper.thehindu.com/ccidist-ws/th/th_delhi/issues/49910/OPS/G39BMIAFL.1.png?cropFromPage=true