PLAN FOR PEACE IN UKRAINE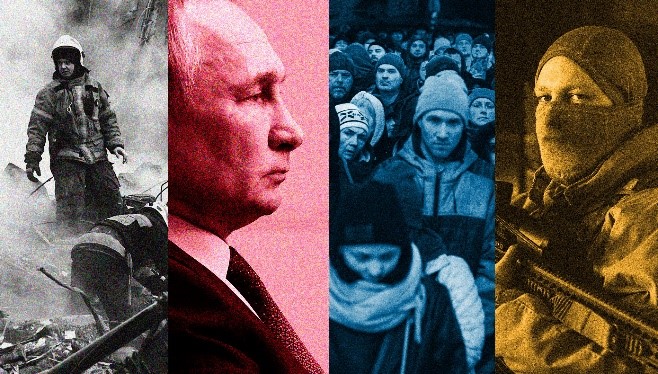 Disclaimer: Copyright infringement not intended.
Context
Saudi Arabia is preparing to host a summit to discuss Ukrainian President Volodymyr Zelenskyy's Plan for Peace in his country amid the ongoing Russian invasion.
Details
Officials from several countries would take part in the Saudi Arabian summit.
The talks would take place on August 5 and 6, in the city of Jeddah, with some 30 countries attending.
The efforts could culminate in a peace summit later this year where global leaders would sign up to share principles for resolving the war.
Discussions will take place on the Ukrainian Peace Formula, which contains 10 fundamental points, the implementation of which will not only ensure peace for Ukraine but also create mechanisms to counter future conflicts in the world.
Previously, Ukraine had described the 10-Point Peace Formula.
10-Point Peace Formula
Ukraine's President Volodymyr Zelenskiy has been vigorously promoting his 10-point peace plan, discussing it with U.S. President Joe Biden among others, and urging world leaders to hold a Global Peace Summit based on it.
The plan calls for:
Radiation and nuclear safety, focusing on restoring safety around Europe's largest nuclear power plant, Zaporizhzhia in Ukraine, which is now Russian-occupied.
Food security, including protecting and ensuring Ukraine's grain exports to the world's poorest nations.
Energy security, with a focus on price restrictions on Russian energy resources and aiding Ukraine with restoring its power infrastructure, half of which has been damaged by Russian attacks.
Release all prisoners and deportees, including war prisoners and children deported to Russia.
Restoring Ukraine's territorial integrity and Russia reaffirming it according to the UN Charter, which Zelensky said is "not up to negotiations."
Withdrawal of Russian troops, cessation of hostilities, and restoration of Ukraine's state borders with Russia.
Justice, including establishing a special tribunal to prosecute Russian war crimes.
Prevention of ecocide, the need for protection of the environment, with a focus on demining and restoring water treatment facilities.
Prevention of conflict escalation and building security architecture in the Euro-Atlantic space, including guarantees for Ukraine.
Confirmation of the war's end, including a document signed by the involved parties.
Why the world needs peace in Ukraine?
The Russian invasion of Ukraine is the single biggest threat to world peace in decades. This is because Russia, Ukraine, and NATO countries have a greater capacity to inflict violence at a large scale and because war have had wider repercussions for the world economy and what remains of the global peace and security architecture.
The broader geopolitical and economic fallout poses a serious risk not only to Ukraine but also to global peace and development.
Ongoing Impact of Russia-Ukraine War
Russia has over 2,700 sanctions against itself that have frozen around $300 billion of its gold and foreign exchange reserves.
US and its allies embargoed Russian oil which pushed up global crude oil prices to record highs in the months that followed.
The war not only led to social outcry but also impacted almost all major economies of the world. The spillover effect fell upon India as well. In line with global cues, stock markets tumbled, inflation soared to record highs, rupee plunged against the US dollar, foreign exchange reserves took a hit, and more.
One of the major impacts of the war is a slowdown in the pace of economic growth, at a time when they were gradually looking to rise above the pandemic distress.
Disruption to 2 major trade routes, Russia and Ukraine, along with subsequent sanctions imposed on Russia by different economies, had a major impact on global supply chains.
Global inflation has been surging since the outbreak of the war. Prices of daily consumables like cereals and vegetables which form the largest category in the inflation basket have climbed even further since February 2022.
In 2022, India's retail inflation jumped to an 8-year high of 7.79% and remained above the Reserve Bank of India's (RBI) tolerance band of 2-6%. Inflation spiked yet again in 2023.
Consistent Repo Rate hikes by RBI to contain inflation have led to a consequent increase in EMIs being paid by loan takers, thereby adding to the financial burden of people amid already high inflation.
Growth of global trade fell in 2022, and is expected to be still lower in 2023 with a further decline in volume and value of trade on the back of slowing global output. A slowdown in economies would imply lower demand for Indian exports. 2022 recorded a fall in exports, widening trade deficit.
The war led to one of the worst falls in BSE Sensex in the last 2 years. The index crashed nearly 4,000 points in the first 20 days of war and investors witnessed massive losses. The benchmark BSE sensex fell below 51,000 level as the war continued. Investors became jittery and opted for safe haven assets.
Rupee weakened by almost 800 paise or 9.8% against the US dollar. In all of 2022, the depreciation has been over 11% -- the poorest since 2013.
Volatility in the currency market during the year was triggered by the outbreak of the Russia-Ukraine war as it disrupted the global supply chains, fuelling inflation as well as inflationary expectations across the world.
A hawkish US Federal Reserve started raising rates to control inflation just as severe geopolitical crises besieged the global economy. It made the dollar a safe haven currency, causing huge investment outflows from other countries.
High crude oil prices in the international market too weighed on the rupee. Foreign investors pulled out a net sum of Rs 1.22 lakh crore from the Indian equity markets and over Rs 17,000 crore from the debt markets in 2022 owing to aggressive rate hikes by central banks globally.
Thus, the Russian invasion of Ukraine has not only initiated a global humanitarian crisis, but it's also given rise to greater risk exposures in capital flows, trade and commodity markets worldwide.
Immediate priorities are:

Ending the war as swiftly as possible,
Upholding international humanitarian law in the conduct of hostilities,
Reaffirming international law – including the prohibition against aggressive war, which has been severely abused since the war on terrorism began – and,
Containing the destabilizing fallout across the world.

World Peace is a neglected agenda that urgently needs to be revived.
The Ukraine crisis shows the limits of the United Nations, NATO and a world security architecture that has been crumbling for years.
How can we live on a habitable planet if essential global action is rendered impossible by the ambition and greed of warmongers and their facilitators?
The Russian invasion of Ukraine posed a significant threat to the rules-based international order. As the Ukraine crisis nears a year and with its economic repercussions being felt across the globe, the case for dialogue remains strong, despite the reluctance of the belligerents and their backers.
The only success that is thinkable is really the start of political diplomacy which can lead to a ceasefire and peace negotiations. Peace Movement opens the way to possible diplomatic solutions.
Political dialogue and reconciliation to address the conflict's root causes, including political, economic, and ethnic grievances, should be encouraged. Engaging all stakeholders, including representatives of the conflict-affected regions, can help address underlying issues and work towards a sustainable peace agreement.
Humanitarian access should be granted to both sides to alleviate the suffering of the population and build goodwill, besides establishing an effective mechanism for monitoring and verifying the implementation of the ceasefire, potentially involving international observers and peacekeeping forces. These entities can help report ceasefire violations and build confidence among the parties by ensuring compliance with agreed-upon terms.
It's time to build peace and common security and all the efforts and roads have to be taken. The sooner the war ceases, the better it is for Ukrainians, Russians, and the world.
It is an imperfect world but we do not have another.
PRACTICE QUESTION
Q. The Russian invasion of Ukraine is a significant threat to the rules-based international order and the broader geopolitical and economic fallout of the war poses a serious risk to Global Peace and Development. Discuss.
https://www.aljazeera.com/news/2023/7/31/saudi-arabia-to-host-ukraine-peace-talks-top-official-says