PARTITION HORRORS REMEMBRANCE DAY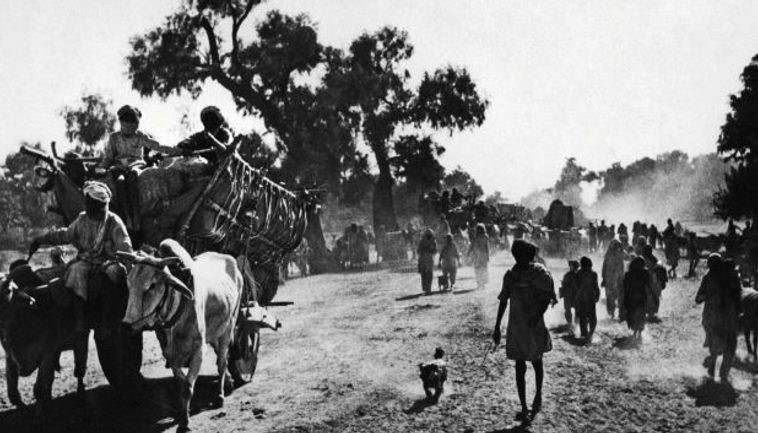 Disclaimer: Copyright infringement not intended.
Context
'Partition Horrors Remembrance Day' or 'Vibhajan Vibhishika Smriti Diwas' is observed on August 14 to remember all those who lost their lives due to partition.

India with celebrate 77th Independence Day with 'Har Ghar Tiranga' rallies and PM Modi's call for unity through social media posts featuring the tricolor.
Details
Significance
Partition Horrors Remembrance Day is an annual national memorial Day observed on 14 August in India, commemorating the victims and sufferings of people during the 1947 partition of India.

It was first observed in 2021, after announcement by Prime Minister Narendra Modi.

"The partition resulted in one of the most significant population movements in recorded history, impacting approximately 20 million individuals."

"Numerous families had to leave behind their traditional villages, towns, and cities, compelled to embark on a fresh journey as refugees," stated an official government announcement during the initial declaration of the day.

"Partition Horrors Remembrance Day keep reminding us of the need to remove the poison of social divisions, disharmony and further strengthen the spirit of oneness, social harmony and human empowerment,"
Atrocities associated with the Partition of India
The partition of India and Pakistan resulted in widespread violence, communal riots, property losses, and profound disruption in the period surrounding August 15, 1947.

This partition is recognized as one of the most severe and abrupt displacements in recent world history. A government release issued to commemorate Partition Horrors Remembrance Day highlights, "Beyond being a narrative of a violent division rooted in faith and religion, it is also a narrative of how a way of life and centuries of coexistence met a sudden and dramatic termination."
Partition result in such large-scale violence
Partition led to extensive violence due to a confluence of factors that exacerbated communal tensions and ignited widespread conflicts.

Deep-rooted religious and communal divisions that existed within the Indian society at the time.

The demand for a separate Muslim-majority state, Pakistan, and the subsequent division of India along religious lines heightened these existing tensions.

The lack of clear demarcation of boundaries and the hasty drawing of borders further fueled disputes, as communities found themselves on the 'wrong' side of the line, leading to clashes over territory and resources.
Conclusion
The observance of Partition Horrors Remembrance Day helps to preserve the lessons of history and promote a deeper understanding of the consequences of political and social divisions, with the ultimate goal of fostering empathy, reconciliation, and a commitment to a peaceful coexistence among all communities.
PRACTICE QUESTION
Q. In detail, explain the various issues that were caused due to abrupt and unplanned partition. (250 Words)
https://www.hindustantimes.com/india-news/independence-day-2023-what-is-partition-horrors-rememberance-day-august-14-india-pakistan-pics-of-partition-101691919944009.html