National Logistics Policy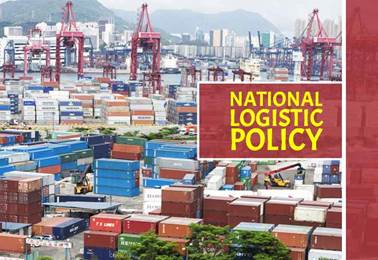 Disclaimer: Copyright infringement not intended.
Context
Recently, PM Modi addressed at the launch of National Logistics Policy at Vigyan Bhawan.
Logistics
Logistics encompasses planning, coordinating, storing, and moving resources —people, raw materials, inventory, equipment, etc., from one location to another, from the production points to consumption, distribution, or other production points.

In short, transport, warehousing and supply chains come together to make up this sector.

In transport, road (read trucks), railways, airlines and ships play the main role and it is the biggest component of the three main verticles. Warehousing is a complex verticle too as goods are stored before they are dispatched to the destination and this depends on many factors like distance from ports, factories, markets to the need of having temperature-controlled facilities, especially for perishable goods.

The third component is the supply chain. Companies that manage end-to-end supply solutions, whether it's managing sea shipments, road or rail transport, from factories to markets to raw materials to finished goods to warehouses.

Opportunity for the Indian logistics sector
The FY20 direct spend was at $216 billion and this is expected to grow to $365 billion by FY26 at a compounded annual growth rate of 9 percent plus.

Direct spending comprises transport and that comprises nearly 70 percent of the overall logistics market share. So out of the $216 billion, the transportation sector alone accounted for $151 billion in FY20.

Within transport, road accounted for the lion's share, which was followed by rail, cross border, and air.
Challenges faced by the Logistics Sector in India
Overview
Logistics in India, unfortunately, is highly fragmented, and to date, 85 percent of the transporters own less than 20 trucks, when it comes to warehousing over 90 percent of warehouses are smaller than 10,000 square feet each. Going forward, the warehousing space opens up the opportunity for consolidation and further growth.
Organized players account for only 3.5 percent of the logistics market. However, they are expected to grow much faster at a compounded rate of more than 35 percent over the next few years.
The total logistics spending in India is a major lag because almost 14 percent of the GDP is spent on logistics costs, which is significantly higher than developed countries like China, US and Europe, where the global average is somewhere around 8 percent. So there's lots of room for improvement.
Transportation Issues
In India, a predominant mode of freight cargo transportation is via road, with nearly 60% cargo moved by road and 32% by rail. Due to over-saturated rail networks and high rail tariffs. Movement of goods is done by road transportation, which proves to be quite inefficient, because of poor road infrastructure, multiple checkpoints, and congestion.
Port Sector Issues
Due to high turnaround times for ships because of overcrowded berths and delay in cargo evacuation unloaded at berths, logistics companies in India suffer unreasonably. Coastal shipping in India gets hampered due to the weak land side and port facilities, and insufficient depth at ports discourage large vessels, thus curbing the large scale use of it for freight movements.
Tax Structure and Warehousing Problems
The complicated tax regime places several hardships on logistics companies in India. Multiple State and Center taxes lead to considerable loss of time in transit on roads. The poor state of warehousing and their restricting locations are one of the few major concerns of this industry. Storage facilities are quite fragmented for low margin products thereby resulting in a disincentive to create a large integrated warehousing space. The Government owned most of the large warehouses and used for food grain.
Technological and Skill Deterrents
In India, automation of processes is still in the embryonic stage and non-standardization in the industry due to its fragmentation further slows down the progress. Acceptance and adoption of technological advancements like RFID, tracking, warehouse management system, etc. can resolve the issues between domain requirement and IT. Besides this, there is lack of quality workforce in this sector, and the available skill set needs to be upgraded urgently.
Fuel Costs
The highest challenge in logistic industry is high fuel costs. If the fuel prices goes high is likely to increase transportation costs to the shippers. Raising the fuel prices are increasing the surcharges added to freight rates, this will cut down the revenue and earnings of truckers as fuel prices increase.
Customer Services
Customers want the full clarity into where their delivery is at on time. Now a days, the location of a shipment is as associated as your social network. In fact, the customer anticipation have increased, their readiness to pay for speedy shipping has declined with just about 50% of consumers not in the mood to pay anything excess for less than two-day shipping.
Driver Shortage & Retention
Employment and detainment of the driver will be an issue despite the lower demand of the shipments.
Government Regulations
Government Regulations Carriers face significant compliance regulations imposed by government of state and other authorities.
Overcoming the challenges
The need of the hour is to develop adequate infrastructure in the fringe areas of major metropolitan trade hubs of the country and in high commerce corridors.

To combat other legal challenges, it is suggested that there should be an organized inventory of all logistics and supply chain documentation.

Furthermore, moving forward to a technology-driven documentation approach would highly impact the logistic sector by avoiding transit delays and untimely deliveries.
National Logistics Policy
National Logistics Policy is a comprehensive effort to address issues of high cost and inefficiency by laying down an overarching interdisciplinary, cross-sectoral and multi-jurisdictional framework for the development of the entire logistics ecosystem.

The policy is an endeavor to improve the competitiveness of Indian goods, enhance economic growth and increase employment opportunities.
Aim
The policy aims to achieve, among others, quick last-mile delivery, end transport-related challenges, save time and money of manufacturers, and prevent wastage of agro-products. The end result is significant time and the cost reduction.
Broader Targets of the Policy
The policy has simple but transformational targets to help benchmark its performance.
Reduce the cost of logistics from 14-18 percent of GDP to global best practices of 8 percent by 2030

. Countries like the US, South Korea, Singapore, and certain European nations have such a low logistics cost-to-GDP ratio.
As the current cost is 16 percent of GDP, logistics costs have to be cut by half to be near global benchmarks by 2030. This is after assuming that the global benchmark does not improve further.
Improve the country's Logistics Performance Index (LPI) ranking to be among top 25 countries by 2030.
India is the fifth largest economy in the world. If it has to move fast to be among the three largest economies and join the league of developed nations, it has to aim to be among the top 10 in the LPI by 2030. It has to match the pace of South Korea.
Create data-driven decision support systems (DSS) to enable an efficient logistics ecosystem.

The policy's target is to ensure that logistical issues are minimized, exports grow manifold, and small industries and the people working in them benefit significantly.
Key building blocks
The most important building block is the Unified Logistics Interface Platform (ULIP). ULIP aims to collapse all logistics and transport sector digital services into a single portal, thereby freeing manufacturers and exporters from the present tyranny of long and cumbersome processes.

Ease of Logistics Services (E-Logs), a new digital platform

. This will allow industry to directly take up operational issues with government agencies for speedy resolution.

The Comprehensive Logistics Action Plan comprising integrated digital logistics systems, standardization of physical assets, benchmarking service standards, human resource development, capacity building, development of logistics parks, etc.
Significance
The NLP, in conjunction with the Gati Shakti Programme, the Sagarmala and Bharatmala (waterways and roadways) schemes, the Dedicated Freight Corridors, etc., can be transformational.

Strengthening the logistics sector will not only make it easier to do business, but also to generate substantial employment and ensure improvement in wages and working conditions.

For the products manufactured in India to dominate the world market, it is crucial to have a strong support system. The National Logistics Policy will greatly help us modernize this support system. Reduced logistics cost and increased logistic efficiencies will energies the economy across sectors in multiple ways and take us many steps closer to emerging as a global manufacturing powerhouse.