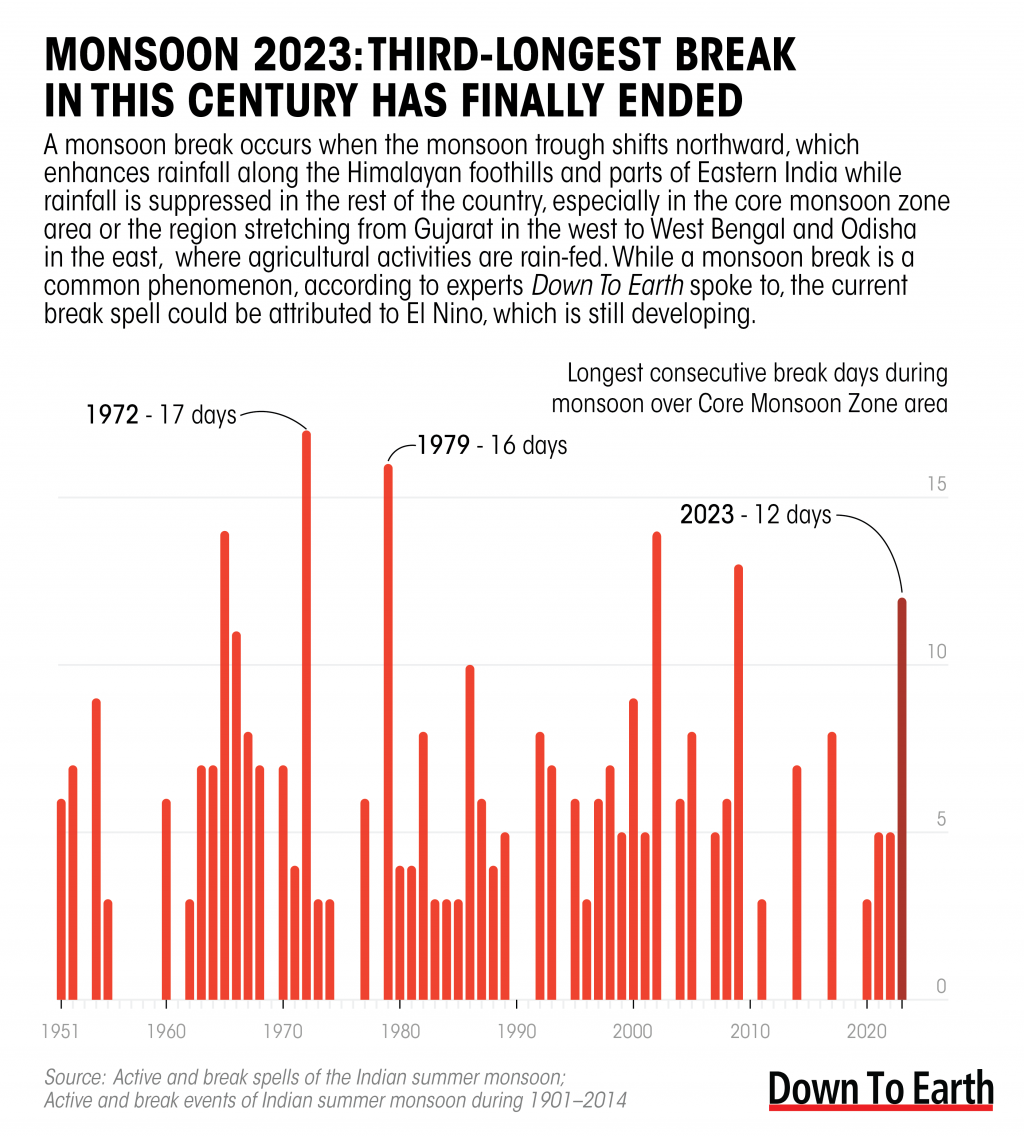 Disclaimer: Copyright infringement not intended.
Context
The recent conclusion of a monsoon break in India and its implications.
Details
The recent monsoon break that began on August 7, 2023, has concluded, making it the third-longest such break in the 21st century after similar events in 2002 and 2009.
The recent break significantly impacted India's cumulative monsoon rainfall anomaly, causing it to shift from a positive seven percent to a negative six percent in less than a month.
Understanding a Monsoonal Break
A monsoonal break occurs when the monsoon trough shifts northward, leading to increased rainfall along the Himalayan foothills and parts of eastern India while suppressing rainfall in other regions.
The core monsoon zone, spanning from Gujarat to West Bengal and Odisha, experiences suppressed rainfall during these breaks, impacting rain-fed agricultural activities.

A monsoonal break is declared climatologically when the normalized rainfall anomaly index exceeds a -1 threshold over the core monsoon zone for at least three consecutive days.

The monsoonal break concludes when the normalized rainfall anomaly decreases in magnitude.
Factors Behind the Prolonged Monsoonal Break
The developing El Niño phenomenon contributed to the prolonged and intense nature of the monsoonal break.

The lack of sub-seasonal weather patterns that typically enhance rainfall, as observed in July 2023, further influenced the break's duration and intensity.
Historical Context and Severity
Data over the past 73 years reveals that there have been a total of 10 instances of break spells lasting over 10 days. The longest such break occurred in 1972, lasting for 17 consecutive days.

The current break spell coincides with the government's ban on rice exports, affecting Kharif crop production.

Despite being classified as 'normal' by IMD, Monsoon 2023 has seen a six percent deficit compared to the long-term average. Anomalies include drier regions receiving excess rainfall and wetter areas experiencing deficient rainfall.
Future Outlook
The monsoon trough is predicted to shift towards the Himalayan foothills in the coming week, reducing rainfall in central India and indicating that the current break's end may not necessarily signal the revival of the monsoon across the country.
PRACTICE QUESTION
Q) Analyze the role of climatic phenomena like El Niño and sub-seasonal weather patterns in influencing the duration and intensity of monsoon breaks. (150 words)
https://www.downtoearth.org.in/news/climate-change/third-longest-monsoonal-break-in-this-century-has-ended-91253