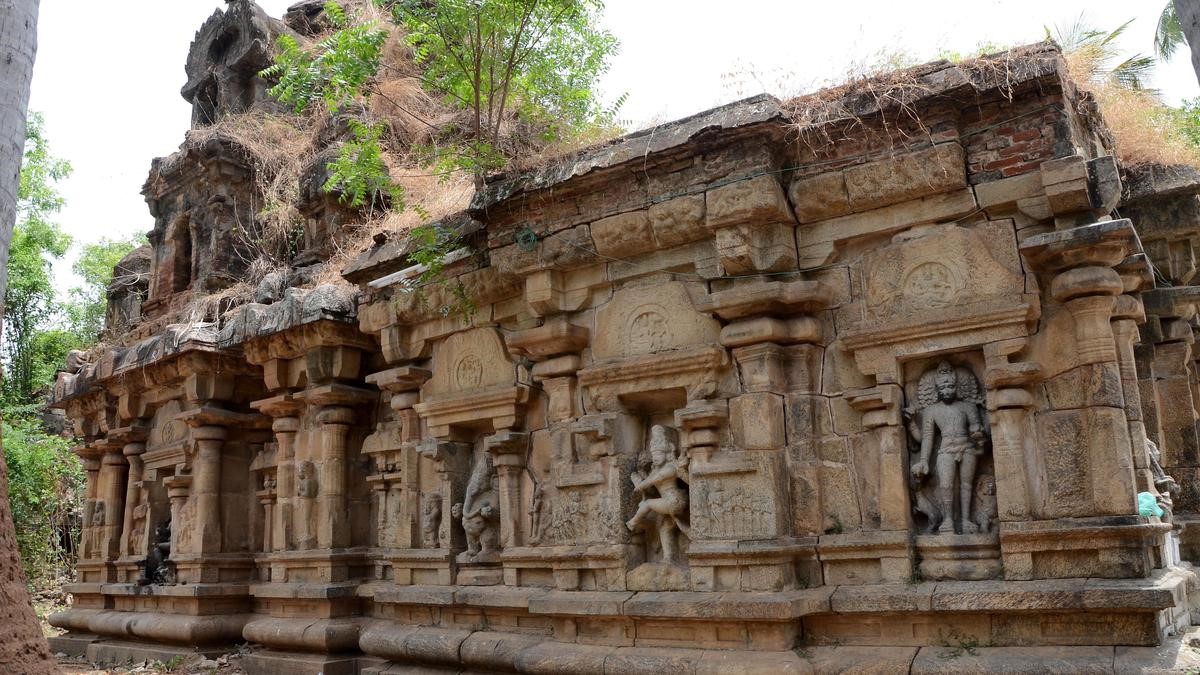 Disclaimer: Copyright infringement not intended.
Context
The 1,000-year-old Naganathaswamy Temple, also known as the Kailasamudaiyar temple, located in Manambadi, Thanjavur district, Tamil Nadu, is set for a remarkable revival after surviving a tumultuous history that included a demolition attempt to make way for a highway.
Details
Built by the illustrious Rajendra Chola I, this temple is an exquisite example of Chola architecture, boasting intricate stone sculptures and historically significant inscriptions. The temple's restoration, undertaken by the Tamil Nadu Department of Archaeology, aims to breathe new life into this ancient treasure.
Historical Significance
Chola Legacy: Rajendra Chola I, one of the mighty Chola dynasty rulers (1012-1044 CE), commissioned the construction of the Naganathaswamy Temple. His reign is marked by significant achievements in art, architecture, and trade, and this temple stands as a testament to his patronage of art and culture.
Protected Monument: The temple is a protected monument, recognized for its cultural and historical importance. It houses remarkable stone sculptures and holds inscriptions that provide valuable insights into the Chola era.
Architectural Splendor
Structural Layout: The temple is designed with an ekatala vimana (single sanctum) and a mukha mandapa (main hall). The walls of both structures are divided into three bays, each housing exquisite niches adorned with sculptures.
Sculptural Beauty: The central bays of the vimana feature niches showcasing deities such as Dakshinamurthi, Lingodhbava, and Brahma. The mukha mandapa is adorned with niches featuring sculptures of Bikshatana, Adavallan, Ganapathi, Gangadarara, Durga, and Ammaiappar.
Makara Thoranas: Each niche is framed by well-carved and distinctive makara thoranas, ceremonial arches adorned with relief sculptures at the center, adding to the temple's architectural grandeur.
Inscriptions of Significance
Historical Records: The Naganathaswamy Temple boasts important inscriptions from the periods of Rajendra Chola I and Kulothunga I (1070-1120 CE). These inscriptions provide valuable historical records, including grants of land and mentions of cultural events.
Tamizh Koothu: Of particular note is an inscription referencing "Tamizh Koothu," which belongs to the 18th regnal year of Kulotthunga I. It pertains to a grant of land for the enactment of Tamil cultural performances during the Chithirai festival of the temple.
Conclusion
The Naganathaswamy Temple at Manambadi represents not only an architectural marvel of the Chola dynasty but also a testament to the enduring cultural heritage of Tamil Nadu. Its journey from a near-demolition experience to an impending revival is a remarkable chapter in its storied history.
PRACTICE QUESTION
Q. Consider the following statements regarding the Naganathaswamy Temple at Manambadi:
The temple was built during the reign of the Chola dynasty's Rajendra Chola I.

Manambadi and Cholapuram were part of a common mercantile village known as Ilaichikkudi alias Viranarayanapuram.
Which of the following options is correct?
1 only

2 only

Both 1 and 2

Neither 1 nor 2
Answer: a