Copyright infringement not intended
Context: The Jal Jeevan Mission (JJM), launched by Prime Minister Narendra Modi in 2019, has achieved a remarkable milestone of providing 12 crores of tap water connections to rural households across India. This means that more than 60 crore people now have access to safe and clean drinking water at their homes.
Details
The

Jal Jeevan Mission

aims to provide tap water connections to all rural households by 2024, with a special focus on the water-scarce and aspirational districts.
The mission also promotes water conservation and management practices, such as rainwater harvesting, groundwater recharge, greywater reuse, and water quality monitoring.
It is a collaborative effort of the central and state governments, local bodies, community organizations, NGOs, and other stakeholders.

It follows a bottom-up approach, where the village panchayats and gram sabhas are empowered to plan, implement, operate, and maintain their water supply systems.

The central government provides financial and technical assistance to the states, while the states provide matching funds and ensure the timely execution of the projects.

Currently, 5 States (Goa, Telangana, Haryana, Gujarat and Punjab) and 3 UTs (Puducherry, D&D and D&NH and A&N Islands), have reported 100% coverage.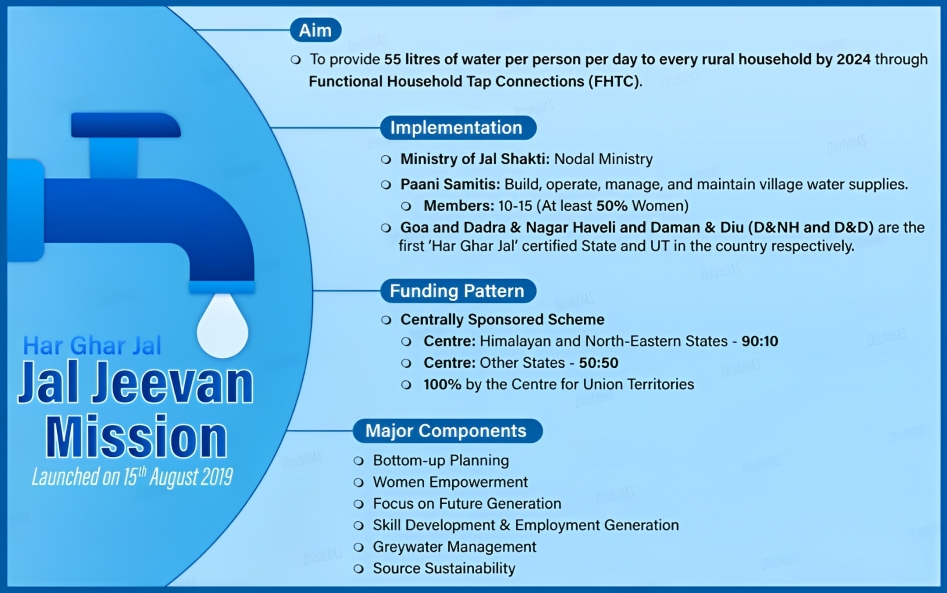 Must Read Articles:
Jal Jeevan Mission: https://www.iasgyan.in/daily-current-affairs/jal-jeevan-mission-49-32
PRACTICE QUESTION
Q. Which of the following statements is correct about the Jal Jeevan Mission (JJM)?
1. JJM implements source sustainability measures as mandatory elements, such as recharge and reuse through greywater management, water conservation, and rainwater harvesting.
2. It is based on a community approach to water and will include extensive Information, Education and communication as key components of the mission.
3. It is funded entirely by the central government and does not require any contribution from the states or the beneficiaries.
Choose the correct code;
A) 1 and 2 only
B) 2 and 3 only
C) 1 and 3 only
D) 1, 2 and 3
Answer: A
Explanation: Statement 3 is Incorrect
JJM is a centrally sponsored scheme with a 90:10 fund-sharing pattern between the Centre and North Eastern & Himalayan states and a 50:50 fund-sharing pattern between the Centre and other states. The beneficiaries are also expected to contribute 10% of capital cost in cash or kind or both.