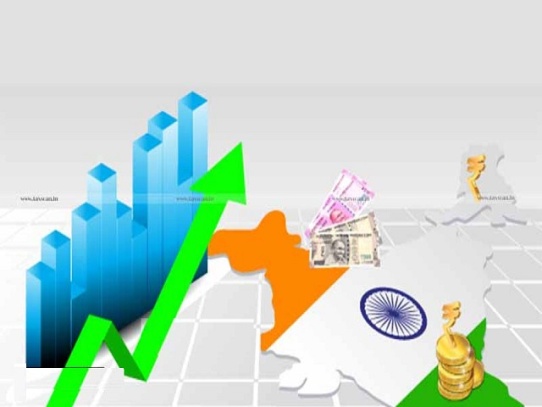 Disclaimer: Copyright infringement not intended.
Context
India has, for the first time, met the government's annual export target since 2014.
The government had set a target of $400 billion of goods exports for the current financial year ending March 31, 2022.
The country crossed the crucial threshold of $400-billion annual merchandise export target.
Growth
While topping $400 billion, exports have registered a 37 per cent increase compared to $292 billion in the previous fiscal and 21 per cent over the previous record high of exports of $330 billion set in FY2019, prior to the pandemic.
Note: India's imports during the period have also surged to a record high level of over $589 billion during the fiscal, taking India's trade deficit to a record $188.2 billion.
Key Drivers
A massive rise in oil prices, across-the-board uptick in global prices of industrial commodities, a resurgent agri-sector and a higher share of manufactured goods are the main reasons behind India reaching the government's annual export target.
Expansionary monetary policy by developed economies in response to the economic impact of the pandemic has also boosted demand for Indian exports.
Sector-wise Analysis
Engineering goods
Engineering goods were the largest contributors to the growth in exports, growing at nearly 50 per cent and expected to hit $110 billion by the end of FY2022.
Electronics goods
Electronics goods exports rose by 42.8 per cent in the first 11 months of the fiscal, while gems and jewellery exports grew by 57.3 per cent boosted by a rise in gold prices.
Petroleum products
Export of petroleum products grew by 147.6 per cent, driven by a steady increase in crude oil prices.
India's single largest export item (processed petroleum), alone has a 15 percent share in the country's overall exports.
Agri Exports
India's agriculture and allied exports have grown at 24 percent in the first 10 months of the current financial year. Exports were boosted by an increased access to markets in the US, European Union and the United Arab Emirates, and targeted efforts by the government to expand the global reach of processed food from India.
A range of new products has also been shipped abroad for the first time in FY22. They include fresh vegetables and mangoes from Varanasi, black rice from Chandauli, oranges from Nagpur, bananas from Theni, bhoot jolokia chilli from Nagaland, red rice from Assam and millet from Himachal Pradesh, among others.
The government has also significantly pushed exports of processed items such as honey, cocoa, fruit jams, and wine, in which India hasn't shared global expertise till now.
India has now become the ninth-largest honey exporter in the world, shipping out 7.36 lakh tonnes in the previous financial year. The US is the largest buyer, at 80 percent.
Gems and jewellery
Gems and jewellery, the second-largest export category for India, also saw a major rise in earnings. Overall, exports in this sector rose to an unprecedented $32 billion, representing almost 10 percent of India's exports.
In 2020, total global exports of the gems and jewellery industry amounted to $693 billion.
With a share of 3.5 percent, India ranked 7th on the list.
Other products which recorded strong growth in exports include organic and inorganic chemicals, readymade garments, meat and dairy products as well as marine products.
Significance
This is a key milestone in our Aatmanirbhar Bharat journey. #LocalGoesGlobal".
Export Incentives
India aims to be a $5-trillion economy by 2025. One of the conditions it must fulfill if it is to achieve this target is to triple its exports to $1 trillion by the same year.
Getting to that milestone depends a lot on how the government supports its export community – largely through its export schemes that provide a range of financial and non-financial incentives.
Export incentives can take the form of:
Subsidies that lower export prices
Tax concessions such as duty exemptions (which enable duty-free import of inputs for export production) and duty remissions (which enable post-export replenishment of duty on inputs used in export product)
Credit facilities such as low-cost loans
Financial guarantees such as provisions covering bad loans
In India, export incentives are in line with the government's flagship "Make in India" and "Atmanirbhar Bharat" (Self-sufficient India) programmes. The former aims to transform India into a manufacturing major while the latter advocates self-sufficiency.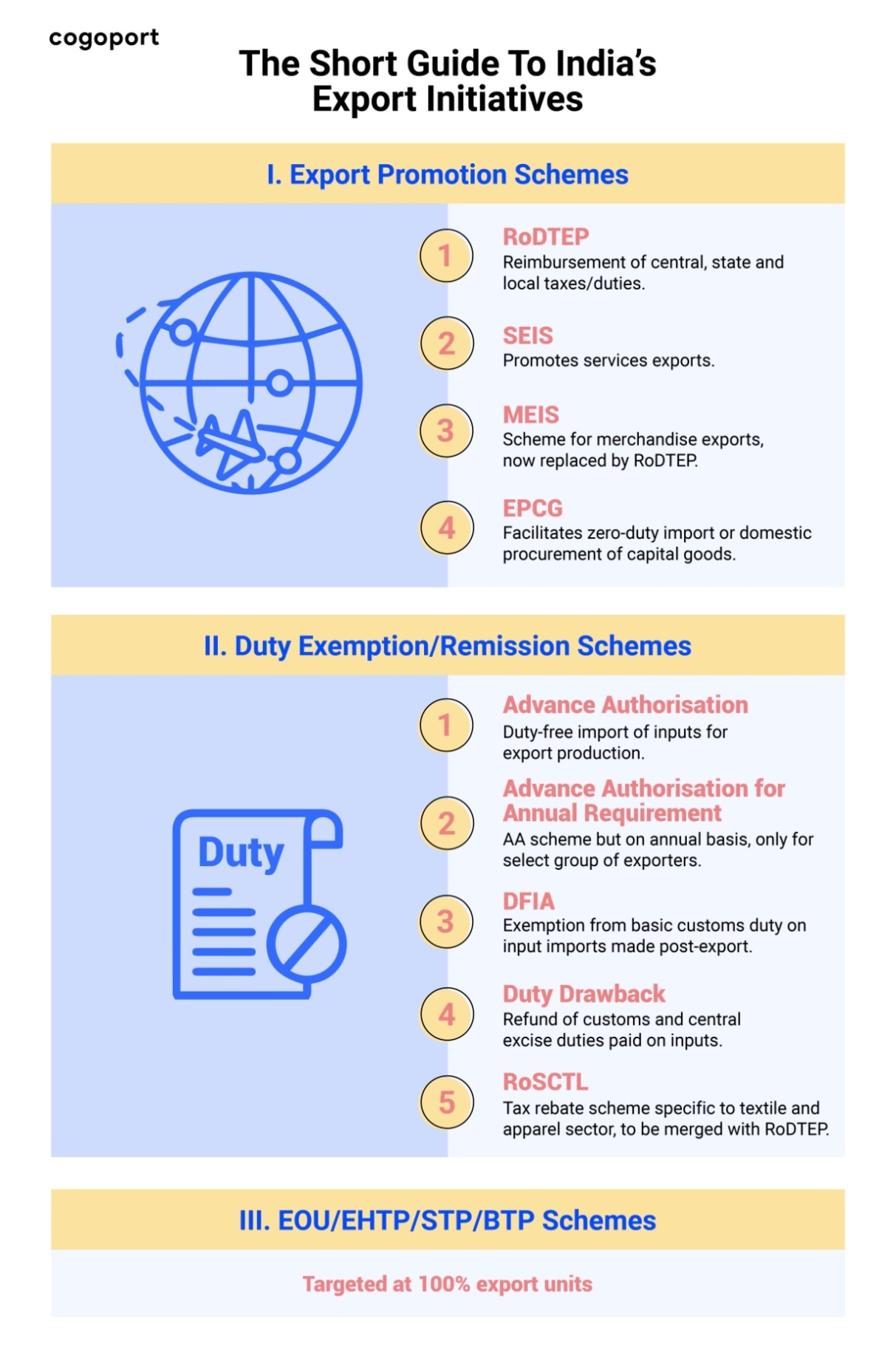 Importance of Export Incentives
They bring in foreign exchange. Countries need foreign exchange reserves to make international trade transactions easier, pay for imports, pay back foreign loans, use as a cushion against economic collapse, currency devaluation and other such events, etc.
They create jobs by helping businesses grow and expand their workforce.
They create higher wages (especially for skilled, experienced and urban workers in India, as per this World Bank report).
They lower the current account deficit, which is the deficit caused when a country imports more than it exports.
They encourage self-reliance by reducing dependence on foreign goods.
All of this means export incentives contribute to overall economic growth.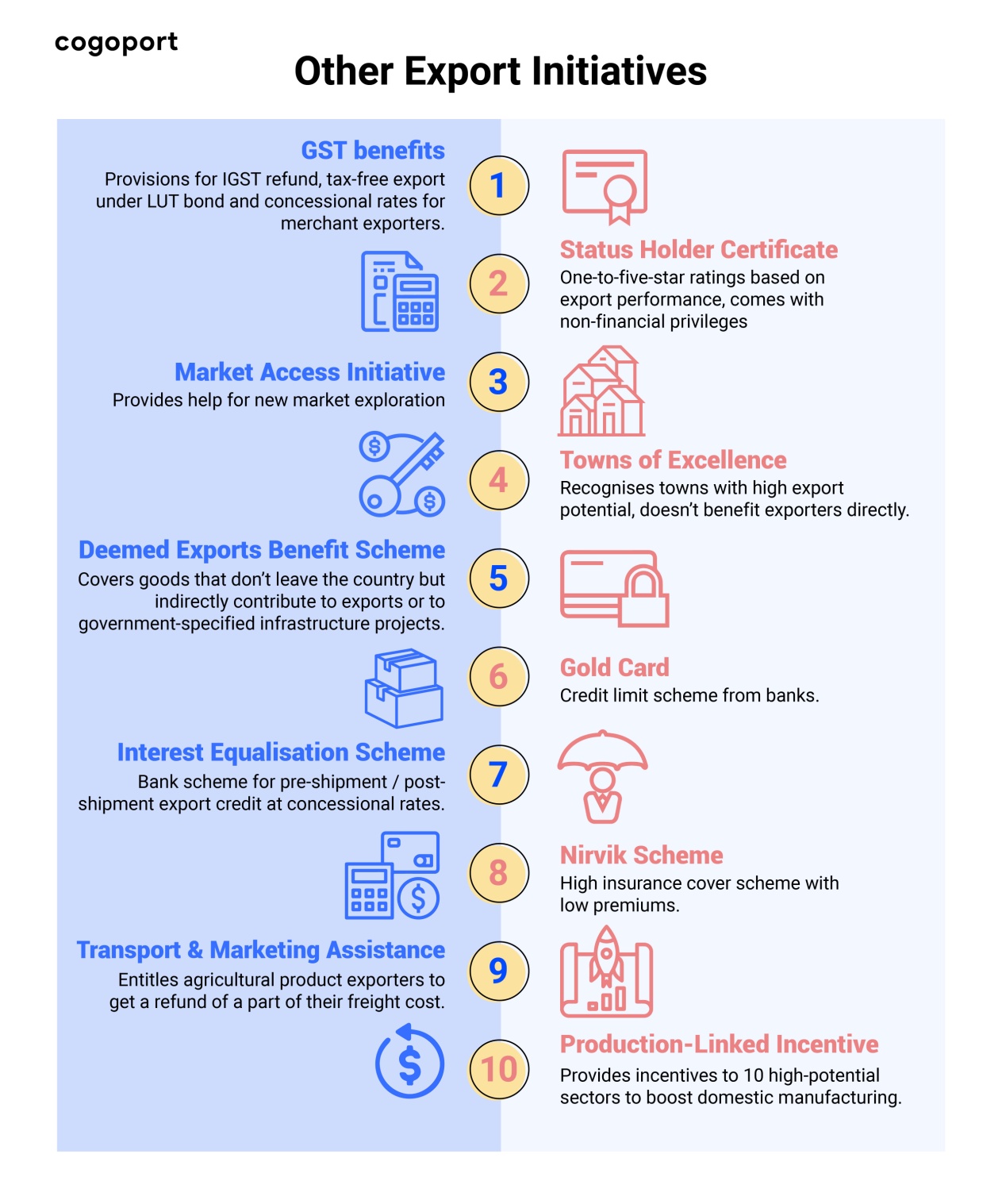 https://www.moneycontrol.com/news/business/economy/explained-how-did-indias-exports-cross-400-billion-for-the-first-time-ever-in-fy22-8263951.html