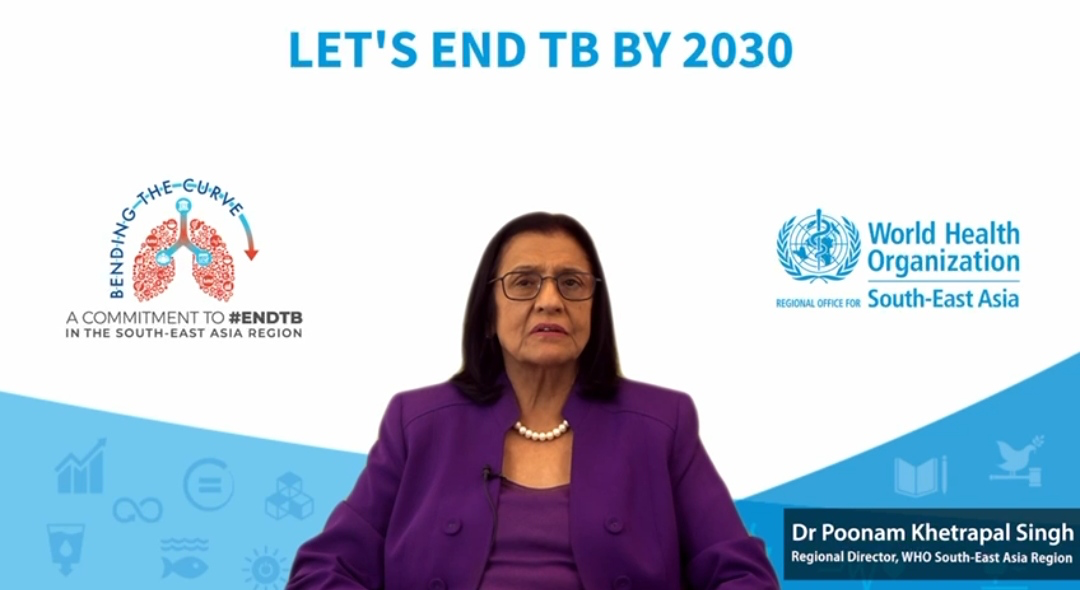 Disclaimer: Copyright infringement not intended.
Context: WHO South-East Asia Region, adopts Gandhinagar Declaration to further enhance efforts to end TB
About the Gandhinagar declaration
The Gandhinagar Declaration was adopted at the end of the two-day meeting held to follow up on the progress made to end TB.

It was adopted by WHO South-East Asia Region.
The outcome of the declaration
It committed to further accelerate efforts to end tuberculosis by 2030.

The Declaration calls for establishing a high-level multisectoral commission. The commission will be reporting to the highest political level in each country.

This will ensure synergy of efforts among various stakeholders and helps monitor progress towards ending TB and other priority diseases.
Tuberculosis in South-East Asia Region
The WHO South-East Asia (SEA) Region is home to 26% of the world's population.

A 43% burden of TB incidence (WHO Global TB Report 2021) is here.

It is estimated that in 2020, nearly 4.3 million people fell ill with TB and an estimated 700 000 died (excluding HIV+TB mortality) because of the disease. It is more than half of global TB deaths estimated at 1.3 million for the year.

TB deaths showed an upward trend in more than a decade and are now very close to the levels seen in 2015.

Treatment success for new and relapse TB cases was 85% (2019 cohort).

The Rifampicin-resistant (RR) and multi-drug-resistant TB (MDR-TB) burden estimates in its 2021 Global TB Report states that RR-/MDR-TB burden levels were around 170 000 for 2021 accounting for nearly 37% of global incidence
Six of the global high TB burden countries are in the SEA Region:
Bangladesh,

Democratic People's Republic of Korea,

India,

Indonesia,

Myanmar and

Thailand
While for RR-/MDR-TB burden, Nepal replaces Thailand in the high-burden list for the Region.
WHO and government's initiatives to control TB
The national strategic plan 2017-2025 sets the target of India reporting no more than 44 new TB cases or 65 total cases per lakh population by 2025.

Under the national programme to eliminate TB by 2025, TB patients are given monthly nutritional support of Rs 500 through direct benefit transfer for the duration of their treatment.

The programme also aims to reduce the mortality to 3 deaths per lakh population by 2025.

Under the Ni-Akshay Mitra programme, volunteers can provide monthly nutrition kits to their "adopted" patients.

More accurate molecular diagnostic tests like CB-NAAT and TureNat have been developed to test and detect TB cases.

79 line probe assay laboratories and 96 liquid culture testing laboratories have been set up for the diagnosis of multi and extremely drug-resistant TB.

World Health Organisation's End TB strategy calls for an 80% reduction in the number of new cases, a 90% reduction in mortality, and zero catastrophic cost by 2030.
Prevalence of TB in India
India accounts for 28% of all TB cases in the world, according to the Global TB Report 2022.

There were 21.3 lakh cases detected in 2021 as compared to 18.05 lakh cases in 2020.

The numbers are still lower than the 24.04 lakh cases reported before the pandemic in 2019, according to data from the government's Ni-kshay portal.

In India, three million new TB cases and 4,94,000 deaths were reported in 2021, representing 27 per cent of the global TB incidence and 35 per cent of deaths, according to the WHO Global Tuberculosis Report, 2022.
Way ahead
A good nutritional package that provides a substantive amount of calories, proteins and micronutrients should be given to the household members of TB patients.

The government needs to take stock of where the bottlenecks are. There is no point in pouring more money into a failing system.

Any investment in diagnostic treatments is irrelevant if people fighting TB are living on an empty stomach. It affects the poorest populations and almost every family is in financial distress due to medical costs and lost wages.

This distress can worsen food insecurity. A broader approach is needed to prevent TB, and it should include food support for those in close contact with the patient as they are also at high risk of contracting the disease.
Conclusion: Today urgent action is needed more than ever to achieve our goal of a region free of tuberculosis, which has been threatening millions of people with disease and death, poverty, and despair. Countries must adopt 'Sustain, Accelerate, and Innovate to end TB in the South-East Asia Region.
PRACTICE QUESTION
Q) The WHO South-East Asia (SEA) Region is home to 26% of the world's population, however, about 43% burden of TB incidence (WHO Global TB Report 2021) is found here. Highlighting the importance of Gandhinagar declaration critically evaluate the issue of high TB burden in SE Asia region. ( 250 words)
https://ddnews.gov.in/national/who-south-east-asia-region-commits-further-enhance-efforts-end-tb-adopt-gandhinagar