EASTER ISLAND MOAI STATUE
Copyright infringement not intended
Context: On the tiny, remote island in the middle of the Pacific Ocean, archaeologists have discovered moai statue. The enormous stone figure was hidden beneath a dry lake bed.
Details
Geologists were studying the site after fires swept through the area last year. According to scientists, the discovery indicates that other figurines and equipment used by the ancestors of the Rapa Nui people are buried nearby in the once-underwater site.

Archaeologists stated that 'this is the first time, something has been found in the basin. It meant that the lake had likely dried at some point in the past'
Moai
Moai are monolithic human figures carved by the Rapa Nui people on Easter Island between the years 1250 and 1500.

Moai are carved from volcanic tuff (solidified ash).

The average height of the moai is about 4 m, with the average width at the base around 1.6 m. These massive creations usually weigh around 12.5 tonnes each.

Almost all moai have overly large heads, which comprise three-eighths the size of the whole statue - which has no legs.

The tallest moai erected, called Paro, was almost 10 metres high and weighed 82 tonnes.

The heaviest moai erected weighed 86 tonnes.

One unfinished sculpture was also found, if completed, it would be approximately 21 m tall, with a weight of about 145–165 tons.
Easter Island
Easter Island is an island and special territory of Chile.

It is located in the southeastern Pacific Ocean.

Easter Island is a volcanic high island, consisting mainly of three extinct connected volcanoes.

The island is most famous for its nearly 1,000 extant monumental statues, called moai, which were created by the early Rapa Nui people.

In 1995, UNESCO named Easter Island a World Heritage Site, with much of the island protected within Rapa Nui National Park.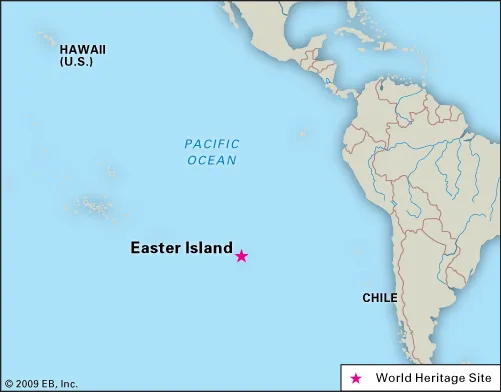 PRACTICE QUESTION
Q. Recently, Easter Island was in the news. The island is the territory of which country?
A. Argentina
B. Brazil
C. Chile
D. Venezuela
Answer: C