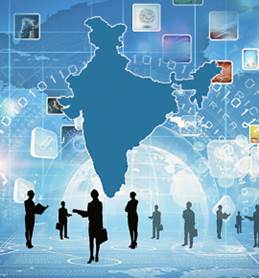 Disclaimer: Copyright infringement not intended.
Context
The Ministry of Electronics and IT (MeitY) is considering regulation of "deliberate" misinformation and doxxing as offences under a fresh legislation/act, which is expected to replace the Information Technology Act, 2000.

The new legislation, is being referred to as the Digital India Act.
Doxxing is publishing and analysing others' personal information on the internet with a malicious intent that can reveal the person's real identity making them victims of harassments and cyber-attacks.
Background
The IT Act is currently India's core legal framework that regulates entities on the internet such as social media platforms and e-commerce companies. But this law or other laws in India do not consider online misinformation to be illegal.

Also, under the current IT Act, offences are largely borrowed from the offline world. It penalizes actions like publishing private pictures of people without consent, posting pornographic content, and sharing child sexual abuse material, among other things.
Issues
"User harms" specific to the online world, which have "diversified" significantly since the IT Act was last amended in 2008.

Social media platforms' algorithms have helped individuals in running concerted misinformation campaigns online. This has to be tackled. There is clear evidence globally of concerted efforts at running misinformation campaigns on social media with an aim to influence elections, for instance.

The Indian Penal Code (IPC) looks at misinformation from the lens of defamation. Beyond that, there is no adjudication on deliberate attempts at misinformation.

There are also other challenges about the increasing trend of weaponization of the internet, especially since a large part of the economy and economic activity will be resting on and connected to the internet.
Need of the hour
Deliberate online misinformation has to be separated from defamation

, which is a very different kind of an offence.
Proposed Digital India Act
The IT Ministry is considering adding doxxing as an offence under the new Act.

The new Act will deal with regulating new and emerging tech like blockchain and artificial intelligence.

The proposed Digital India Act will oversee laws dealing with cybercrime and ecommerce.
Crucially, the new policy:
Does not

have any provisions that relate to monetization of non personal data by selling them to private sector.

Will not be applicable to private entities.

Won't include restricted datasets

(like Aadhaar's) in overall data sharing.

Envisages the setting up of an India Data Management Office (IDMO) responsible for setting all standards, rules, and guidelines.
Final Thoughts
Digital India Act replacing the IT Act, 2000, is a welcome move for strengthening digital ecosystem and cyber-security space in the country.

However, the need of the hour is implementation of laws effectively and in a time bound manner by addressing the concerns in the legislation stage itself.
Few examples:
The government's Personal Data Protection Bill, 2019 has been in cold storage for the last three years.

The government has also proposed to revise the National Data Governance Framework Policy.

Earlier, the Centre came out with India Data Accessibility and Use Policy 2022 in 2022. However, following criticism over its bid to monetize non-personal data of citizens - which suggested that government data could be sold to the private sector, the government decided to keep the policy on hold.
Time bound effective implementation
It's important to create enabling frameworks and policies through a process of public consultation in a time bound manner.
The internet and technology should be defined by openness, safety, trust and accountability to those that use these platforms or use these services and products.
https://indianexpress.com/article/technology/new-it-act-looks-to-rein-in-deliberate-misinformation-8027748/