CLIMATE CHANGE AND HEALTH HUB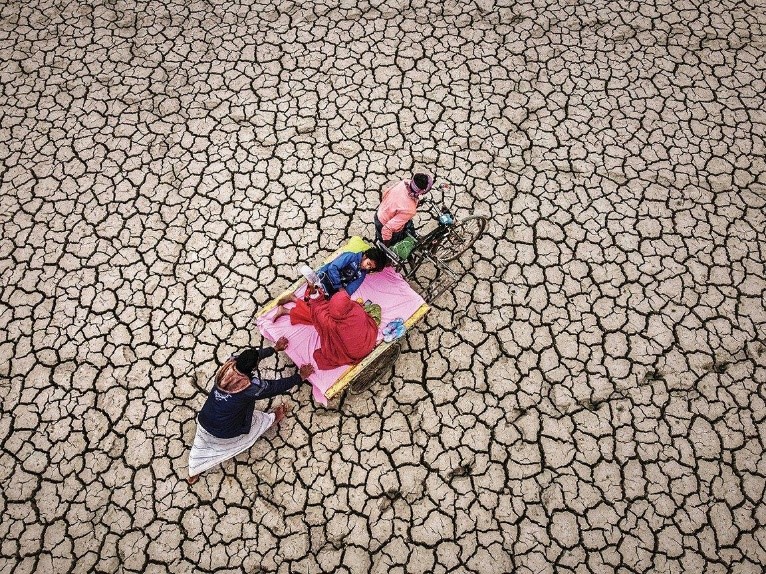 Disclaimer: Copyright infringement not intended.
Context
India is all set to open a climate change and health hub in Delhi in partnership with the Asian Development Bank (ADB).
Details
In its recently released G-20 outcome document, India noted that climate change will continue to drive health emergencies, including the emergence and re-emergence of infectious diseases, and by increasing the severity and frequency of natural disasters, thereby threatening to overwhelm health systems' ability to deliver essential services.
In this context, the new hub for climate change and health will facilitate knowledge sharing, promote partnerships and innovations, and also help countries.
Climate change - the biggest health threat facing humanity
According to WHO, Climate change is the single biggest health threat facing humanity.
Climate change affects the social and environmental determinants of health – clean air, safe drinking water, sufficient food, and secure shelter.
The Intergovernmental Panel on Climate Change (IPCC) has concluded that to avert catastrophic health impacts and prevent millions of climate change-related deaths, the world must limit temperature rise to 1.5°C.
Climate-Sensitive Health Risks
Climate change is already impacting health in a myriad of ways, including by leading to death and illness from increasingly frequent extreme weather events, such as heatwaves, storms and floods, the disruption of food systems, increases in zoonoses and food-, water- and vector-borne diseases, and mental health issues.
Furthermore, climate change is undermining many of the social determinants for good health, such as livelihoods, equality and access to health care and social support structures. These climate-sensitive health risks are disproportionately felt by the most vulnerable and disadvantaged, including women, children, ethnic minorities, poor communities, migrants or displaced persons, older populations, and those with underlying health conditions.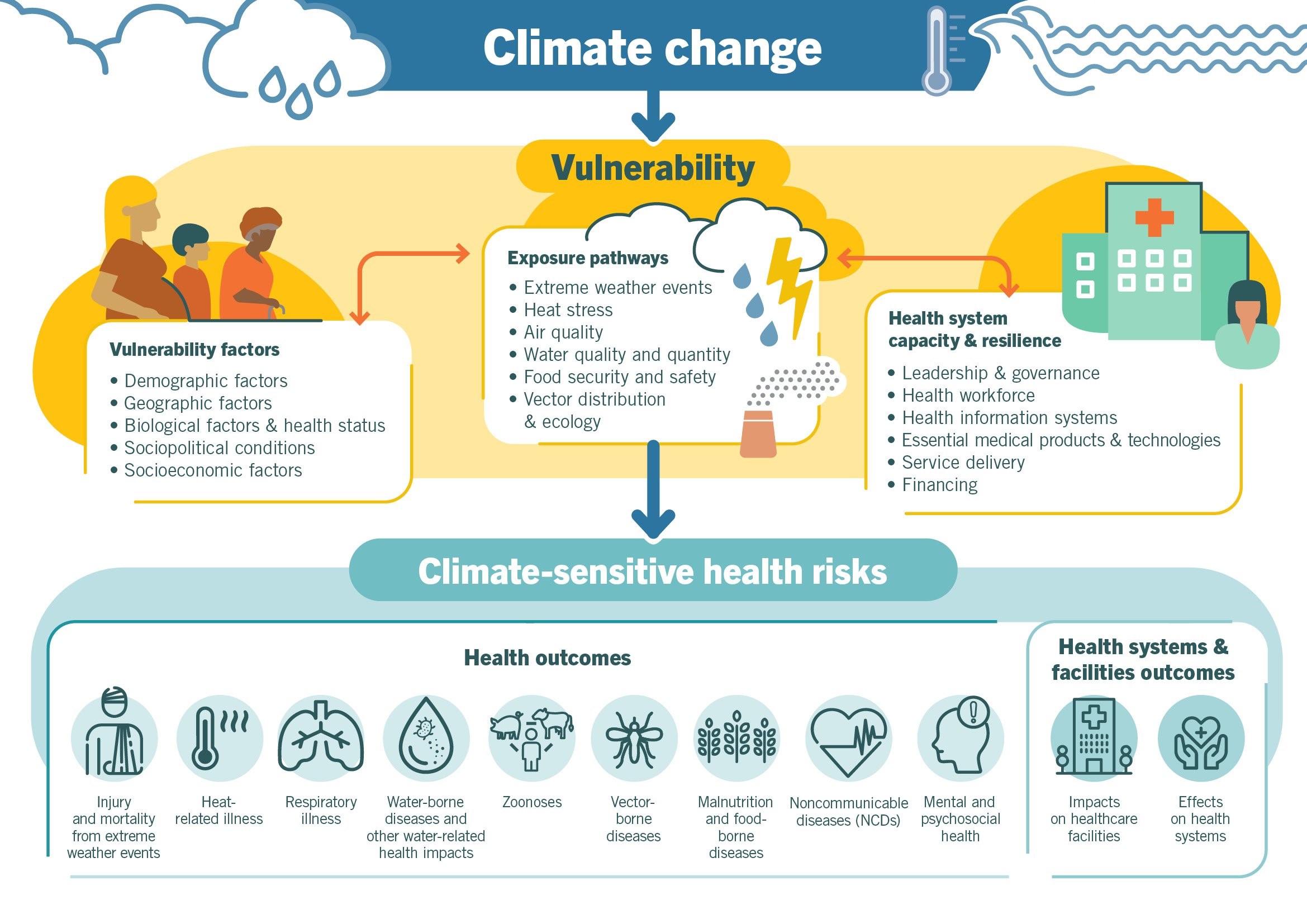 Figure: An overview of climate-sensitive health risks, their exposure pathways and vulnerability factors. Climate change impacts health both directly and indirectly, and is strongly mediated by environmental, social and public health determinants.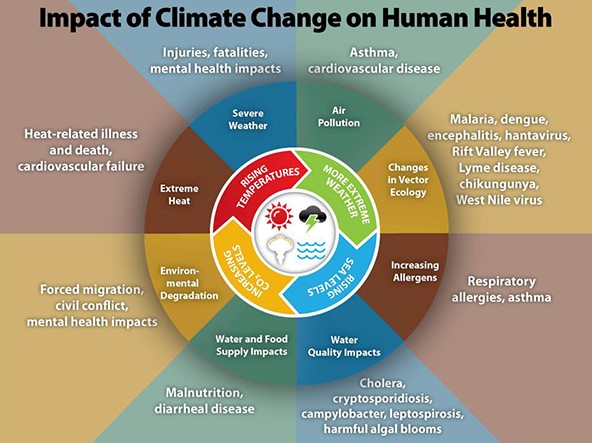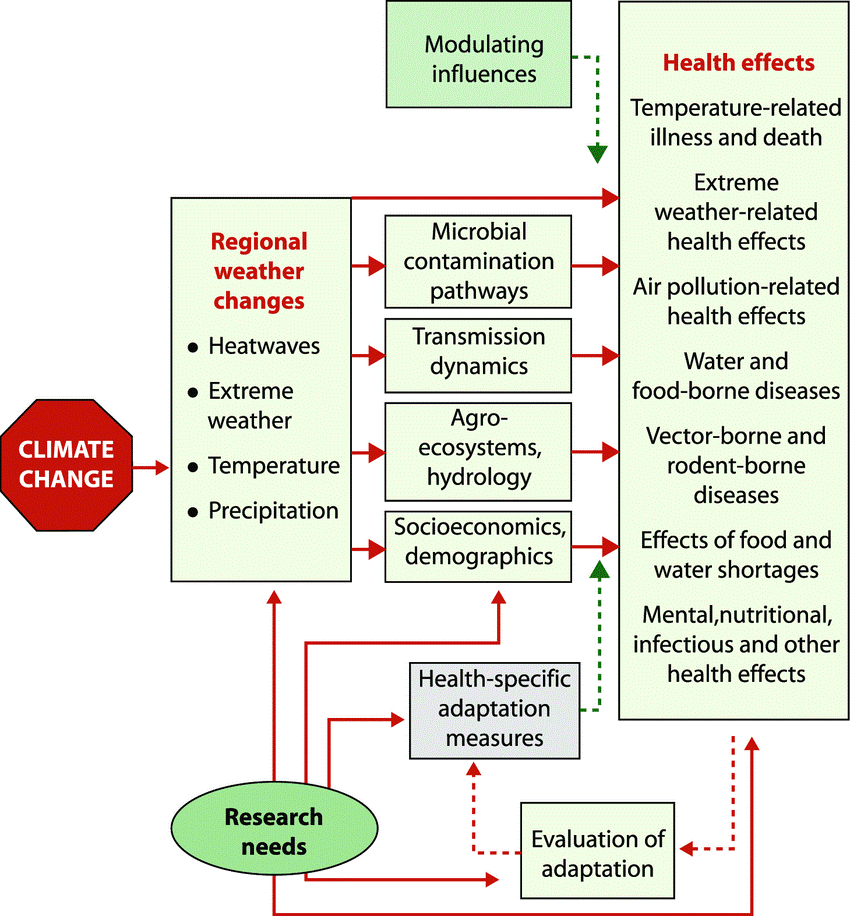 WHO FINDINGS
Between 2030 and 2050, climate change is expected to cause approximately 250 000 additional deaths per year, from malnutrition, malaria, diarrhoea and heat stress.
The direct damage costs to health (i.e. excluding costs in health-determining sectors such as agriculture and water and sanitation), is estimated to be between USD 2-4 billion/year by 2030.
Areas with weak health infrastructure – mostly in developing countries – will be the least able to cope without assistance to prepare and respond.
Reducing emissions of greenhouse gases through better transport, food and energy-use choices can result in improved health, particularly through reduced air pollution.
Climate Change and Health Pathway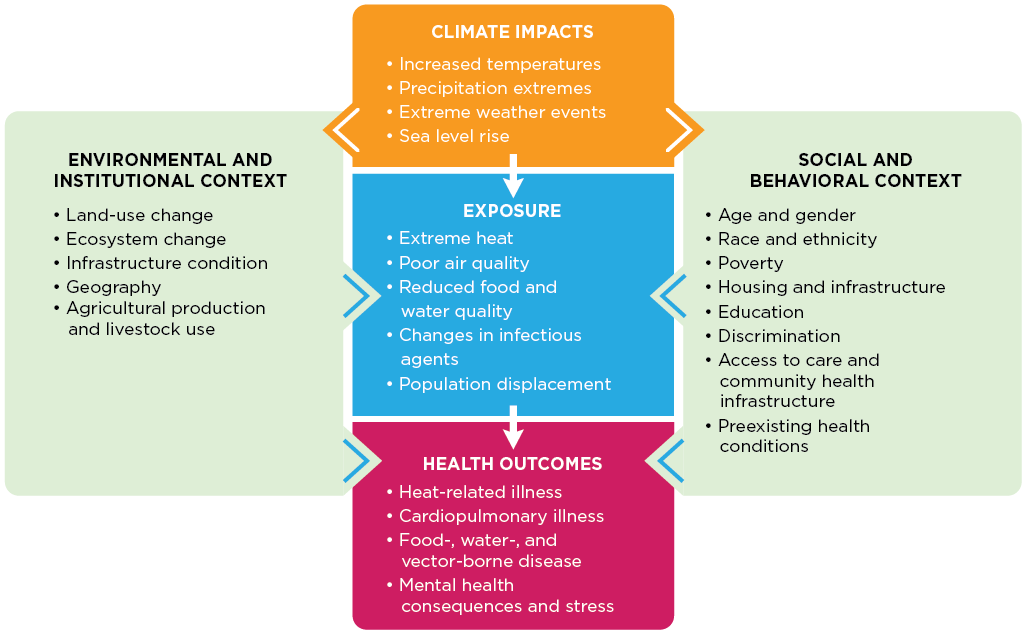 Figure 1 shows how climate change can affect people by changing their exposure to health threats (moving from top to bottom) and by influencing the environmental, institutional, social, and behavioral factors that affect a person's or community's health (moving through the boxes on the sides).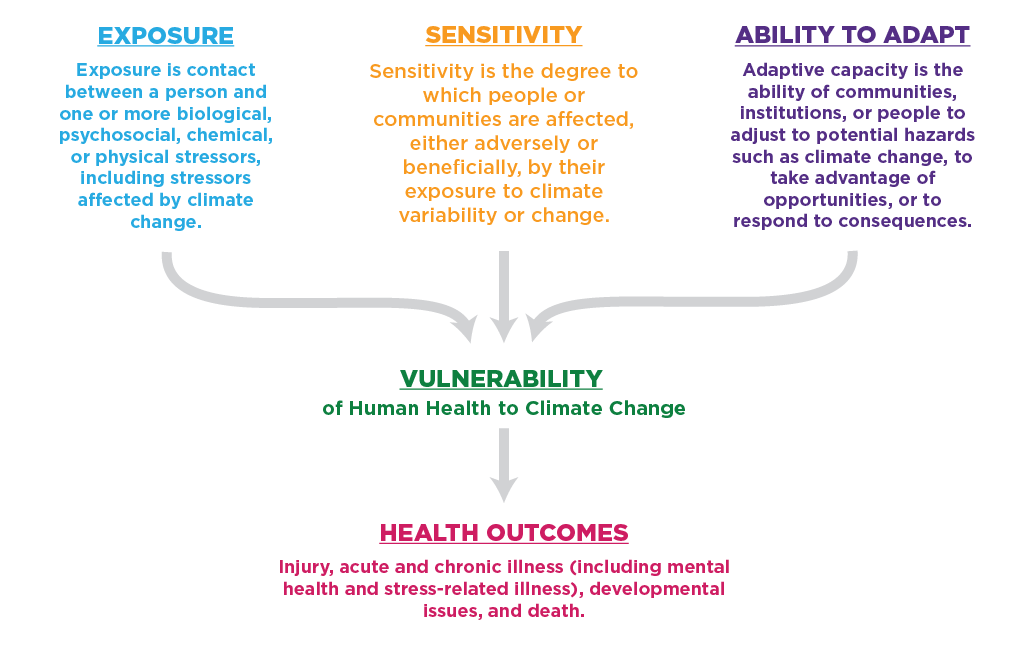 What Can Indicators Tell Us About Climate Change and Human Health?
The impacts of climate change on health are complex, often indirect, and dependent on multiple societal and environmental factors. Tracking changes in climate impacts and exposures improves understanding of changes in health risk, however, even if the actual health outcome is difficult to quantify.
For example, the flooding pathway shows how indicators of certain climate impacts like Sea Level, Heavy Precipitation, and Coastal Flooding could be used by state and local health officials to better understand changes in human exposure to contaminated waters (a health risk).
By recognizing changing risks, these officials can better understand how climate change affects the number of people who get sick with gastrointestinal illnesses (a health outcome). Thus, even where health data or long-term records are unavailable or where the links between climate and health outcomes are complex, indicators play an important role in understanding climate-related health impacts
What increases the risk of Climate-Sensitive Health Threats?
Many of these health problems are not new but are existing challenges and inequalities made worse by climate change.
And every small increase in global heating will result in increased risks.
Those most at risk are the people and places that are less able to adapt. Especially in low- and middle-income countries where access to healthcare is already restricted and resources available to mitigate or adapt to the risks are limited.
Cities will also be particularly vulnerable, as multiple hazards like extreme heat, air pollution and urban flooding coincide, often magnifying the damage. Around half the world's population lives in urban areas, but these health impacts will be most concentrated amongst the economically and socially marginalized residents.
For example, a recent report found Delhi to be one of the world's most vulnerable cities to climate change, with communities expected to face more severe heatwaves, extreme rainfall and urban flooding, while air pollution already causes almost one in five deaths in India.
Prevention and protection
The world must act quickly and decisively to avoid the worst impacts of climate on health.
We must transition from using fossil fuels to clean, renewable energy, stop deforestation, and restore our natural habitats. The sooner we act to mitigate the impacts of climate change, the better off we'll be in the future.
But mitigation alone will not be enough.
Even if we do manage to reduce emissions and meet global targets of zero emissions by 2050, the latest IPCC report published in March 2022 noted that many of the impacts of global warming are now "irreversible". These changes will continue to affect our climate long into the future. So, to protect the health of populations into the future it is essential that we also adapt to ongoing climate change.
Action on adaptation has increased in recent years, but progress is uneven and slow. At the moment, most climate funding is targeted at the essential task of reducing greenhouse gas emissions. Much more political and financial support is required to help populations around the world adapt to the ever-worsening effects of climate change.
PRACTICE QUESTION
Q. Climate change is the single biggest health threat facing humanity and the world must act quickly and decisively to avoid the worst impacts of climate on health. Describe.
https://www.thehindu.com/news/national/india-asian-development-bank-to-set-up-climate-change-and-health-hub-in-delhi/article67238886.ece