CIVIL REGISTRATION SYSTEM AND NATIONAL POPULATION REGISTER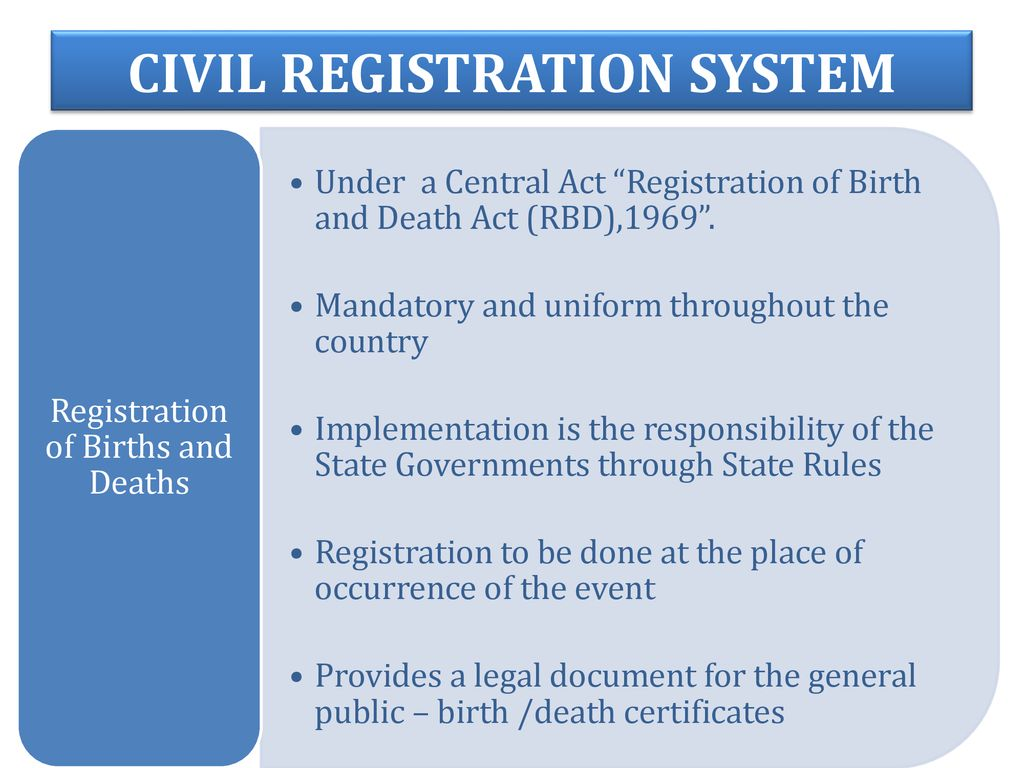 Copyright infringement not intended
Context - The Union Government is planning to update the Civil Registration System (CRS) to enable the registration of birth and death in real-time.
Details
The Civil Registration System (CRS) is run by the Registrar General of India (RGI)

and is linked to the National Population Register (NPR), which already has a database of 119 crore residents.

The NPR is to be updated with the decennial Census exercise that has been postponed due to the COVID-19 pandemic.

The CRS system is facing challenges of timelines, efficiency and uniformity, leading to delayed and under-coverage of birth and death.

To address these challenges, the Union Government has decided to introduce reforms in the Civil Registration System to register birth and death on a real-time basis with minimum human interface.
Civil Registration System
Civil registration is the system by which a government records the important events (births, marriages, and deaths) of its citizens and residents.

The main objective of civil registration is to create a legal document that can be used to establish and protect the rights of individuals.

Another important purpose is to create a data source.

The history of the Civil Registration System (CRS) in India dates back to the middle of the 19th century.

In 1886 a Central Births, Deaths and Marriages Registration Act was promulgated to provide for voluntary registration throughout British India.

Post-independence, the Registration of Births and Death Act (RBD Act) was enacted in 1969 to promote uniformity and comparability in the registration of Births and Deaths across the country.

The Act made registration of births, deaths and stillbirths mandatory in India

.

The Registrar General of India (RGI) under the Ministry of Home Affairs coordinates and unifies the activities of registration throughout the country.
National Population Register
It is a register of the usual residents of the country.

A usual resident is a person who has resided in a local area for the past 6 months or more or a person who intends to reside in that area for the next 6 months or more.

Every usual resident of India must register in the NPR.

It includes both Indian citizens as well as foreign citizens.

The objective of the NPR is to create a comprehensive identity database of every usual resident in the country.

The first National Population Register was prepared in 2010 and updating this data was done in 2015 by conducting door to door survey.

NPR is prepared under the Citizenship Act 1955 and the Citizenship (Registration of Citizens and Issue of National Identity Cards) Rules, 2003

.
https://www.thehindu.com/news/national/registration-of-birth-death-to-be-real-time-with-minimum-human-interface/article65359979.ece